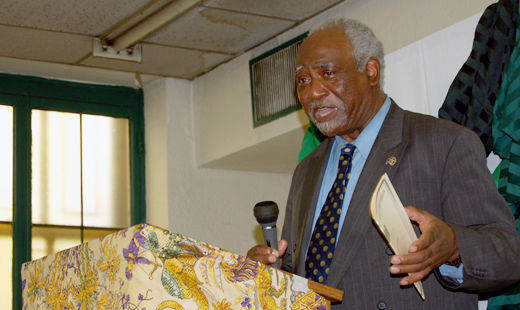 CHICAGO – Just days after the conviction of former police Commander Jon Burge here, Rep. Danny K. Davis, D-Ill., introduced a bill that would make police torture of suspects a crime against humanity and a federal crime with no statute of limitations.
Burge was recently convicted in federal court for lying during a 2003 civil case when questioned if he ever participated or witnessed suspects of police abuse during the 1970s and 1980s.
Prosecutors were unable to charge Burge directly for the alleged torture because the statute of limitations had expired, even though there were witnesses willing to testify.
Burge's conviction was "simply not enough" Davis said.
"Had this bill been in effect… Burge would be guilty of torture and not just perjury," Davis told reporters last week.
The Chicago congressman said he has been working on the measure for several months. Those still incarcerated should receive new trials to determine if any information was extracted illegally, he notes.
In the bill, a person convicted or committing, attempting or conspiring to commit torture would face a maximum penalty of 10 years in prison. The maximum term would be life, if the torture led to death.
Reps. Bobby Rush and Jesse Jackson Jr., both Democrats from Chicago, have co-sponsored Davis' bill.
They also share support from Sen. Roland Burris, D-Ill., who said he plans to introduce a similar measure in the Senate this week. Burris told reporters that he and his fellow legislators were standing up for Burge's victims, most of them African Americans, who were "too often left without a voice."
At a recent news conference Jonathan Jackson, a spokesman for the Rainbow/PUSH Coalition said, "It took 37 years to get him (Burge) to this point. And even though he was found guilty there are still several men incarcerated for crimes they may not have committed."
Jackson added, "The taxpayers lost because they paid $50 million for his legal defense and now the trust many good police officers have earned is now broken."
To date, the city has spent more than $10 million in legal fees defending Burge and other detectives in civil court, and has paid out more than $21 million in settlements to alleged victims of police torture.
Burge, 62, spent 20 years with the Chicago Police department. More than 110 known cases of torture have surfaced since then, in which Burge was either directly involved or was the supervising officer.
Burge was fired from the police department in 1993 due to police abuse. He continues to deny all the charges. He awaits sentencing and could serve up to 45 years in prison.
Meanwhile, Ronald Kitchen, who was exonerated last year after spending 21 years in prison – 13 on death row – is suing Burge, his detectives and Mayor Richard M. Daley. Kitchen argues Burge and other officers tortured him into falsely confessing to the 1988 murders of five people.
Kitchen insists his lawsuit is not about the money.
"It's about making those who were supervising and overseeing the city of Chicago take notice," he said at a press conference last week.
Kitchen's brother and other relatives died while he was in prison. His son grew up without a father and his mother, known as his greatest champion, developed dementia and does not understand her son is now free.
Kitchen's lawsuit accuses Daley, both when he was Cook County state's attorney and as mayor, of participating in a conspiracy to cover up torture. The suit claims Daley had evidence that Burge and others were using torture to obtain confessions but did nothing to prosecute the officers and belittled reports claiming the abuse.
Supporters of Burge's recent conviction hail the move as a victory for the African American community and a step in the right direction.
However there are still 20 men who remain incarcerated as a result of questionable confessions and they should be released and granted new trials, says Flint Taylor, an attorney who has represented some of Burge's victims. Taylor adds Daley should move to have Burge's police pension cut off.
"The mayor's hands are not clean in all of this," Taylor told the Chicago Defender. "There is a lot he could have done then but declined to do so. Let's see if now he does the right thing."
The city should also financially compensate these men because they have lost more than we can ever imagine, he said.
Photo: Teresa Albano/PW
Justice delayed but not denied, Jon Burge found guilty