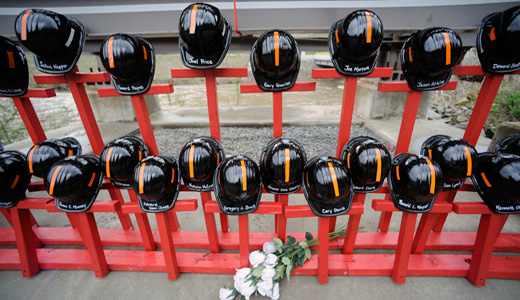 WASHINGTON – Laws matter. Rules enforcing laws matter. And whether rules are written and enforced, especially for worker safety and health, really matters.
And in those last two areas, the federal government has fallen down on the job, time after time, says AFL-CIO Occupational Safety and Health Director Peg Seminario.
Seminario was one of three witnesses telling those stories and providing data to senators about whether and when the government enforces pro-worker and pro-consumer rules in an Aug. 1 hearing on the issue, the day before Congress recessed.
And she highlighted a problem that workers know too well: The best laws in the world don't make a bit of difference if there's no way to put them into effect.
Seminario told the Senate Judiciary Committee's new Oversight subcommittee non-enforcement is piled atop another problem she's seen in her 30 years in the job safety post: Getting the feds to impose worker safety and health rules in the first place.
Imposing and enforcing federal job safety rules is important. Since Congress passed the Occupational Safety and Health Act in 1970 – after unions lobbied strongly for it – on-the-job injuries and deaths fell dramatically, until leveling out three years ago.
In 1970, 18 of every 100,000 workers died on the job. By 2011, the most recent data available, the rate was 3.5/100,000, down 80%. Injury rates dropped by 68%. That still left 4,693 workers killed on the job in 2011 and 3.8 million injured.
But studies show the feds don't record all job injuries. And fatality figures don't include retirees' later deaths from on-the-job diseases, such as black lung. Medical researchers estimate there are 50,000 such after-retirement deaths yearly, she said.
But in the last few years, progress has stalled, and Seminario laid the blame for that on the Obama administration's Office of Management and Budget, and specifically OMB's Office of Information and Regulatory Affairs (OIRA).
OIRA is supposed to review proposed federal agency rules – on job safety and everything else – within 120 days of receiving them. But OIRA has sat on job safety rules, and others, for years, witnesses testified. Congress didn't help, adding requirements that rules not hurt small business and that benefits must outweigh costs.
As a result, when the Occupational Safety and Health Administration (OSHA) first started it took three years – including review, public hearings and corporate challenges – for a job safety rule to get from OSHA's desks into the books. Now, Seminario said, it takes eight, if the rule gets in at all. OIRA began in the GOP Nixon administration.
"During these lengthy reviews, OIRA welcomed and held many meetings with industry, both on draft proposed rules, when industry tries to weaken or block regulations, and again when draft final rules are reviewed, giving opponents another chance to delay, weaken or block needed rules. There's no transparency," she added.
How bad is it? "OIRA provides a forum for those who wish – those who are able – to block rules, and it's largely industry that goes in and makes their case," she told Sen. Orrin Hatch, R-Utah. "That's in contrast with the agency" such as OSHA, that sends in the rules. "There's transparency there" at the agency "all the time."
"It is high time OIRA's 'paralysis by analysis' was brought under scrutiny," added Sally Greenberg of the National Consumers League, in a statement sent to senators.
"On Workers Memorial Day in 2012, we had a Senate hearing and then we went to OMB" with a group of coal miners, who had lost loved ones in mine explosions, Seminario told Sen. Sheldon Whitehouse, D-R.I. "'This is a very unusual meeting,'" she quoted then-OIRA director Cass Sunstein, a Chicago law professor on leave, as saying. "'We never hear from people like you. We only hear from the industry,' he said."
"But the rule we were talking about," for proximity detection systems in underground mines, "is still sitting there" at OIRA, Seminario said. "Since 2011, virtually every worker protection rule submitted for OIRA review has been delayed."
The same holds true for a rule on protective equipment for utility workers toiling on transmission lines and for a Labor Department wage rule that would bring more domestic workers under federal minimum wage and overtime laws, Seminario added. "And the worst is the draft rule to cut silica exposure. That's been held for 2-1/2 years."
Sometimes, the only way a rule gets on the books is if unions sue the agency to write it, and win. The Steelworkers did that to force action on a rule curbing worker exposure to hexavalent chromium, a cancer-causing substance. The courts ordered OIRA to write the rule, but the whole process took 13 years, Seminario testified.
Whitehouse, a former prosecutor, identified another problem: Even if a rule is on the books, industry can "capture" the enforcing agency, endangering workers. He introduced legislation in the last Congress to try to end that. But the GOP-run House is going in the other direction: It just passed, on a party-line vote, the so-called "Reins Act" to stop virtually all rules until Congress OKs them. "It wouldn't surprise me if this" – regulatory agency capture – "is related to the (OSHA) problem," Whitehouse said.
Photo: Miners' helmets and painted crosses at the entrance to Massey Energy's Upper Big Branch coal mine, April 5, 2011 in Montcoal, W.Va. The memorial represents the 29 coal miners who were killed in an explosion at the mine. Jeff Gentner/AP