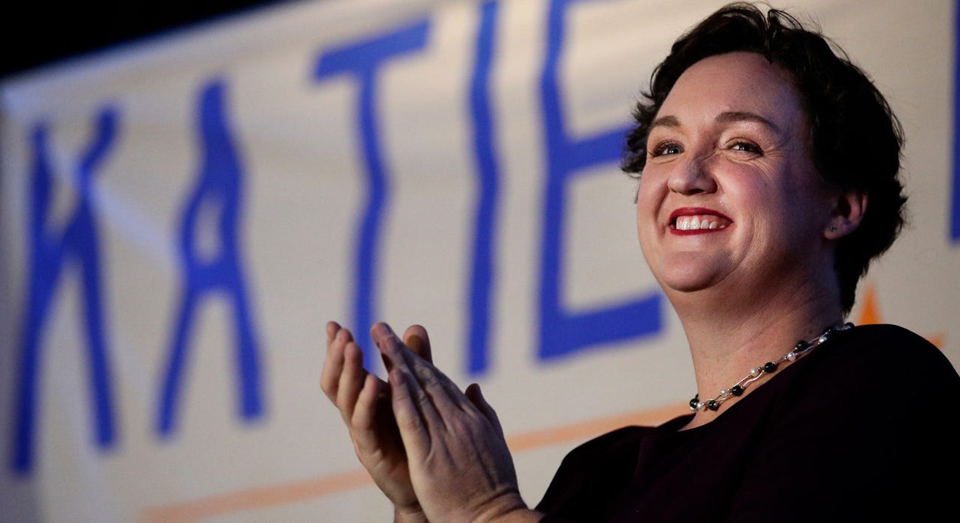 WASHINGTON—Warning that evictions of people who can't pay rent because they lose their jobs to the coronavirus pandemic would only worsen the horrible disaster, progressive lawmakers demanded private landlords and GOP President Donald Trump's Housing and Urban Development Department halt such removals. Trump's HUD gave in, partially.
Trump and his HUD Secretary Ben Carson suspended evictions from public housing, through May 1. That decision covers foreclosures on HUD-insured private homes, too, Carson said. Some 6.7 million people live in either HUD-financed projects or in those private homes, statistics show.
"Today's actions will allow households who have an FHA-insured mortgage to meet the challenges of COVID-19 without fear of losing their homes, and help steady market concerns," Carson's statement added.
The letters, initiated by Rep. Ayanna Pressley, D-Mass., and co-signed by Rep. Katie Porter, D-Calif., and Sens. Elizabeth Warren, D-Mass., Jeff Merkley, D-Ore., and Bernie Sanders, Ind-Vt., come as Congress considers a second $1 trillion-plus stimulus bill for individuals and businesses to help tide them over as coronavirus spreads in the U.S.
They also come as the coronavirus starts to hit jobs with a vengeance. The Labor Department reported on March 19 that new claims for jobless benefits rose from 211,000 the week before to 281,000.
There are now active coronavirus cases in every state and D.C., and more than 14,000 overall nationwide, 40% of them in New York, along with more than 200 deaths. But that number may be wildly low, due to, among other reasons, a lack of N95 respirators and coronavirus testing kits.
As a result, for example, nine days ago, Louisiana had one case. Now it has 259.  And cases in New York City alone topped 1,000. Trump, using emergency powers he invoked, sent a U.S. Navy hospital ship to the Big Apple to help provide more beds and isolation rooms there.
But the lawmakers say evictions could only make this bad situation worse – a lot worse.
Even before HUD acted, cities and states beat them to it, including the entire state of Maryland, New York City, San Jose, Calif., and Miami-Dade County. Boston Mayor Marty Walsh asked courts to OK an eviction ban, and legislation for it was pending before the San Francisco City Council. Landlords associations in Seattle asked the city and surrounding King County to suspend evictions.
"Evicting families puts their health at risk, imposes trauma on and disrupts the education of their children, and exacerbates the risk of outbreak in their communities," Warren, Merkley, Sanders, and Pressley wrote to the two landlords' lobbies and HUD.
"Even as government actors work to get the necessary resources to our neighbors experiencing homelessness, private sector partners should avoid exacerbating the problem by evicting tenants during a pandemic."
And for people to stay safe in the pandemic, they need housing. Yet families already living on the margin lose jobs – as fast-food servers, cleaners, and in other low-wage occupations – and thus ability to pay the rent, the lawmakers said. They shouldn't be evicted, though.
"There is a clear, urgent public health need to stop evictions during this pandemic because safe and stable housing gives families a place for social distancing, self-quarantine, or to take care of family members who may be sick," the lawmakers said.
"In addition, evictions could contribute to a strain on hospitals when medical facilities are at imminent risk of being overwhelmed by the pandemic."
The letter from all five lawmakers to Carson made those same points and called public housing evictions "cruel and dangerous." Even with federal subsidies, they pay a lot for rent, they reminded him.
"More than one-third of Americans pay 30% or more of their income towards housing, and 15% are paying more than half of income towards housing. Given how squeezed these families' budgets are, for many, any interruption in income will likely translate into default on rent," they said.
"Eviction may also lead to families becoming homeless, increasing their risk of contracting COVID-19 through community spread and exacerbating the possibility of outbreak in their community. Individuals experiencing homelessness are 'at relatively high risk for a broad range of acute and chronic illnesses,'" according to recent studies. The homeless also "face barriers to care for even the most routine medical treatment."
And the homeless would have hard times practicing social distancing in shelters and camps and lack running water where they can wash their hands. "HUD should be working urgently to connect individuals experiencing homelessness with shelter and basic necessities to slow the spread of COVID-19 while at the same time avoiding exacerbating the problem by evicting tenants during a pandemic," they said.
The four also told Carson to direct local housing authorities – which actually provide the subsidies and the rent vouchers – to give tenants "clear, immediate guidance" about personal protections and general cleaning and to have the agencies "proactively inform residents about requesting financial hardship exemptions," especially by phone.
And they want HUD to order housing authorities "to educate their residents on their options if their income goes down."
"HUD provided support to homeowners following natural disasters, and should again now—but the agency must also protect renters from losing their homes during this pandemic, and protect the public from further spread of coronavirus," the lawmakers concluded.