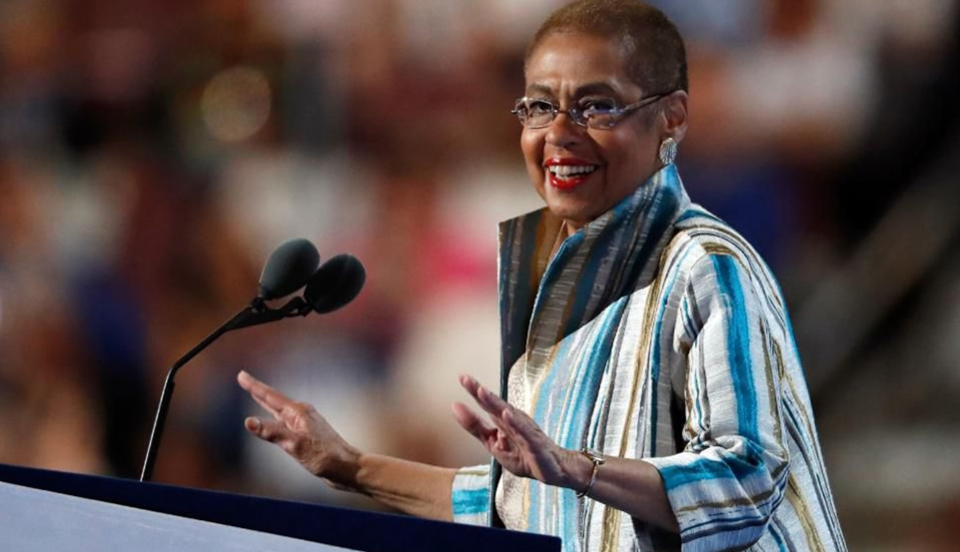 WASHINGTON—Three lawmakers, two Democrats and a Republican, are trying to restore full due process rights for federal workers, especially Defense Department civilian workers, threatened with arbitrary discipline or firing for "national security" reasons. Their move could protect whistleblowers.
The legislation, by Reps. Rob Wittman, R-Va., Eleanor Holmes Norton, D-D.C., and Andre Carson, D-Ind., would overturn a 2013 federal court ruling that strips those threatened workers of any appeals.
At least 200,000 DOD civilian workers would be helped, says American Federation of Government Employees (AFGE) President J. David Cox, whose union – the largest representing feds – strongly backs the measure. His union includes 75,000 defense workers, many of whom are now vulnerable to such arbitrary firings.
As the GOP-run Congress and the GOP Trump "administration continue to lob attacks at the federal workers who keep our country running, it's great to see members of Congress step up and protect our rights and our jobs," Cox added.
The problem started more than five years ago. DOD accounting technician Rhonda Conyers and commissary management specialist Devon Northover had lost their security clearances and could not continue in their "noncritical sensitive" positions. They were demoted.
The two argued they had the right to appeal their demotions to a small federal agency which decides such cases, the Merit Systems Protections Board. In 2013, the appeals court said "no," and the U.S. Supreme Court voted not to hear the case, letting the appeals court ruling stand. That leaves Congress as the only alternative for all federal workers with security clearances.
Norton and Wittman said restoring workers' appeal rights is just and would protect whistleblowers, who often face retaliation from supervisors. One retaliatory weapon is to yank security clearances.
"Allowing terminations to take place without independent reviews opens the door for retaliatory firings, dissuading public servants from speaking up about mismanagement or other whistleblower issues," said Norton. She called the court ruling yanking the workers' appeal rights "misguided."
"These federal employees, like others, should have the right to appeal their terminations to an independent body."
"Due process is one of the most essential protections of our constitutional government," Wittman said. The court's ruling "means federal employees who are demoted or suspended from noncritical service positions have no right to independent review of the agency decision."
"That empowers agencies, but undermines individual workers. Without that additional level of accountability, agencies are free to punish would-be whistleblowers and take retaliatory action against employees who are simply trying to do their jobs. This bill protects the individual, constitutional rights of federal workers and continues to hold agencies accountable for the action they take against employees."