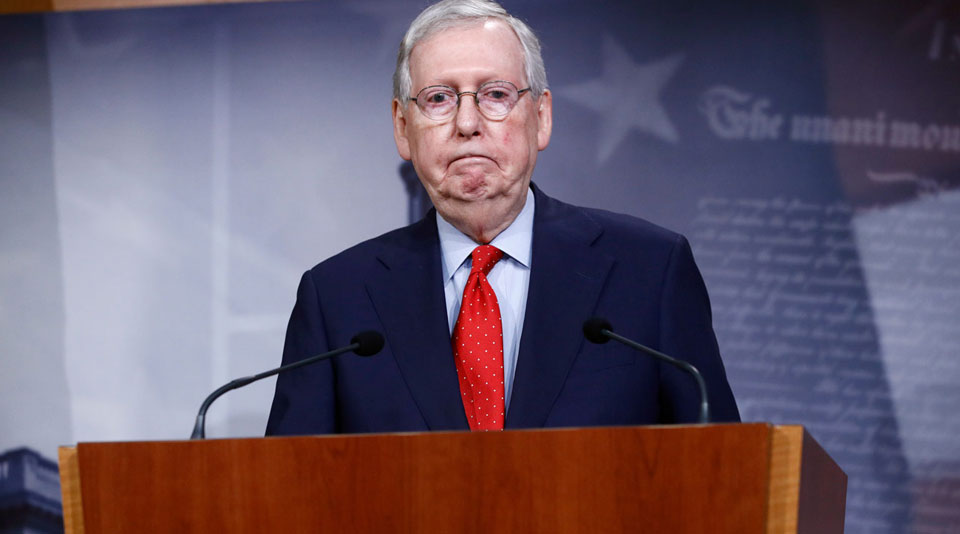 WASHINGTON—When it comes to money bills, there seemed to be a big disconnect in early December between lawmakers and their constituents, especially workers. Solons planned to vote on another temporary money bill to keep the government going, but what workers demanded was money to keep themselves going.
In other words, an economic aid bill to deal with the joblessness, illness, and death resulting from the coronavirus pandemic, which has seen more than 180,000 people testing positive every day—and more than 20 million forced to take state or federal unemployment aid.
That aid is what they want to continue, beyond Dec. 26, when much of it runs out. But Congress, and the GOP Senate majority, in particular, isn't giving it to them. Instead, they planned to vote Dec. 9 on a temporary money bill to keep the government going through Dec. 18. Talks continue on a coronavirus aid bill, though.
Workers aren't happy. There's a nationwide coalition #EmergencyReliefNow, to let people express their outrage.
"I never would have guessed 3 years ago that I would not have my job Christmas 2020. No x mas presents, no work, no healthcare, no end in sight, and only $16 in food stamps PER MONTH. We need help TODAY!!!" tweeted laid-off Association of Flight Attendants-CWA member Amanda Steinbrunn of Chicago.
She had sharp barbs for Congress in a follow-up tweet to a supporter of her first one: "They don't take into account what is after taxes, which pay THEIR BILLS in the Senate!!!! Third largest city I'm expected to pay rent, food, heat, electricity, taxes, and health care with $1200. And with $1200 I don't qualify for Medicaid, $16 SNAP [food stamps]. Disgusting."
National Nurses United and AFA-CWA weighed in on the disconnect, too. But NNU is also warning against agreeing to the demand by Senate Majority Leader Mitch McConnell, R-Ky., that any stimulus bill includes letting firms off the hook for years if they don't protect workers and customers against the virus.
"Any stimulus package that includes liability waivers for employers, businesses, and other institutions, would be counterproductive to pandemic control measures and would undermine efforts to reduce the spread of the virus," NNU said.
But the union's also blasting lawmakers for ignoring the human suffering.
"Tens of millions of people have lost their jobs. They can't put food on the table, they can't pay their rent, and what little unemployment benefits that may have been available to them are quickly running out," NNU Executive Director Bonnie Castillo, RN added in a statement. "Our patients need the federal government to step up urgently before the winter holidays, as we move into the most deadly period yet of this pandemic."
"The day after Christmas, 12 million workers will lose access to any unemployment benefits and as many as 40 million will be put at risk of eviction," AFA-CWA warned. "Utilities will be cut off, student loan payments resume, coronavirus paid leave ends. Bread lines that already stretch miles will grow longer as the number unable to feed their families skyrockets."
"Cities and states will be forced to begin mass layoffs, while hospitals overflow. Public transportation will be crippled, and airlines will have neither the people, planes, nor routes in place to distribute a vaccine."
"This crisis is bigger than any previous economic crisis of the last 100 years combined. We need to act like it. But we are at the edge of the cliff right now. We need a rescue package in place yesterday to be strong enough to fight for the recovery working people truly deserve for keeping our country going even in times of crisis," the union's statement declared.
The Service Employees circulated a petition to be sent to solons. "Tell Republican Senators: We need COVID relief now!" its headline read.
"When we clock in, we risk our health and our family's health," SEIU tweeted. "While we show up for America, it's time for our government and wealthy corporations to show up for us. #ProtectAllWorkers"
The coronavirus pandemic is large and getting larger. As of 6 pm on Dec. 6, 14.91 million people in the U.S., cumulatively, had tested positive for the virus, officially called COVID-19. That's one of every 22, and five times the world infection rate on the same date, one of every 116.
But some lawmakers declared the compromise $908 billion economic aid package now pending is too little. They call it a far cry in either cash or policy from the pro-worker provisions of the $3.4 trillion House-passed Heroes Act and its later $2.2 trillion version. McConnell killed both Heroes Acts and he hasn't said he'll even allow a vote on this bill.
Both ordered the GOP Trump regime's Occupational Safety and Health Administration to immediately issue an emergency standard forcing businesses to adopt and implement plans to protect workers and customers against the virus. They also had aid to state and local governments, which have already had to lay off a million workers, and targeted aid for airline workers, the Postal Service, and transit agencies.
The $908 billion bill "includes an additional $300/week in unemployment benefits, small business aid, and funding for local governments and vaccine distribution," Rep. Alexandria Ocasio-Cortez, D-N.Y., told her colleagues in a floor speech.  "I am disappointed this package does not include another $1,200 stimulus check for working families, at a time when so many Americans are underemployed and Main Street is suffering, and I will push for that addition to the bill."