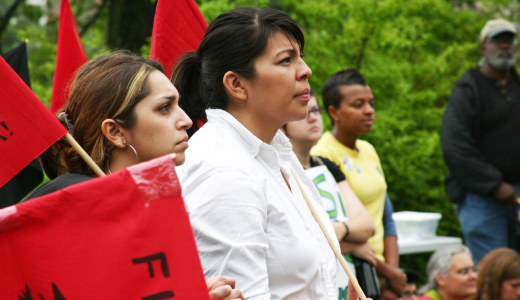 The U.S. Border Patrol and local law enforcement agencies in northwest Ohio restrain and interrogate Latinos about their immigration status based solely on their Hispanic appearance, a federal lawsuit filed by the Ohio-based Farm Labor Organizing Committee (FLOC) charges.
One case cited in the lawsuit refers to a person who was pulled over because the light over his license plate was dim. When he presented his valid Ohio driver's license, the officer demanded proof of immigration status not only from him but also from each of his five passengers. All six were lawful permanent residents, but their brown skin seemed to be cause enough for the local enforcement agent to intrude upon their civil liberties, said FLOC spokesperson Beatriz Maya.
FLOC's suit argues that these practices violate the U.S. Constitution's Fourth Amendment which prohibits unreasonable searches and seizures, as well as the Fifth Amendment's guarantee of due process and equal protection of the law.
"I think it is imperative that we not only address this issue, but tell them to quit it," says Baldemar Velasquez, FLOC founder and president. "Stop spreading fear in the Latino community and start doing the serious police work."
Racial profiling in northwest Ohio and southeast Michigan worsened after the Bush administration significantly increased the Border Patrol's budget, according to Maya. New offices opened along the border with Canada, affecting Michigan and Ohio residents. FLOC argues that the Border Patrol may have had difficulty justifying the increased budget and has tried to create numbers by going after farmworkers and other Latinos in the area.
Other parties in the class action law suit include several FLOC members, Advocates for Basic Legal Equality, the law firm of Murray and Murray, Co. L.P.A., and the Immigrant Worker Project.
"In some cases", says ABLE attorney Mark Heller, "the U.S. Border Patrol has offered to come and restrain and interrogate persons that the local law enforcement agencies have already seized, violating the 14th Amendment's guarantee for due process and equal protection of the law. There really is no legitimate defense to what they are doing."
Maya listed three ways supporters can help:
1. The lawsuit currently has 12 plaintiffs but FLOC is certain, says Maya, that there are hundreds more who have suffered this discriminatory practice. FLOC is appealing for help in locating these members in the community. Beatriz Maya can be reached at bmaya1@floc.com or 419-243-3456 ext 3.
2. Supporters should write or call the U.S. Border Patrol and demand an end to all racial profiling: Acting Chief Michael J. Fisher, Office of the Border Patrol, 1300 Pennsylvania Ave. NW, Washington DC 20229, (202) 344-2050.
3. Supporters are also encouraged to contact members of Congress to ask them to scale back the bloated funding for the U.S. Border Patrol.
Photo: A FLOC rally in May 2009. http://www.flickr.com/photos/luckywhitegirl/ / CC BY 2.0