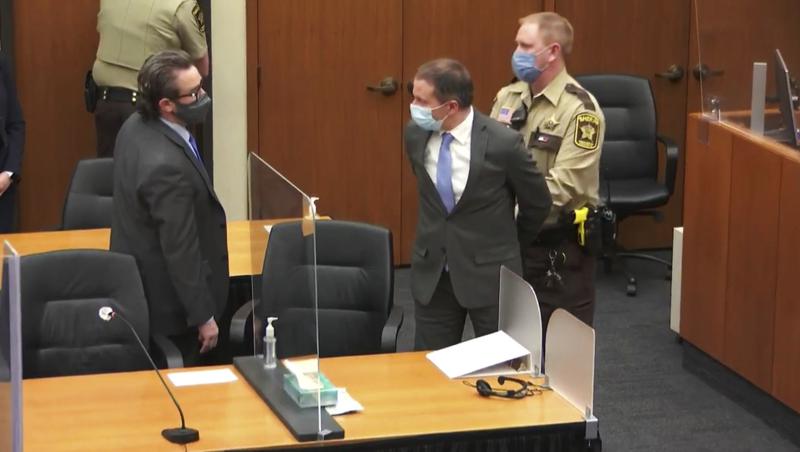 MINNEAPOLIS—Starting with social media posts and Fox News, racists have been going after a juror in the Derek Chauvin trial because that juror participated in the last annual march in Washington that was held to commemorate the historic March on Washington led by the Rev. Dr. Martin Luther King Jr.
Although it does not look like, at this point anyway, Chauvin's guilty verdict for his killing of George Floyd would be overturned by Judge Peter Cahill, if it happened it would not be the first time a murder conviction was thrown out after new facts about a juror were ascertained.
A photo of juror Brandon Mitchell at the last August march in remembrance of King's 1963 "I Have a Dream Speech" began circulating online soon after the trial concluded. The photo shows Mitchell wearing a t-shirt with a picture of King and the words, "get your knee off our necks" and "BLM," for Black Lives Matter.
Mitchell described his participation in the march as simply his voicing support for the message of King and the civil rights movement and that his participation at that time had nothing to do with the trial of Chauvin, which was still many months away.
The rally he attended was not specifically a rally for Floyd but rather an anniversary march to celebrate the 1963 march.
The attempt by Chauvin's lawyers to overturn the guilty verdicts on the basis of Brandon's attendance at the march is not seen, by itself at least, as enough reason for Cahill to throw out the verdicts. Chauvin's lawyers are believed, however, to be attempting to combine this with other issues in hopes of overturning the jury's decision.
Nevertheless, there is precedent for verdicts being overturned when jurors withhold information during the period in which they are being questioned by lawyers for the defense and the prosecution.
The Associated Press reported in 2015 that a Tennessee judge granted a mistrial in the case of two former Vanderbilt football players who were convicted in the 2013 dorm room rape of a student. The judge found that one of the jurors, the foreman, intentionally withheld information during questioning about having supposedly been a victim of sexual assault. The juror said that he didn't consider himself a victim because he was in a consensual relationship with the man his parents pressed charges against, thus he didn't feel he had withheld information. The juror was 16 at the time.
But the judge in that case found that "actual bias has been clearly shown" and granted a mistrial. The two former football players were nevertheless convicted again in subsequent trials.
In California, a lower court is currently considering whether to order a new trial in the high-profile case of Scott Peterson, convicted in 2004 of killing his wife, Laci, who was eight months pregnant. The California Supreme Court ordered last fall that Peterson's convictions should get a second look after finding a juror committed "prejudicial misconduct" by failing to disclose information.
Laci Peterson, 27, disappeared on Christmas Eve 2002, and her body later washed ashore in the San Francisco Bay.
According to court documents, a juror had answered no to questions about whether she had ever been a victim of a crime or involved in a lawsuit. In fact, she had filed a lawsuit in 2000 to obtain a restraining order against her boyfriend's ex-girlfriend, saying the woman had harassed her while she was pregnant and that she feared for the life of her unborn child.
As for the Chauvin case, defense attorney Eric Nelson is questioning the guilty verdict on grounds that "the jury committed misconduct and/or felt race-based pressure, among other issues." Beyond that, Nelson's request did not include details.
He is expected to file more details in his ongoing attempt to overturn the historic verdict against a policeman who committed murder. The judge could hold a hearing, and it is within his power to rule on the issue of whether the juror's participation in the march mattered.
However, lawyers for the killer cop are not expected—regardless of how or whether Judge Cahill rules—to give up their quest to set Chauvin free. Look for the lawyer Nelson to use an unfavorable ruling by Cahill, if he does decide to rule, as another reason to file for an appeal of the guilty verdicts.