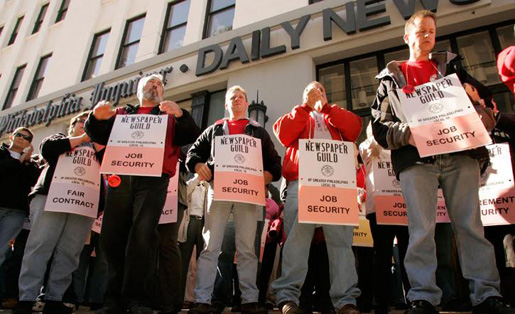 Workers at the New York-based publishing company Digital First Media are continuing their campaign for fair wages and job security even in the midst of layoffs and consolidations. On Jan. 12, Digital First Media workers launched what they described as a "national, coordinated campaign to win fair contracts with wage increases for the nearly 1,000 Guild-represented employees of Digital First Media." The campaign adopted the theme of "News Matters"; leaders say that "the news gatherers, news producers and news deliverers, as well as the advertising and office staff matter too."
Controlled by the hedge fund Alden Global Capital, Digital First Media is the second-largest U.S. newspaper chain, with a circulation of roughly 67 million readers across 15 states. Yet, despite this wide reach, union leaders at several of Digital First's papers claim that many workers have gone eight to ten years without a raise in wages.
In a press release issued in January DFM workers explained,"We are taking this action because we see no other alternative. Isolated as individual bargaining units, we have faced total shut-out from DFM on raises, even as valued employees leave the papers, week after week, in search of more equitable workplaces.
Even with this ongoing campaign newspaper workers have experienced further blows, as the Bay Area News Group [BANG] – owned by Digital First Media- announced March 1 that half a dozen Bay Area newspapers will be folded into two daily publications. The daily newspapers in the East Bay, Silicon Valley and on the Peninsula will be made into two distinct publications — the East Bay Times and The Mercury News.This will result in the cutting of roughly 20 percent of the company's 200-person newsroom staff.
BANG president and publisher Sharon Ryan attempted to justify the consolidation by placing the responsibility for the decision on the readership. In a statement to employees, following the consolidation announcement, Ryan stated, "Readers have been quite clear with us about how much they like their newspapers and what they want more of, and we're changing to serve them better. We'll give them better focused front page stories that cover national and Bay Area news from each region's point of view." Ryan noted that the company was still committed to ensuring an "economic model that ensures a thriving BANG" and readers who are well informed.
Carl Hall, executive officer of the Pacific Media Workers Guild- which serves as the parent local of the East Bay and San Jose units of DFM workers-, had a different opinion when it came to Ryan's words on what readers wanted. "Management claims the readers asked for this. I have a hard time believing too many people demanded a 20 percent or more reduction in editorial staff from their already devastated newsrooms," Hall told reporters at the San Francisco Chronicle earlier last week.
On April 4, the last daily edition of the 150-year-old Oakland Tribune will be published. The two newly formed East Bay Times and Mercury News will launch April 5. Newsroom employees ages 60 and over, and who have been with the papers for over 20 years, will be offered buyouts. Reportedly only 30 people company-wide meet these conditions.
Hall said in January, "They've [management] been treating the workforce like something they can just ignore – and it has eroded the quality and created widespread burnout and disenchantment, rather than inspiring people to meet the challenge of this terrible media market we're faced with."
Bay Area managers met with union representatives on the morning of March 2. Carl Hall spoke further with People's World this week regarding the negotiations and road forward. Hall noted, "Format is an open question… Saving print is not the goal. The goal is saving unique and compelling content." Hall explained that the industry has become "profit sucking," and in order for there to be improvement, management needed to "invest in the quality" and the "people who produce the content." Hall, who also lectures on journalism at the University of California/Berkeley, noted the changing platforms for how news is shared, but remained steadfast that what would continue to stay consistent was the profitability of compelling content.
Hall said that the union went into the negotiations demanding a five percent raise in wages, but that the offer was declined by management as of March 3. Hall connected the management's refusal to the pay increase to the looming issue in the media industry. "The company spin is so obvious," he noted referring to Ryan's announcement, "They didn't even mention the layoffs after the already other devastating cuts. [Management] needs to recognize that there will be down years. There needs to be a commitment to deepening our understanding of news and what is real." Hall said he hoped that the DFM workers' campaign was clear: "People want quality jobs and quality journalism. When people have quality jobs, security, and good wages, they produce quality news."
Photo: Members of NewsGuild of Greater Philadelphia rally outside of Philadelphia Inquirer and Daily News building. | George Widman/AP