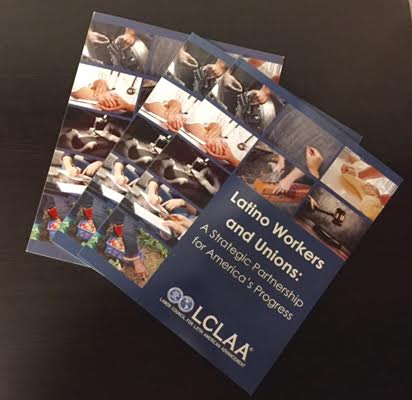 WASHINGTON (PAI) – Saying that Latino workers and unions need each other, Labor's Council for Latin American Advancement (LCLAA) is advocating "strategic investment" by unions in organizing Latinos and more use and promotion of workers' centers.
In a 60-page report, Latino Workers and Unions: A Strategic Partnership for America's Progress, earlier this month, LCLAA notes Latinos are both the fastest-growing U.S. minority and the fastest-growing segment of the U.S. workforce – and the most-exploited.
The Latino share of the workforce is calculated to double, to 30 percent, within a few decades, the report, edited by Hector Sanchez, LCLAA's executive director says. LCLAA is organized labor's constituency group for Hispanic-named workers.
But too many of those workers are among the most-exploited, toiling in low-wage occupations and vulnerable to immigration agents' raids, wage theft and other employer exploitation. Unionization can help protect those workers, the report adds.
"For Latinos, the road to social and economic prosperity is mired with hurdles. From wage theft to the increased rates of deaths at the workplace, Latinos are increasingly susceptible to a wide range of attacks on their labor, human and civil rights…More work and advocacy needs to be made in order for Latinos to achieve parity," the report says.
With population, electoral and workforce growth, the future "can be drastically different and positive. But in order to realize this potential, Latinos must harness their strengths and exert their voice in the workplace," it states.
One way is "gaining access to a union," the report says. But it's up to unions to reach out to Latino workers, it adds. And unions and their current members will benefit, from the increased union density due to successful organizing, too.
"Organized labor must make strategic investments in outreach to Latinos. The potential for growth in organizing Latinos is a critical lifeline unions must use in order to stay relevant. More importantly, unions can use this new membership to leverage a more pro-worker agenda and reverse the laws that have weakened collective bargaining for working people.
But the report also pays particular attention to creation and expansion of workers' centers, new less-formal organizations that represent groups of workers, particularly immigrant and exploited workers, nationwide. "Through organizing, mass mobilization and advocacy, labor unions and worker membership organizations raise the quality of life for working people," LCLAA declares.
"All these factors truly highlight why unions and Latinos need each other now more than ever. This mutually beneficial partnership will not only save the American labor movement and improve the lives of Latino working families, but it will also reinforce our nation's economic security and restore the promise of the American dream for all workers," it concludes.
Photo: Labor Council for Latin American Advancement (LCLAA) Facebook.