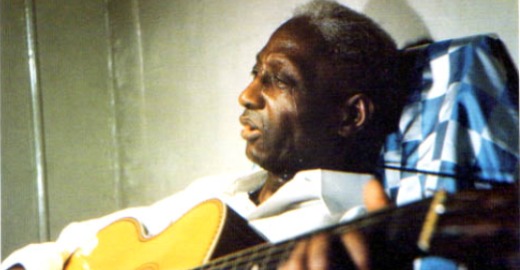 Book review
"Lead Belly, a Life in Pictures."
Tiny Robinson and John Reynolds, editors
2007, Steidl Publishing, 224 pages, $50.00

In any public place, start singing, "Sometimes I live in the country…" and, before you can get to "sometimes I take a great notion," half the crowd will be singing the lyrics with you. "Good Night Irene," where those lyrics appear, is one of the best-known songs in American culture. A new book gives us a chance to know the man who wrote it.
Leadbelly's songs, great as they are, are only a smidgen more interesting than his life story. Researcher John Reynolds and Leadbelly's niece, Tiny Robinson, put together an outstanding collection of commercial and family photos, album covers, remembrances, tributes from other great artists, news articles, original lyrics, letters from Woody Guthrie, and discussions about acoustical guitars like Leadbelly's 12-stringer.
Some of the more romantic aspects of his life are repeated on his album covers. It's really true that he rose from the hot cotton fields of Louisiana before being arrested for "assault with intent to murder." It's really true that he wrote "The Midnight Special" while in prison in Sugarland, Texas. And it's really true that he sang his way out of prison twice, in Texas and again in Louisiana. It's true that he sang for protest groups, the Roosevelt campaign, the Communist Party and to raise money for the forerunners of the People's World. It is true that the FBI traced him, as they did to so many good people in his time. It is true that his songs energized the American South, the North, and parts of Europe. It's true that we still sing them.
But the new book goes much further. Huddie Ledbetter – his birth name; he only later chose to go by Leadbelly or, as he wrote it Lead Belly – was a family man who was especially good with children. Remembrances of those tiny tots who gathered around him are in the book, and they make him sound like the sweetest grandfather who every charmed a child.
Even though his earliest performances were done in prison stripes, Huddie Ledbetter changed, as fast as he could, into an immaculately dressed and sophisticated performer. He let it be known that he was the "king of the twelve-string guitar," but he also mastered other stringed instruments, the piano and the accordion.
Make no mistake about the man's role in civil rights history. Ledbetter stood up for himself and others in every way possible. Note, for example, his lyrics in "Bourgeois Blues:"
White folks in Washington, they know how,
Throw a colored man a nickel to see him bow.
It's a bourgeois town, it's a bourgeois town!
Leadbelly sang "Good Night Irene," for the last time in 1949. He died in New York, but went to rest in his hometown of Mooringsport, Louisiana, where his grave is befittingly marked. He wrote his own epitaph (page 20), "If anyone should ask you people, who composed this song, tell them it was Huddie Ledbetter, done been here, and gone!"
Image: Photo of Leadbelly, as appeared in Lead Belly: A Life in Pictures