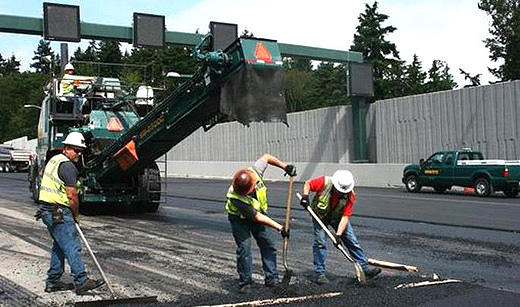 WASHINGTON (PAI)–What AFL-CIO Director of the Government Affairs Department Bill Samuel calls "the least-productive Congress in history" left town on August 1 for a month-long recess without tackling a host of U.S. problems – and lack of infrastructure funding is one of those topping the list.
Lawmakers couldn't agree even a short-term fix to keep the Highway Trust Fund, which funnels federal gas tax money to road and bridge construction, bus purchases and subway repairs nationwide, going. The fund is running out of money and states are already canceling projects, jeopardizing up to 700,000 construction jobs, and the nation's economy, to boot.
"There are an enormous number of needs going unmet," Samuel said in an interview during the AFL-CIO Executive Council meeting in Washington.
"Our focus is on jobs – a serious commitment to building infrastructure, to resolving the public pension crisis, to rewrite labor laws. But none of these have a chance," he declared.
Proving Samuel right, at least on infrastructure, the GOP-run House rejected the Senate's version of the highway-mass transit bill on July 31, killing it by a 272-150 vote.
"What is the House of Representatives waiting for?" asked disgusted Laborers President Terry O'Sullivan. "Another catastrophic bridge collapse? More massive potholes? A school bus accident?
"Our roads, bridges, and highways are literally crumbling around us, the highway trust fund is about to go broke, the federal gas tax has failed to keep pace with inflation and rising fuel efficiency, and unemployed construction workers desperately need jobs. Sadly, some Washington politicians want to stick their heads in the sand, avoid this debate as long as possible, and continue to pretend the status quo is acceptable. This proves once again many Washington politicians have no idea how highway construction works."
The council was similarly disgusted, in a statement it issued on July 30.
"Political gridlock has turned the United States from the nation that led every major advance in public economic development – in rail and transit, roads, sewers, utilities, aviation, shipping and so much more -into a nation that can't find the will to lead in the 21st century," the union leaders stated.
"People want and deserve leadership that will take the steps necessary to keep the nation strong and to ensure the foundation for our economy is sound. This leadership must begin by rebuilding the infrastructure that thrust the United States into the modern era but now is out of date and falling apart." Non-partisan studies calculate the U.S. must spend $3.6 trillion by 2020 to bring roads, bridges, subways and buses into good condition.
Right now, the council says, it's "a scandal – dangerous, economically wasteful and inadequate to the task." Highways are poor and congested, freight efficiency is dropping, and "at a time of rising demand for their services, too many public transit systems are slashing service and jobs, and raising fares on working people.
"This state of affairs cannot stand. Congress must pass a long-term surface transportation bill without delay, backed by dedicated funding adequate to the task," the council said.
But it won't, and Samuel, who has directed the fed's legislative department for more than a decade, lays the blame specifically on the GOP-run House.
"The House leadership doesn't have an agenda – and they couldn't pass one if they did, because their caucus is so divided," between tea partyites and others, he comments.
Photo: AFL-CIO.