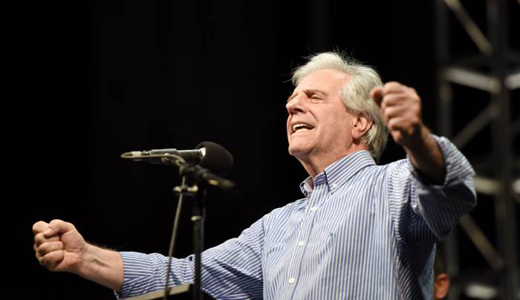 A preliminary calculation of the outcome of Uruguay's presidential elections on Oct. 26 show the left wing "Broad Front" candidate, former President Tabaré Vazquez, getting the highest number of votes at 46 percent, but he faces a runoff election on November 30 against the runner up, the right wing National Party's Luis Lacalle Pou, who got 31 percent.
Pedro Bordaberry of the conservative "Colorado" ("Red") party trailed with 13 percent. Eleven other candidates got much smaller votes. It is expected that the Colorados will support Lacalle Pou in the runoff.
Both Lacalle Pou and Bordaberry are sons of former right-wing presidents of Uruguay. Whoever wins the runoff will succeed incumbent President José "Pepe" Mujica, who belongs to the same left front formation as Vazquez.
Pepe Mujica, a former left wing guerrilla fighter, is extremely respected and popular in Uruguay and beyond, for his integrity, abstemious lifestyle and daringly progressive policies, but the country's constitutionally mandated term limits laws don't allow anybody to serve two consecutive terms. Tabaré Vasquez was president from 2005 to 2010 and was instrumental in distancing his country from U.S. hegemony while befriending Cuba and Venezuela. This enraged the traditional right-wing politicians, especially Bordaberry who is the son of the later former dictator Juan Maria Bordaberry, who, thanks to Vasquez and his colleagues, served prison time for his abuses when in power (he died in 2011). Vazquez had, in turn, succeeded another right-wing Colorado, Jorge Batlle Ibáñez.
The Broad Front alliance, which brought about the election of Vasquez and then of Mujica, includes eleven political parties including the Communist Party of Uruguay and the Socialist Party of Uruguay. During the dictatorship of which Bordaberry senior was part, a number of communists and other left wing activists were murdered by the authorities, who were working in conjunction with other Latin American dictators and the United States in "Operation Condor."
Lacalle Pau and Bordaberry, both sons of right-wing former presidents, find themselves toe to toe with people their fathers did their best to crush.
Some of Mujica's policies have been daring and have not had universal support in Uruguay. The ultra-right calls him a child murderer because on the abortion issue, he supported decriminalization. He also decriminalized marijuana which enraged the right as well. And he integrated Uruguay into the "Bolivarian" process of economic and political relations, which meant close coordination with people hated by the right, including Cuba's Raul Castro and Venezuela's Hugo Chavez and Nicolas Maduro.
Mujica also agreed that Uruguay would take in six prisoners at the U.S. naval base at Guantanamo Bay, Cuba, thus helping eliminate a headache for the Obama administration. He asked, in return, that the United States free the five Cuban anti-terrorism fighters; this has not happened however. The bringing of such people to Uruguay did not get total popular support.
So in Uruguay, the presidential runoff is both a family matter and an ideological confrontation.
Photo: Tabaré Vazquez. AP