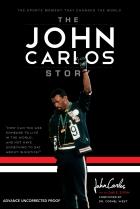 Book Review
The John Carlos Story: The Sports Moment That Changed the World
By Dave Zirin and John Wesley Carlos, foreword by Cornel West
Haymarket Books, 2011, 220 pages, $22.95
The name John Carlos will forever be etched in American history. First, because of his stunning athletic ability which has created a legacy of record-setting titles in so many track and field categories on so many levels they are far too numerous to list in a review of succinct length. Secondly, he shall be remembered for an act of conscience as well as political and personal courage performed on a world stage that was captured in an iconic image that has inspired others for decades.
In The John Carlos Story, Carlos describes growing up in the Harlem of the 1950s where he learned hard lessons about life, race and landlords. He also met notables as disparate as Fred Astaire and Malcolm X. It is on these streets that he gradually discovered his talent and desire to test himself upon the fields of athletic competition. The pursuit of his athletic goals would take him from Texas to San Jose State University in California and finally to the medal stand at the 1968 Olympic Games in Mexico City. It is at these games of the XIX Olympiad, held in a maelstrom of student uprisings and pitiless repression, that he would be awarded a bronze medal and, along with gold medal winner Tommie Smith, he would raise his clenched, black gloved fist in a symbol of defiance in the face of oppression.
The retribution against him for this act, not just from the establishment in organized sports but from the ruling class itself, would be swift, deliberate, and terrible. The story of the act and its aftermath is a fascinating one and gives us valuable insight into the brutal practices of the American security apparatus from a personal perspective.
In the book's preface, sports columnist Dave Zirin refers to the gesture made by Smith and Carlos on the medal stand as "a watershed moment of resistance." This is indeed an apt description, and thankfully we now have this book that not only goes behind the scenes of how this enduring image came to be, but what came to shape the man behind it.
At a recent appearance by the author at the Wisconsin Book Festival he described some of the terrible effects the official harassment he underwent had on him and his loved ones. One audience member remarked, "You've had a sad life". "On the contrary," Carlos replied, "I've had a joyous life."