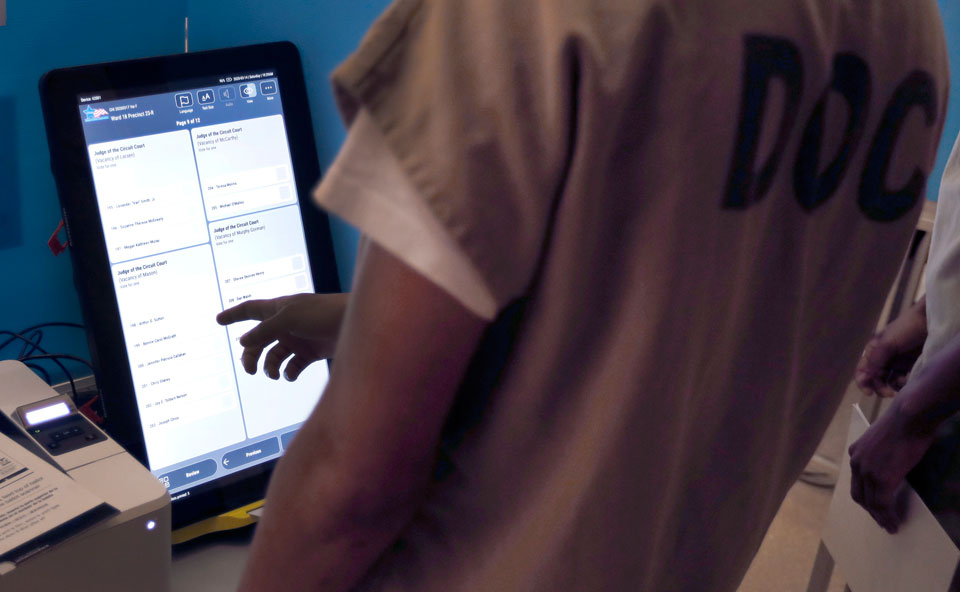 As the midterms rapidly approach, more than 12 million Americans have already voted, to be followed by upwards of 100 million more.
Left out will be some 4.6 million people who can't vote due to a felony conviction, according to a report this week from the Sentencing Project. That's about 2% of the voting-age public, and the number of ineligible voters is actually down about 24% since 2016, after a handful of states restored some voting rights for people with felony convictions.
In Washington state, which recently relaxed its re-enfranchisement laws, a man who spent 17 years in prison said he registered to vote on his first full day of freedom. "We have an opportunity to make sure that our voices are heard," Cyril Walrond told KING 5, a Seattle news outlet. "That's what true equity looks like."
State laws vary wildly on this question. Some, like Maine and Vermont, give full voting rights even to people currently incarcerated (however, few actually exercise that right, as our own Nicole Lewis found). On the other side of the spectrum, states like Mississippi never restore voting rights for people convicted of certain crimes, ranging from some serious offenses you would probably expect, to some you might not, like "timber larceny."
Most states do ultimately restore voting rights after people have served their sentence, but many require them to have completed parole or to be up-to-date on court fees and restitution payments, which can be onerous.
People who regain the right to vote face serious barriers to actually casting ballots. In many cases, people don't know they are eligible—because no one tells them. In Kentucky and North Carolina, volunteers are door knocking and visiting beauty parlors and barbershops to get the word out. Bureaucratic confusion is also commonplace. Earlier this year, The Marshall Project found that two years after Colorado had given people on parole the right to vote, official forms still warned parolees they could not.
Since voting illegally (even accidentally) can be prosecuted as a crime, the confusion sometimes discourages people from trying altogether. Many critics of Florida Gov. Ron DeSantis have speculated that this was his intent with the arrests of 19 people earlier this month as part of his newly-formed Office of Election Crimes and Security.
"These actions are really about striking fear in a voter's minds and intimidating them," said Brad Ashwell, the Florida director for the non-profit All Voting is Local. Several legal experts told The Palm Beach Post that the charges seem unlikely to stick, because in every case, the people arrested had been issued a voter registration card by the state.
As the lawyer for one of the people arrested put it, "He voted under the authority granted him by the government, and now that same body is seeking to incarcerate him for the very act they approved and encouraged him to take."
A judge has already thrown out one of the cases, and another man arrested is hopeful his case will be dismissed soon. Fifteen of the 19 people arrested for voting fraud in Florida are Black, which for some of the governor's foes confirms their worst fears about the new election security unit.
"It was always obvious that this would be used to target and strike fear in Black voters, and this is coming to fruition," state Sen. Bobby Powell told The Palm Beach Post.
Unlike people with felony convictions, most people in jail are locked up pretrial and presumed legally innocent, and thus, many are eligible to cast ballots. Voting access in jails is scattershot, however, and largely left to the sheriffs who oversee the facilities. A handful of large jails, like in Chicago and Houston, have recently set up full-fledged polling precincts for elections—but these efforts are the exception, not the rule.
Fear can also hinder voting in jails. Tennessee Lookout reported that some people in jail didn't vote because they were afraid to check a wrong box and "didn't want to get an extra charge." That fear had a lot to do with high-profile cases of excessive punishment for voter registration errors.
In Wisconsin, the state American Civil Liberties Union said that only 50 people in jail voted in 2020, even though "thousands" were likely eligible. Wisconsin Watch found policies varied widely from jail to jail in the state, but even in those with proactive measures to provide ballot access, "A lot has to go right for someone to vote behind bars."
In Cleveland, The Land found that just five of 1,700 people incarcerated at the Cuyahoga County Corrections Center cast ballots in an August special primary election. Advocates for detainees are hoping for much higher numbers for the general election now that they've secured access to the jail to canvas the cell blocks with registration cards and absentee ballot forms. In 2018, a similar effort led to much higher turnout, but it was shut down in 2020 by the pandemic.