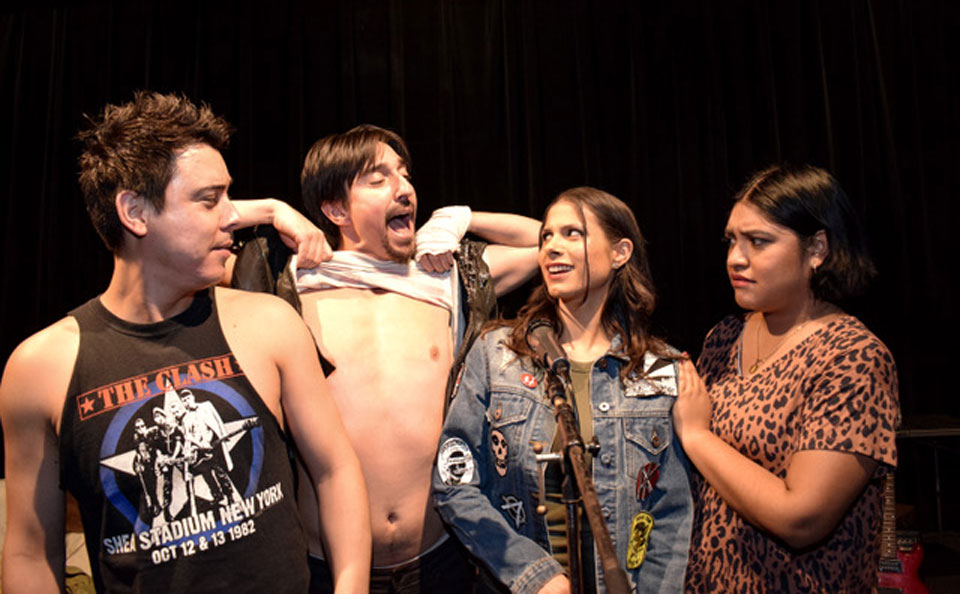 LONG BEACH, Calif. — Playwright, poet and journalist David Trujillo just enjoyed a three-performance trial run of his new play Legacy of a Garage Band, cowritten with his similarly multi-talented son David Reyes, who also directed the one-act play and is its indisputable star actor out of a cast of four.
Community Professionals premiered the play February 11-13 at the Long Beach Playhouse.
In many ways Legacy is a coming-of-age story. Young people in the Chicano community of the1980s—two guys and two gals—have formed a garage band they call "Los Wild Ones," a salute to their ethnic origins as much as to their spirit of barely post-adolescent creativity and rebelliousness. Soon after meeting with some local success, they appear to have a shot at being represented by a major talent agency and a national tour sponsored by a trendsetting rock 'n roll radio station.
But success in the music industry, as anywhere, is an elusive beast to grasp, fraught with danger, disappointment and unexpected turns. No wonder it's the theme of so many classic American novels.
Los Wild Ones consists of three tightly bonded performers—CJ, the guitar player, band leader and the one shown most intensely writing lyrics (Rey Torres); Ryan, the female drummer (Andrea Ramos); and Shade, the lead singer (David Reyes), known to the fans as an almost manic, possessed performer on stage whose larger-than-life persona attracts a loyal following. Bound together not only by their love for music, they also share a deeply embedded history of mutual support. One incident from their past is a car accident which might have proved fatal were it not for some heroic moves.
What happens, then, when one leg of this sturdy three-legged stool starts disintegrating? Shade starts missing rehearsals and showing up late for performances. It's clear to all but himself that his substance abuse is getting the better of him. Much of the content of the play has to do with how a circle of friends supports a falling comrade without abandoning the very project they have mutually committed to. Too much indulgence will lead to an inevitable crash. Yet kicking him out too precipitously will demand his immediate replacement.
Either way, a strong attachment will be broken, accountability will be lost, and the musical tone will shift with the newcomer to the band, CJ's sister Dee (Veronica Lopez), whose affect is nowhere near Shade's hard anger but closer to folk music. In that moment, will the quartet of old friends cease to hold each other up? Will their musical bond be broken? Will the larger world simply continue moving on its axis, leaving the once glowing promise of Los Wild Ones far, far behind as a youthful passion, their music lost forever? Do people get only one chance at greatness?
And what life lessons will be learned? What will be the historical legacy of the band—recalled by a few fans from that long-ago era perhaps—but more important, the emotional legacy for these individuals?
Asking this set of character-driven questions of his material is a step in a new direction for the playwright, whose last play, Many May Not Return, took a different, somewhat more didactic approach, the effect of war and military service on a multi-generational Latino family from California's Central Valley.
A one-act play, compared to a fuller evening, is something like a short story compared to a novel insofar as the space is not always provided to probe more sensitively into motivation, relationships, past history, character, context. In this case, Trujillo and Reyes's attention is pinned so closely on the two males, with the two female characters in basically supporting roles, that there isn't time or breadth to connect the action to the wider context of Chicano life at that time, to trends in the community's evolution, schooling, politics. As far as I could recall, no one ever instinctively belts out some ballad or ranchera popular at that period. Though having said which, the soundtrack that helps transition from scene to scene does reflect the music of its epoch and is well chosen.
But in this format, still, it's enough. We care about these young people, and we understand why Shade seeks so much fandom approval, to make up for what he perhaps missed at home. And we understand why it's such a delicate matter to know how much misbehavior to tolerate from your friends, and when the time has come to stop enabling it. Yet in the end, what was once a lively musical band has ineluctably transitioned into a therapy group requiring forceful intervention in the garage which for Shade had eventually become "the only place I'm safe."
Plaudits are deserved all around, but it's hard not to single out Reyes in his multiple assignments. He is especially effective playing the difficult role of an over-the-top, hyperactive, violence-prone, substance-addicted hard rock musician. As CJ, Torres also exhibits a great youthful physicality, moving like an instinctive boxer. The two women have paler profiles—both within the script and in this performance—perhaps indicative of the male chauvinism marking the era, although Ryan, the only college-educated musician in the group, does have a good solo turn when she recounts her mistreatment while standing in line at a taco stand.
The grungy set provides the perfect ambiance. Marisa Trujillo created the funky costumes, and Gabriel Trujillo's lighting and sound design are excellent. (This production is clearly very much a family affair!) Though there is no physical garage door present, the actors enter with appropriate gestures mimetically lifting the wide door to the neatly coordinated creaking sound effect. The set remains static for a minute or so while the light plays the passage of time until the final scene after the newly constituted band's debut performance. The characters' use of cell phones may not have been entirely right for the period, but again, with only the sketchiest of suggestions as to the era, the point is made that such a story is, in fact, timeless.