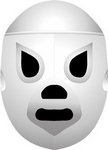 MEXICO CITY — A white statue of a masked, muscular figure gleams under the hot sun as a river of motor vehicles flows by. The statue was erected in 1985 near the city's infamous Tepito market to honor Mexico's most celebrated wrestler/Lucha Libre film action star, El Santo (the Saint), also know as El Enmascarado de Plata (the Silver Mask) because of the silver mask he wore.
Even though El Santo died 23 years ago on Feb. 5, 1984, he remains as much of a working-class cultural icon in Mexico as ever.
El Santo, whose real name was Rodolfo Guzman Huerta, was born in Tulancingo, Hidalgo, on Sept. 23, 1917. He made his first debut as a wrestler in Mexico City's Lucha Libre (free-style wrestling) circuit in 1942, gaining notoriety after winning many matches.
Beginning in the 1950s, Lucha Libre films, starring wrestler actors such as Wolf Ruvinsky and Huracan Ramirez, started becoming popular in Mexico. El Santo appeared in a popular weekly comic book in 1952 that lasted until sometime after 1986.
In 1958, Guzman Huerta starred as the Silver Mask in two films shot in Havana, Cuba: "The Brain of Evil " and "Santo vs. the Infernal Men." The Mexican film crew apparently finished shooting the last film one day before Fidel Castro marched into Havana with his rebel army.
Such were the popularity of Santo's first two films that he went on to shoot 51 more over a 23-year period, in which he defended average working-class people against criminals, vampires, werewolves, zombies, mummies, neo-Nazis, witches, mad scientists, extra-terrestrials and foreign agents.
El Santo became a masked version of James Bond, always ready to fight for justice and to save the world when called upon. He continued to wrestle between film appearances. His ring appearances were often filmed and incorporated into his movies.
Santo films were not only popular in Mexico, but also gained a following in the United States, France and Spain during the 1960s and '70s. While other Lucha Libre stars made a name for themselves, such as Blue Demon and Mil Mascaras, they made fewer films and were never as popular as Santo.
As the 1970s came to a close, the popularity of Lucha Libre films also declined. However, Santo was able to hold on longer than his competitors.
El Santo made his last film, "The Fury of the Karate Experts," in 1982 at the age of 65.
On Sept. 12, 1982, he made his final appearance in the ring and then retired. When Santo died two years later, the Lucha Libre film franchise did too.
However, since 1984, Santo films and other Lucha Libre movies from that era have enjoyed a revival in popularity. Mexican TV stations regularly show reruns of the Silver Mask films. Santo films on DVD are easy to find in every Tianguis (popular street markets held throughout Mexico) and movie/music stores.
Outside Mexico, Santo films have become popular with B-grade cult film fans because of their combination of high camp and corny action scenes. Fans have created web pages devoted to Santo in English, French and Spanish.
Because of their defense of the average person, Lucha Libre stars like Santo have become an important part of Mexican working-class culture, symbolizing justice and honesty. As a result, it is common to see masked wrestlers, resembling Santo and others, in street demonstrations.
During the 1980s, a federal deputy representing the left-wing Democratic Revolution Party, Marco Rascon, wore a wrestler's mask at demonstrations and became known as "Super Barrio."
And at last year's protests against election fraud in which the right-wing National Action Party deprived center-left presidential candidate Andres Manuel Lopez Obrador of victory through ballot box rigging, a masked wrestler often appeared on stage with Lopez Obrador.
Thus, the legend of Santo lives on.
tpelzer @shaw.ca