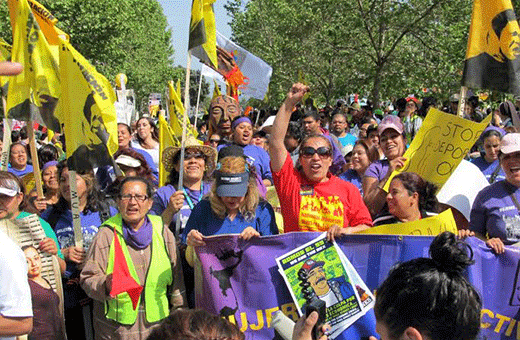 SACRAMENTO, Calif. – State legislative leaders were joined here Apr. 7 by immigrant rights advocates as they announced the "Immigrants Shape California" legislative package – 10 bills in the state Senate and Assembly aimed at greatly expanding undocumented Californians' access to health care, legal protections, labor rights, and protections against discrimination.
The bills – all authored by Democrats and already introduced into the legislature – also include establishment of a California Office of New Americans, to ensure the state has a comprehensive approach to integrating immigrants.
Speaking first in English and then in Spanish, Senate President Pro Tem Kevin De León, D-Los Angeles, said that in recent years California has passed landmark measures benefiting undocumented immigrants, including driver's licenses, stronger labor protections, in-state tuition for Dreamers, and protections against unjust deportation.
But while California "has come a long way … and is better for it," De León recalled that the state has not always been so welcoming, and said undocumented people continue to face many barriers.
Assembly Speaker Toni Atkins, D-San Diego, emphasized that "Immigrants are woven into every part of California's social fabric, and make a huge contribution to our economic strength. Immigrants have the same hopes and challenges that all Californians do, but they also face unique burdens – especially those Californians still forced to live in the shadows."
SB 4, Health Care for All, introduced in December by Sen. Ricardo Lara, D-Bell Gardens, would extend access to health coverage to all Californians regardless of immigration status. Medi-Cal (the state's Medicaid program) would be expanded to cover people who are eligible according to income but are denied because of immigration status.
Lara is seeking a federal waiver that would let immigrants buy coverage under Covered California, the state's exchange under the Affordable Care Act, at the same rates paid by other Californians.
Asked how the state would pay for the expanded coverage, Lara said SB 4 includes cost-saving features not included in an earlier version of the bill. "We know that of the two million undocumented Californians, 30 percent can afford to pay into the current ACA program without any federal subsidies," he said.
Lara said costs of expanding Medi-Cal are still being worked out, "but we've brought it down from what we once thought would be $1 billion to close to $400 to $800 million a year," which he called "doable."
"Keep in mind," he said, "we're currently spending approximately $1.7 billion annually on Emergency Room care, and that's very selective care that doesn't help with any preventive care."
Several immigrant rights advocates criticized Congressional inaction on comprehensive immigration reform.
"With Congress' failure to pass immigration reform, and many leaders doubling down on policies that further target and marginalize immigrants, there is no greater time for the California state Senate and Assembly to again show their steadfast commitment to passing reforms California's immigrants so desperately need," said Angie Junck, an attorney with the Immigrant Legal Research Center.
Juan José Gutierrez of Vamos Unidos USA said the 10 bills "place this state on the cutting edge of what this nation ought to be doing for its immigrants. With California's history as a national trend setter, he said, the measures "are setting an example for what soon will become the trend in this great nation."
Hong Mei Pang, community organizer with ASPIRE, the first pan-Asian undocumented youth group in the U.S., told of the hardships she and her family faced when they came here from Singapore. "We don't think Asian people are undocumented, even though our communities are riddled with poverty and we experience so many different sets of exploitation," she said.
Other bills would limit misuse of E-Verify immigration status probes and make it unlawful for businesses to discriminate on the basis of immigration status, citizenship or language.
Due process requirements would be strengthened for immigrant defendants, and immigrants would gain protections against fraud when they seek help from immigration lawyers and consultants.
Immigrant victims of crime would be assured a chance to apply for the federal Victim of Crime Visa (U-Visa), and immigrants participating in drug rehab programs would be protected against unintended immigration consequences.
California law would be aligned with federal law so the maximum number of California youth could receive humanitarian relief through the Special Immigrant Juvenile Visa, and records of immigrant children would be safeguarded from unauthorized disclosure to federal immigration officials that could result in a child's deportation.
Asked about the possibility of bipartisan support for the bills, Speaker Atkins noted that a number of measures have already passed with bipartisan support.
"I am optimistic and hopeful that we will have bipartisan support for a number of these pieces of legislation," she said. "Why? Because what affects people in California affects every single one of us.
"This is the right thing to do," she added. "We intend to set the model, set the tone, as California always has. We don't expect it to be easy, but we do expect to succeed."
Photo: Marilyn Bechtel/PW