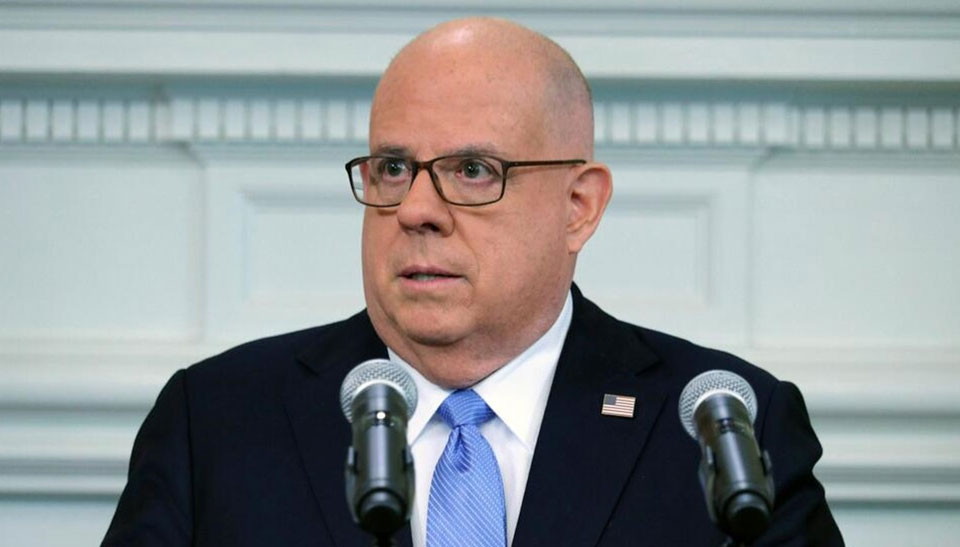 ANNAPOLIS, Md. (PAI)—The heavily Democratic Maryland legislature overrode GOP Gov. Larry Hogan's veto of a proposed state family and medical leave bill, the Time To Care Act, that would have helped an estimated 2.5 million workers care for themselves and their loved ones. Hogan also vetoed four pro-union bills and those vetoes stood.
Hogan called the measure, by State Sen. Antonio Hayes, D-Baltimore City, too broad and too vague and said it could impact businesses with as few as 15 people, far below the minimum workforce of 50, federal unpaid family and medical leave law now cover. People on Maryland family leave will receive checks equal to 90% of weekly income starting in 2025.
Led by President Patrick Moran, AFSCME District Council 3 argued for Hayes' bill, with Moran giving broadcast media interviews about it while discussing it with lawmakers. So did progressive and social service organizations.
AFSCME's efforts for a paid family leave bill in Maryland started 22 years ago.
Then, three top leaders of Council 67, which represents Maryland health care workers—Executive Director Glenard Middleton, President Darlene Strock, and Secretary-Treasurer Dorothy Bryant—pushed a pre-paid family leave resolution through AFSCME's 2000 convention not only endorsing leave but saying states should be free to create better variations.
AFSCME liked Hayes' paid leave bill. So did the heavily Democratic legislature. Hogan didn't. "Had the General Assembly moved forward with a family leave proposal that adhered to the Obama administration's definition of small businesses, I would have been more inclined to support it," he said in his veto message. Lawmakers reversed his move.
"An innovative and thoughtful approach to family leave flexible for both the employee and employer is important to improve the quality of life in the state. However, this legislation is backed by no actuarial analysis, no viable plan for implementation, and leaves the smallest of small businesses vulnerable to insurmountable regulatory burdens," Hogan said.
Corporate special interests, led by the state Chamber of Commerce, opposed paid leave. They argued that by mandating workers take paid leave under company programs for 12 weeks, followed by state paid leave for 12 more, a worker could miss almost half the year.
The General Assembly adjourned April 11. Hogan vetoed paid leave on April 9 and solons overrode it just before adjourning. The payroll taxes to pay for it, left to the state Labor Department, would have started in October 2023, and eligibility for leave would have begun in January 2025.
Nine states and Washington, D.C., now have paid family and medical leave and it will take effect this year in two more. But a federal paid leave law, part of Democratic President Joe Biden's Build Back Better agenda, is marooned in the U.S. Senate, victim of a successful Republican effort to even prevent debate, much less a vote on that measure.
Hogan vetoed the four labor-oriented bills on April 12, the day after lawmakers adjourned. Two authorized collective bargaining for staffers in the state Public Defenders Office, and for Maryland Transit Administration supervisors and sergeants.
Hogan also vetoed two bills changing the state's prevailing wage system for construction workers. SB259 would have made "public work projects more expensive," he contended, by extending prevailing wages to "service maintenance contracts" and applying it to any project worth more than $2,500. "Job opportunities will decrease as fewer projects are funded" and smaller contractors will be shut out from bidding, the governor declared.
And SB1 would have imposed "stop work" orders on entire projects "when there may be a mere suspicion" contractors broke prevailing wage agreements. That leaves prevailing wage rules "ripe for abuse" through accusations, Hogan charged.
SB1, too, "May negatively impact the prevailing wage system, make contractors less likely to want to perform prevailing wage work, and could result in less competition and increased pricing on public works projects," he stated. The Maryland-D.C. Building Trades Council had no immediate comment on Hogan's vetoes.
PAI staffer and marketer Janet Brown contributed material for this story.