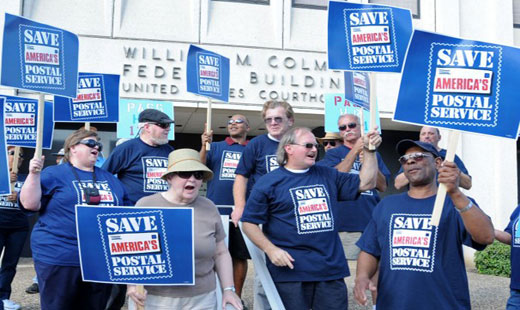 WASHINGTON – The latest Republican version of "reform" of the red-ink-ridden U.S. Postal Service is unacceptable, while the Democratic alternative, though better, needs more work to be totally acceptable, the Letter Carriers say.
And in letters to House Governmental Affairs Committee Chairman Darrell Issa, R-Calif., and top Democrat Elijah Cummings, D-Md., the union offered its own ideas for how to rid the USPS of its deficits and debt. The Postal Workers offered similar views.
The panel started work on USPS reform on July 24, and NALC President Fredric Rolando commended lawmakers, Issa included, for reaching out – this time – to unions and other stakeholders for ideas on how to help the service make money again.
The panel is wrestling with ideas to close a deficit that the Postmaster General claims is $16 billion yearly.
That executive's solution is to kill Saturday pickups and deliveries, except for packages, fire 100,000 workers, let another 100,000 go by attrition, close thousands of post offices, slow down first-class mail delivery and shutter distribution centers.
The Letter Carriers and other unions proposed, and NALC reiterated in separate letters to Issa and Cummings, other solutions to stem the red ink.
Primary among them, Rolando says, is to end the requirement that USPS pre-pay 75 years' worth of future retirees' medical benefits in one decade, which began in 2006. A GOP-run Congress imposed the requirement at GOP President Bush's request. It's unique to the USPS and it's a $5.5 billion annual drag, he adds.
And the new legislation should also let USPS get into new lines of business that can take advantage of its nationwide network, such as acting as notaries public or shipping beer and wine as well as mail, the letters say.
Rolando thanked Issa for dumping a provision from his prior legislation that would mandate a financial czar to take over the USPS, and to let the czar rip up union contracts, cut benefits and fire workers. But he said Issa's new proposal still would not let the USPS enter new business lines and still would set firings as the key. Firings and service cuts "would set off a death spiral" at USPS, Rolando added.
"We believe your draft proceeds from a false premise that the Postal Service is irreversibly failing and must be dramatically downsized," Rolando wrote the chairman. "The reforms you propose would have a devastating impact on the jobs of eight million workers," including 7.5 million in the private sector, he said.
Issa's plan to restrict Saturday delivery just to packages would eliminate 80,000 full-time jobs at USPS alone, NALC says, and thousands more in the private sector – shippers, mailers, etc. – that depend on the agency's door-to-door service. And Issa would kill that service, too, in favor of centralized banks of mailboxes, for 40 million customers, thus eliminating more jobs, Rolando said.
Cummings and Issa rewrote the health care prepayment requirement to make it less onerous, the union president wrote – but they didn't succeed. He said the trim would be about six percent of the projected costs of the prepayments. The health care prepayment, and lower valuation of workers' comp account assets due to the Great Recession account for most of the USPS red ink, Rolando told both.
"We hope Democrats on the committee are as committed as we are to passing a bill that puts service and growth above the Bush-era pre-funding mandate," Rolando wrote to Cummings.
Rolando told Issa if USPS is going to be run like a business, as Bush's 2006 postal "reform" bill mandates, then reform should start at the top. The present USPS board lacks people with experience running large businesses or organizations with large numbers of unionists, and should be canned, Rolando said.
The USPS should have a board of "proven…senior business executives, successful entrepreneurs and leaders of large non-profit organizations." And politics should be taken out of the board by removing nominations from Senate leaders.
While Issa dropped his scheme to dump union contracts outright, he still wants to write management's pre-conditions into law. That hamstrings bargaining before it begins, Rolando warned. And bargaining helped USPS adjust to the Great Recession and reduce its workforce, by attrition, by one-fourth in the last decade, he noted.
Whether Issa's measure will go anywhere beyond his own committee is uncertain. He tried to jam through an anti-union anti-worker "reform" bill last year, including eliminating Saturday delivery, but a bipartisan revolt on Capitol Hill foiled him. And the House version of the money bill that includes a small sum for USPS, to cover mailing subsidies for the blind, already includes a section mandating six-day service.
Coast-to-coast demonstrations by NALC and other postal union members on their day off, a Sunday, fueled lawmakers' resistance then to Issa's scheme. Workers explained what that "reform" bill would do to customer service, and their jobs.
Photo: Ryan Moore/AP