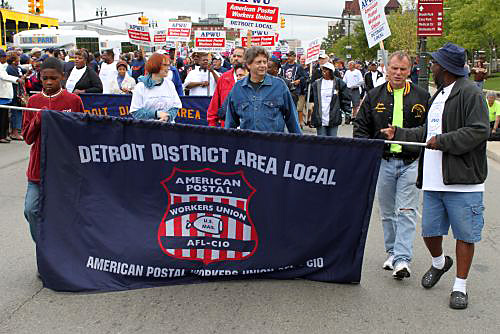 DETROIT – The rays of the unforgiving sun begin to beat upon the brim of my baseball cap. This day is gonna burn my butt. As I turn into the parking lot across from the grassy field that was once the old Tiger Stadium, I can see that we are going to have a good turnout. I see the red shirts. That's our signal of solidarity. My letter carriers have arrived at that the crack of dawn, well actually about a half hour past that crack, to begin assembling for the 2015 Detroit Labor Day March. Two hundred strong at 7:30 AM is a mighty good way for a guy like me to celebrate my favorite holiday; the Worker's Day; Labor Day. As I exit my vehicle I begin to sweat with the anticipation of the day. And with the realization that the Bloody Mary bar has not yet arrived to nurse the aches and pains from last night's overachievements.
I am the guy with the bullhorn. I really never wanted to be in this position but life is funny. I jokingly asked Santa for a bullhorn about five years ago at Christmas and one showed up under the Xmas tree. I know my wife would not have ever given me this mouthpiece so I really have to think that Santa exists. Who else would do something like giving a guy like me an amplified speaking device? Definitely a divine soul, or maybe a drunken Santa. Either way, I am leading 200 letter carriers in song and chant down Michigan Avenue on this hot, sweltering morning and it is glorious. We look good and our message is resounding.
The Detroit Labor Day March is one of America's pre-eminent Labor Day events. Our letter carrier branch (NALC Branch 3126) was the first of the local NALC branches to get re-involved in the glorious tradition of marching in Detroit's Labor Day event. In 2003 we gathered together five or six folks and we joined the marchers in our humble huddle. On this Labor Day, as we have done for the past few years, we now number in the hundreds. Our message for "Saving the Postal Service" echoes as we march down Michigan Avenue and spill into Hart Plaza. I tip my hat to the efforts of the Michigan Association of Letter Carriers for propelling this event forward and making this day an exciting day for letter carriers and their families. Some of my NALC brothers and sisters travel some distance to be here and their energy is high octane to my petrol!
My red shirt is covered in sweat. As I get older and fatter, the shirt becomes wetter. Oh well, as long as I don't die in the street here, maybe no one will notice. I holler out the chants, and surprisingly, the people respond. I amaze myself every year with this ritual. It is fun, and sweating in the hot sun is fun. These letter carriers, you letter carriers, are the best group of folks to be around at 9 o'clock in the morning. I really mean it. Not just at a march, but anytime. I hate mornings. But not with you. Even at work you make me laugh. Even when I don't want to.
We approach the end of the March heading towards Hart Plaza. I am thankful that though covered in sweaty red shirtedness, I have not yet collapsed or died. The folks that have had to endure the last hour of my bullhorn bravado are probably not as thankful as I that I am still breathing.
In the glistening sun I see the inspiration that brings me to these Labor Day marches. Sixty foot high-in-the-sky steel arches. The solar sphere dances on the giant gears bursting out of the earth. Sixty-three feet in the Detroit sky rises Transcending: the Western hemisphere's largest tribute to the Labor Movement. I love this sculpture; it is a wonderful work of art that should bring tears to any man or woman who works for a living. David Barr designed these arches along with Sergio De Giusti who created the bronze reliefs that accompany the magnificent arcs. "View the symbols of capitalism through the ring that labor built." Those were the words of the Metro Times newspaper when honoring Transcending with an award for public art. The two arches do not meet. There is a gap at the apex. This is a broken rainbow. Some say a work of defiance. Others say it represents that Labor's work is never done. I've been told that it is about remembrance. The artist who created it could tell us best. But his voice has been silenced.
David Barr died this Aug. 28. He was an artist that we should know more about, and hopefully future generations will know more about him and his unique artistic prowess. His work was a combination of science, mathematics and art. His "Four Corners Project" was an artistic endeavor to mathematically and spiritually unite the four corners of the Earth including New Guinea, Greenland, Machu Pichu, and Easter Island. He also created the Michigan Legacy Art Park at Crystal Mountain, Michigan. This project combines over thirty works of art in a natural setting in a thirty-acre park in northern Michigan. I have been there and it is amazing.
Albert Einstein said this (and he was a pretty smart feller), "Strange is our situation here upon Earth. Each of us comes for a short visit, not knowing why, yet sometimes for a divine purpose. From the standpoint of daily life, however, there is one thing we do know: that we are here for the sake of others…for the countless unknown souls with whose fate we are connected by a bond of sympathy. Many times a day, I realize how much my outer and inner life is built upon the labors of people, both living and dead, and how earnestly I must exert myself in order to give in return as much as I have received."
David Barr exerted himself for the sake of his art, for the sake of Labor, and for the sake of others. His arches are quickly becoming the iconic images of a Detroit attempting to blend the past Labor struggles of our workers with the uncertain story that is yet to be written about those workers. That is the nature of great art. It speaks of what we know and warns us to not be so comfortable with our hopes and visions of what is to come. Look up at the arches when the sun goes down; you will see a bright light. Right there at the apex. That is the twinkle of a great artist, maybe even winking at you. Or your girl. This art will speak for eternity. These words from Dr. Martin Luther King Jr., embedded in tiles on either side of Dave Barr's masterpiece, are timeless. "The arc of history bends towards justice." Rest in peace my brother.
Photo: Postal workers in the Labor Day event in Detroit. | apwu480.org/