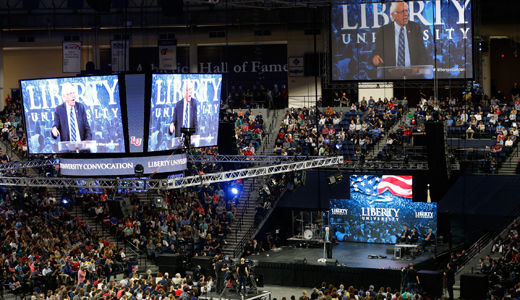 WASHINGTON – With the Letter Carriers starting their presidential endorsement process, the union faces a choice between Sen. Bernie Sanders, Ind.-Vt., and former Secretary of State Hillary Clinton, union President Fredric Rolando says.
As a result, it "may not wish to pick among" them in an endorsement during the presidential primary season, he adds in his Postal Record column. "But either way, we have at least two great friends running on the Democratic side of the aisle."
The Letter Carriers endorsement is important, as the union has members in every state in the U.S., plus Puerto Rico, Guam and the U.S. Virgin Islands, which also send delegates to the two major-party conventions. And the Letter Carriers have high credibility with customers.
And Letter Carriers have a vital stake-"more so than most Americans"-in who wins the White House next November, Rolando said.
"After all, the president appoints the Postal Service board, names its regulators, decides who administers" workers' pensions and health insurance "and decides, with Congress, whether we have jobs, benefits and/or collective bargaining rights."
Clinton, who is also a former New York senator, and Sanders, who is challenging her in the Democratic primaries, are two of the 21 people seeking the White House. The other three Democrats are former Sen. James Webb (Va.) and former Govs. Martin O'Malley (Md.) and Lincoln Chafee (R.I.). There are 17 Republicans, currently led by billionaire real estate mogul Donald Trump. Rolando said NALC is also open to listening to what Republicans have to say.
So far, Clinton has endorsements from two AFL-CIO unions, the Teachers (AFT) and the Machinists, and is courting the leadership of the Carpenters, who are unaffiliated with any labor federation (see separate story). Sanders won the backing of National Nurses United, an AFL-CIO union. The AFL-CIO is not expected to endorse anyone before late February, if then.
"We have to decide who is the best candidate-when it comes to our interests-who can actually win the 2016 general election. We will take our time making our decisions," Rolando explained. But it already likes both Clinton and Sanders.
NALC started its political process by sending all hopefuls questionnaires to fill out on several key issues: The Postal Service's role in the 21st century, "how to reduce the burden of retiree health care prefunding"-an annual $5 billion charge that produced USPS deficits and subsequent cuts-benefits security, collective bargaining rights for public and private workers and candidates' stands on Social Security and Medicare.
Sanders is the prime Senate sponsor of union-crafted postal legislation, designed to bring more business to the USPS, keep six-day delivery, end the health care pre-funding-which a GOP-run Congress imposed in 2006 — and halt post office and distribution center closings, among other goals. Those closings have slowed the mail, even by USPS standards.
Rolando calls Sanders "perhaps the single greatest friend we have" in the Senate and "a staunch ally who helped us defeat multiple bills that would have dismantled the Postal Service."
But he also reminded readers that Clinton "was a champion of letter carriers and the Employee Free Choice Act when she was a senator" and won the union's endorsement in 2008, over then-Sen. Barack Obama, D-Ill., and others. Clinton also gave "a sensational speech" to the NALC convention's delegates that year, he added.
After the candidates return NALC questionnaires, by Sept. 15, "We will report the results, inform members about the electability of the candidates and then ask members to express their preferences on whether, and whom, to endorse," Rolando said. Before that, NALC will invite candidates who want the endorsement to meet with the union.
Besides answering the NALC questionnaire and speaking in August to the AFL-CIO Executive Council – as did Clinton and O'Malley-Sanders is also taking steps to corral labor-wide support. He hosted an early-September conference call for his union activist backers which drew 17,000 union participants.
They discussed issue stands and strategy, with several of the union callers promising to urge their unions not to make early commitments. Sanders is gaining on Clinton in the first two presidential primary and caucus states, New Hampshire and Iowa.
In the conference call, Sanders restated his legislation to raise the federal minimum wage from its present $7.25 hourly to $15, and advocated a $1 trillion program to rebuild the country's infrastructure.
He also restated his determination to create a government-run single-payer "Medicare for all" national health-care system, a favorite cause of NNU, the Steelworkers and almost 20 other unions.
"Don't let anybody tell you that we're radical, that we're outside the mainstream," Sanders, who calls himself a democratic socialist, said. "We are the mainstream."
Photo: Democratic presidential candidate, Sen. Bernie Sanders, I-Vt. during a speech at Liberty University (private, conservative Christian university founded by the late televangelist Jerry Falwell) in Lynchburg, Va., Sept. 14. (AP Photo/Steve Helber)