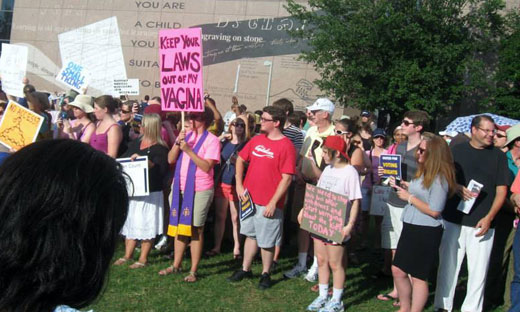 RALEIGH, N.C. – This week North Carolina Gov. Pat McCrory signed an anti-woman bill on abortion that the state House had passed into law. It restricts how abortions can be carried out. This week's Moral Monday demonstration, June 15, was dedicated to women. The Rev. William Barber, leader of the North Carolina NAACP, an initiator of the Moral Mondays demonstrations, had been at the NAACP convention in Florida but said he felt the need to be with his people at such a moving time as the Zimmerman trial and verdict. He had returned to North Carolina to support protesters at the state Capitol in Raleigh against this anti-abortion and anti-women's-rights legislation.
My friend Harvey Smith was arrested last week with his daughter, and his wife Jane was up from Lillington to be arrested this week. I felt moved to take a stand. I have been involved in the movement since helping to found Quaker House in Fayetteville/Fort Bragg, and then with the fight to free Angela Davis, the Charlotte 3, and the Wilmington 10 while living in Charlotte. I had never been arrested but I felt this is the time to take a stand against what the state is doing to women and poor folks in general.
We started out with a short rally and press conference at Pulliam Memorial Baptist Church. I remember this church from the Vietnam War days when Rev. W.W. Finlator was a great activist minister in this very church.
We were then bussed to the rally site where Harvey Smith was and many members of his family besides wife Jane were going to be arrested this week.
The outdoor rally went on for about 1-1/2 hours with many dynamic women speakers as well as Rev. Barber. When it was time to enter the legislature building, we lined up behind the speakers' platform. We were following a Veterans for Peace banner and an American Flag. We started moving forward, including a friend of Harvey's in a wheelchair. It was a very emotional moment. I fought back tears. Then the parted crowd was clapping and cheering.
We began shaking hands. I recognized Chuck Fager, long-time director of Quaker House, and shook his hand. We marched into the legislature building and surrounded a large fountain. There were also supporters upstairs.
We began a rally that was very loud and cheerful. Rev Barber had a microphone and he repeated what women were saying to him as well as adding his own remarks. The crowd was wildly cheering, and we had a rally that lasted over half an hour. Finally the chief official said, "Disperse or you will be arrested."
They began putting plastic handcuffs on people one at a time. We kept cheering and chanting as people were led away. There were twice as many women as men being arrested
It looked like we playing musical chairs as we were being processed. They had already taken two busloads of women to jail. As the officers processed the remaining women, they had the men watching as they groped women physically. This was very demeaning to the women as well as the men. Finally we got to jail after a bumpy ride on the prison bus. We played musical jail cells for another 45 minutes until we saw a magistrate. We were released with court dates in November.
Then we went outside and signed some papers with the NAACP authorizing them to represent us. We also got a button that read, "I went to jail with Rev. Barber 2013." I caught up with Harvey Smith, Jane and the rest of the family.
There were 101 people arrested and I really felt like I had taken a stand. Next week's rally will focus on voting rights and the impact on public education and criminal justice.
Video: The July 15 Moral Monday also focused on women in the workplace:
Photo: Part of the crowd at the July 15 Moral Monday, Raleigh, N.C. Harvey Smith/PW