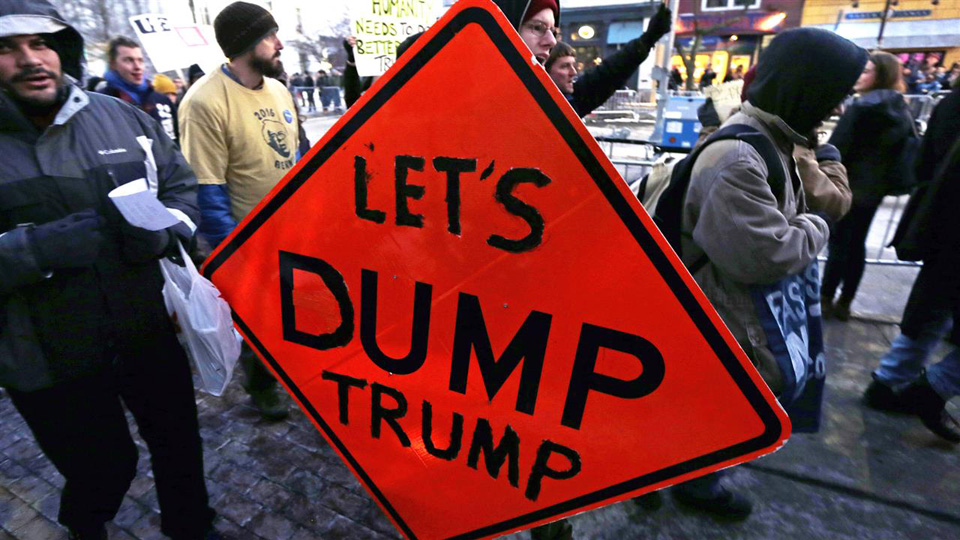 One of the most alarming things about the 2016 elections was how the truth came under assault.
Before we can defeat Trump, we must reestablish fact and reassert truth. That's why we need People's World more than ever! 
Please make People's World part of your year-end giving with a generous donation of $25, $100, or $200. Your donation can be made here!
You and I saw millions of voters duped by Donald Trump. They got lies directly from hate-talk radio, the right-wing pulpit, Fox News, and the voice of the white supremacist alt-right – Breitbart News.
We've seen this before: Politics based on lies, hate, and fear facilitates the rise of authoritarianism and fascism.
One shining light of the elections was People's World's news coverage and analysis. People's World reached hundreds of thousands of new readers, dispelling lies and telling the story of the grassroots activists mobilizing to defeat Trump.
And it's not just us tooting our horn. The People's World received high praise from our journalist peers by winning 9 awards from the International Labor Communications Association and more from the Illinois Woman's Press Association.
With white supremacists, anti-Semites, misogynists, and Islamophobes in the White House, we need your help now more than ever.
The majority of People's World readers are between the ages of 18 and 35 who accessed us through their mobile devices. This new outreach was only possible because of your generous support. In the heat of the 2016 election, the People's World launched an awesome re-designed website that now delivers quality news and analysis through mobile devices.
In 2017, People's World aims to put even more investigative reporters in the field to expose the new administration's nefarious plans and their impact on democracy, the climate, and our nation's working class.
You and the People's World will be side-by-side in 2017 in the resistance against the Trump policies and the assault on democracy and truth. We aim to radically expand our audience through greater use of social media and partnering with other labor-oriented and left publications.
Please make People's World part of your year-end giving with a generous donation of $25, $100, $200, or more if you are able.
We need each other more than ever! Together we can do it. Sí, se puede!
John Wojcik
Editor-in-Chief