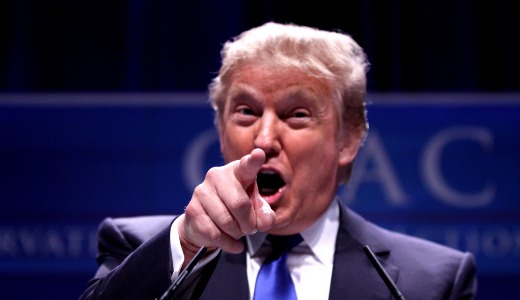 Donald Trump's attacks on President Obama have prompted sharp responses from a broad array of notable persons, including a number of media and film personalities.
The far-right billionaire-turned-birther first questioned the president's citizenship and then switched gears, calling into question Obama's intelligence and qualification for office. Trump charged that Obama was a substandard student who didn't have the grades to get into Columbia or Harvard.
In an Associated Press interview, Trump said, "I heard Obama was a terrible student." How does a bad student go to Columbia and then to Harvard? I'm thinking about it; I'm certainly looking into it. Let him show his records."
David Letterman, host of The Late Show, recently took on the issue directly, saying, "My point is it's all fun, it's all circus, it's all a rodeo, until it starts to smack of racism." He continued, "And then it's no longer fun … I have heard enough really smart people to convince me that yes, that is very, very insulting … How can you say things like that if you're not a racist?"
Trump responded by canceling an upcoming appearance on Letterman's show.
Actor and comedian Jerry Seinfeld also took sharp issue with "The Donald" for the birther issue, canceling an appearance at a Trump-sponsored charity event, according to the New York Post. Seinfeld's representative said, "Jerry … feels this kind of demagoguery has no place in public discourse."
Robert De Niro also took on the New York real estate magnate, says Movieline.com. Speaking at the Tribeca Film Festival, De Niro said, "It's like a big hustle. It's like being a car salesman. Don't go out there and say things unless you can back them up. How dare you? That's awful to do. To just go out and speak and say these terrible things?"
Veteran CBS journalist Bob Schieffer was one of the first to stand up against Trump's racism, saying "That's just code for saying, 'he got into law school because he's black.' This is an ugly strain of racism that's running through this whole thing."
Professor Michael Dyson recently termed Trump's tactic "racism by inference."
Thinkprogress and other groups are calling on advertisers to boycott Trump's show on NBC, "The Apprentice." Under pressure from consumers, Groupon was on one of the first companies to pull ads from show.
Image: Trump at CPAC. Photo by Gage Skidmore // CC BY-SA 2.0