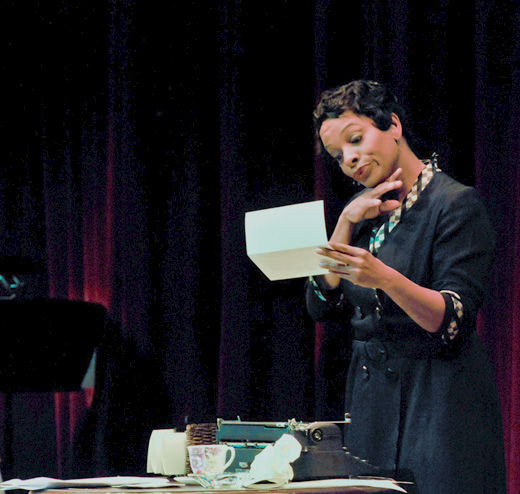 "I was able to conjure my own self," says Black American writer Zora Neale Hurston through a gauzy mist of mysticism and time, in the characterization currently on view (but hurry!) at the Pasadena Playhouse.
Hurston (1891-1960), folklorist and author of several volumes of fiction and anthropological works, as well as an autobiography, was a celebrated, if controversial figure in the Harlem Renaissance world of the 1920s and '30s, who, like many others from that era, "went missing" in subsequent decades. Her rediscovery can be attributed to novelist Alice Walker, whose Ms. Magazine March 1975 article "In Search of Zora Neale Hurston" re-established her as a feminist lioness.
Now her books, such as the novels Their Eyes Were Watching God and Moses, Man of the Mountain, the studies Mules and Men and Tell My Horse, and the autobiography Dust Tracks on a Road are assigned reading at many universities. Zora cherished friendships with Langston Hughes and Countee Cullen, two great Harlem writers, but suffered what can only be described as a literary lynching from white critics who didn't understand her, as well as from Richard Wright and other Black writers of the time, who judged her work as condescending, oversimplified, and caricatured. They failed to appreciate that with her anthropologist's eye, and with her finely tuned esthetic sensibility, she explored the interstices, as she put it, "between, below, and above the stereotypes."
And there's another thing her male critics didn't like: Zora's irrepressible expansiveness when it came to defining her own Black woman's sexuality. Resilient, curious, intelligent, and audacious, she created a world to fit her own life's needs, drawing from all she saw and learned in her extensive travels to sites of the African diaspora in the rural South, Honduras, Haiti, Jamaica, and other countries. She became a "voodoo queen," and later, in her father's footsteps, an ecstatically mesmerizing Christian preacher, at least for a time.
Hurston was criticized for, and misunderstood as saying that "Jim Crow worked in the South." Zora grew up in the independent Black township of Eatonville, Florida, a place she returned to again and again. Her father had served as mayor off and on. Her interest bent toward celebrating the sources of Black agency, the self-advocacy of a capable people defined not merely by their oppression, but also, and mainly, by their self-sustaining culture, music, creativity, religion, institutions, industry, and a great deal of unknown and unrecognized autonomy. Only in her second decade of life did she even learn what the word "colored" meant.
She was suspicious of white patronage, and for good reason. Her "godmother," Charlotte Osgood Mason, supported her research and writing, but that support included ownership. Zora basically wrote for hire. Her resentment extended to politics. She criticized FDR's Four Freedoms as something he "can call names across an ocean," but lacked "the courage to speak even softly at home." Zora did not fall in line for anyone.
Forget Disneyland. Letters from Zora is the best ride in town. Fasten your seat belt. The prominence on stage of a spanking red dress, seen but never worn, signals that we are dealing with one loud, lusty lady. The play delivers a Victoria Falls verbal cascade overflowing with torrents of wild, quick-witted, unmodulated observations-laughter, curses, excitement, memory, umbrage, and despair-a jumble of books, friends, marriages, trials and travels, re- and dislocations, spiritual expressions, and possessed dances.
The non-stop phenomenon that is Letters from Zora is the masterwork of four powerful Black women: Zora herself; the playwright, Gabriella Denise Pina (also an accomplished novelist and a faculty member in the USC professional writing program); director Anita Dashiell-Sparks, herself a Broadway actor; and of course the amazingly gifted, versatile, mercurial, hilarious Vanessa Bell Calloway, whose many credits on screen and stage include the original production of Dreamgirls on Broadway. Dr. Ron McCurdy, professor of music at the USC Thornton School of Music, provides a constantly shifting, original jazz-infused score that sets moods, underlines emotions, and tells its own story of Black America in the 20th century.
Remaining performances for this short run are Friday, May 16 at 8 pm, Saturday, May 17 at 4 and 8 pm, and Sunday, May 18 at 2 pm. The theater is located at 39 S. El Molino Avenue, Pasadena, CA. Tickets available at www.PasadenaPlayhouse.org or call 626.356.7529.