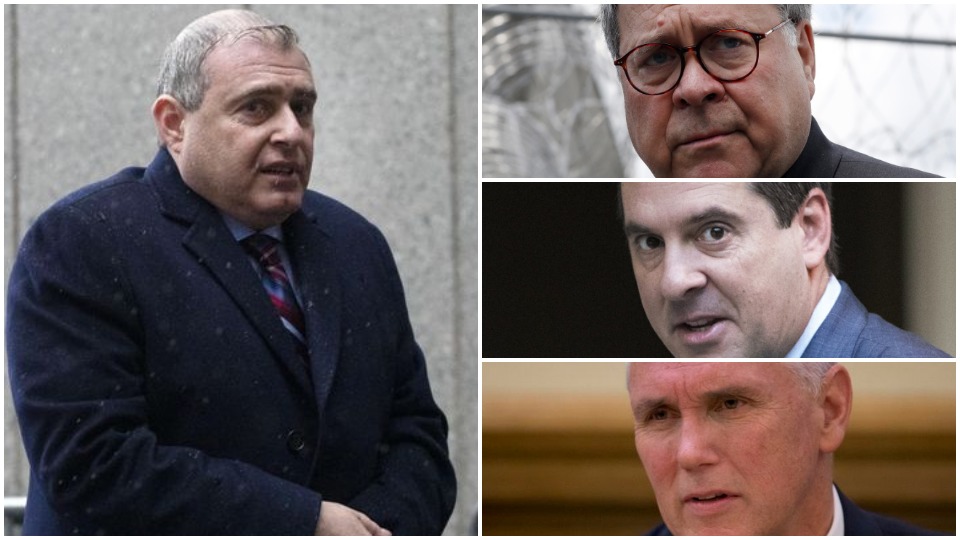 Lev Parnas, in his bombshell interview Wednesday night with MSNBC's Rachel Maddow, blew the lid off the entire conspiracy surrounding the scandal for which President Trump has been impeached and for which he is now on trial before the U.S. Senate.
By turning against Trump, Parnas has further exposed the intimate involvement in the conspiracy—led by the president—of top leaders of the U.S. government, including Vice President Mike Pence, Secretary of State Mike Pompeo, Attorney General William Barr, Ranking House Judiciary Committee Devin Nunes, R-Calif., and Trump lawyer Rudolph Giuliani.
Some, including the White House, question the veracity of an informant like Parnas, who is himself under criminal indictment in the Southern District of New York for campaign finance law violations. Many of the Parnas allegations, however, are corroborated by records, phone calls, text messages, and other evidence which are all now in the public record.
The interview with Maddow followed by a day the transfer from the House to the Senate of hundreds of pages of Parnas documents implicating the president and all his men in "high crimes and misdemeanors." The House received those documents from Parnas earlier this week after he had been granted permission by the Southern District of New York to turn them over to Congress.
As usual, House Speaker Nancy Pelosi's timing seems to have been perfect—first was her delay in turning over the impeachment articles to the Senate, which allowed time for more damaging information against Trump to surface, and then turning over the Parnas documents at a moment which allowed him time to give last night's explosive national television interview, just before the beginning of the trial.
Senate Republican Majority Leader Mitch McConnell is now in a tighter bind than ever as pressure mounts on him to allow witnesses in what he had once hoped would be as simple as a vote to dismiss the whole affair.
"President Trump knew exactly what was going on," Parnas told Maddow. "He was aware of all my movements. I wouldn't do anything without the consent of Rudy Giuliani or the president."
Among the documents handed to the House by Parnas and then to the Senate by the House were hundreds of pictures of Trump and Parnas talking with one another. The evidence puts the lie to Trump's claim on national television that he did not know Parnas or his partner Igor Fruman.
As most have already been convinced, "It was not about corruption. It was all about Burisma, all about Biden, about Hunter Biden and Joe Biden," Parnas said to Maddow. Trump has claimed he was pursuing an appropriate anti-corruption policy in Ukraine, an argument Republicans have used in their defense of him. Parnas's remarks about this last night were nothing more than further confirmation, then, of what most already believed.
Parnas also said that Ukraine had confirmation of the fact that he, Parnas, was acting in that country as a representative of President Trump, not as his own agent. "Did anyone in the U.S. actually convey that to the Ukrainians?" Maddow asked. "Yes," Parnas responded, indicating that Giuliani had informed them as such.
Parnas said that he was told to make it clear to Ukrainian officials that ALL support and financial assistance, not just military and security aid, depended upon Ukrainian President Volodymyr Zelensky announcing the Biden investigations Trump was pushing.
Parnas shed more light on Vice President Pence's direct involvement in the scheme. He explained that Pence's visit to Ukraine was canceled specifically to pressure Ukraine to announce the investigations desired by Trump.
Parnas said that the cancellation of the trip by Pence was the move that convinced Ukraine's leaders that he (Parnas) was acting on behalf of Trump. Pence was "in the loop," regarding the reasons for the cancellation of his trip, Parnas said.
Pence later traveled to Poland, Parnas explained, to meet with Zelensky where he personally tried to get the Ukrainian leader to announce investigations of the Bidens.
Pence has denied that he did this at the meeting with Zelensky in Poland.
Perhaps the most disturbing parts of the Parnas interview were the sections where he outlined the involvement of Attorney General William Barr in the scandal. Barr has tried to keep miles of distance between himself and the affair.
"Barr had to know everything," regarding the scheme to twist the arms of Ukrainian leaders into probing the Bidens," Parnas said. Two things of note here:
Trump himself has at least partially corroborated Parnas on the matter of Barr's involvement. On the infamous July 25 phone call with Zelensky, Trump actually implied that Barr was involved, along with Giuliani, when he told the Ukrainian president he would soon hear from Barr and Giuliani, both of whom were, as the president put it, "working on this."
"Barr was on the team," Parnas assured Maddow in the interview.
Also damaging to the Republican mission to defend Trump at all costs was Parnas's singling out of Rep. Devin Nunes, R-Calif., the Ranking Republican Member of the House Intelligence Committee.
Parnas told Maddow that he had been introduced to Nunes and that he had worked with Derek Harvey, a Nunes aide. He was told to work with Harvey, he said, because there were some "ethical" considerations that Nunes had for himself.
The inappropriateness of a lead actor in the scandal being involved in the investigation of that scandal was obvious to Nunes, explaining why he, like Trump, denied knowing Parnas.
"I was in shock when I was watching the hearings on TV and I saw Devin Nunes sitting up there with Derek Harvey right behind him because they were involved in getting all this stuff on Biden," Parnas told Maddow yesterday. Nunes told Fox News today that he now, suddenly, has "some memory" of Parnas.
The GOP can be expected to continue to try to undercut Parnas by raising questions about not only his being under criminal indictment but about why he would come forward with his testimony, which will continue in a second interview with Maddow tonight.
Some say he is trying to reduce his own jail time, but by angering William Barr, the attorney general and the chief law enforcement officer in the land, how likely an outcome is that?
More likely, Parnas is concerned about his own physical safety. The U.S. ambassador to Ukraine, "Masha" Yovanovitch, was told by some in the State Department that she should leave the country quickly because of concern for her physical safety. She was seen by Giuliani and Trump as being in the way of their bribery schemes, and Trump himself had warned in the July 25 phone call that she would "go through some things."
Parnas knows that he has been involved with a dangerous criminal gang engaging in a criminal conspiracy capable of doing just about anything, a gang that unfortunately includes not just international gangsters but top leaders of the United States. He probably feels the best he can do for his own safety, if not for the country, too, is to come out in the open with everything he knows. For his sake, but more important for the country's sake, let's hope he is right.