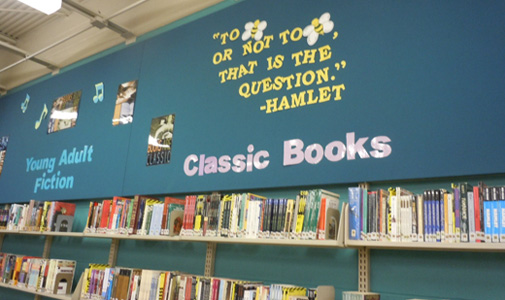 MEMPHIS – With the new fiscal year beginning in July, the city of Memphis is scrambling to put together a new budget. As part of his budget proposal, Mayor A. C. Wharton wants to close seven public libraries. If the mayor's budget is approved, it will reduce Memphians' library access by nearly 25 percent.
According to City Councilman Lee Harris, "Initial budget proposals suggest closing seven libraries. Five have been named." The libraries slated for closure are the downtown Cossitt Library, Poplar-White Stations, Levi, Gaston, and Highland branches.
On a recent visit, 5 minutes after opening, the Levi branch in southwest Memphis was clearly busy. Each of the branch's 10 computers was in use and half a dozen visitors perused the stacks or read quietly. The Levi branch offers a Preschool Storytime and a Gang Awareness Program, and boasts an extensive African-American fiction collection.
Michael Gray walked up the sidewalk towards the library with a laptop bag slung over his shoulder. Michael "lives right around the corner" and was able to walk to the library. If the Levi library were closed he is "not sure where else he could go for free Internet." Michael defies the stereotype that young men only use the Internet for entertainment. He was here this morning, his first visit to the library, to try to find affordable housing.
The Gaston branch in south Memphis is larger and better equipped than Levi. To the right of the entrance a community information board is thick with fliers and posters offering everything from a "Get Energy Smart" workshop to on-site voter registration. Like the Levi branch, Gaston is a hive of activity as school-age children type busily on the computers or sit in clusters reading.
Sharing the building with a Head Start pre-school for low-income families, it is clear that the Gaston branch is a vital resource for its community.
After a morning spent studying African-American historiography and philosophy in preparation for a course he will take at Princeton this fall, Ernest Davis shared his thoughts on the proposed closure of Memphis area libraries. Davis, the first African-American dean at the University of Memphis, said "there is a need" for the Gaston branch. The retired dean put it succinctly: "Everybody does not have a computer or access to books and that is part of the problem: they need this."
Downtown at the Cossitt Library, Assistant Librarian Merlynn Clemons took time out of her busy day to talk about the Cossitt Library's rich history and vital role in the downtown community. Clemons said the Cossitt branch has "visitors from around the world." Many are tourists who come to the library to check their email and communicate with their friends and family while abroad. If Cossitt were closed, she said, "people would have to go to Gaston or Benjamin Hooks [three to five miles away] for free computer access."
In the five years she has worked at Cossitt, Clemons has seen a steady increase in traffic. According to her, "on average there are 50 people in the library" at all times from open to close. In no small part, she attributes the rise in traffic at her branch to the growing trend of "the population moving downtown."
Clemons observed that many of the people who use the Cossitt branch, "walk here on their way to work." She believes that closing the downtown branch "would create a void" in the downtown community and in the lives of her patrons. "People would not have anywhere to go."
Clemons says public libraries are vital for the future of Memphis. "One of the main purposes we serve is for schoolchildren to do their homework," she said. Many students enrolled in Memphis City Schools live below the poverty line. "If you close the libraries," she wonders, "what do poor kids do?"
Founded in 1888, the Cossitt Branch Library was "the first public library in the city of Memphis" and has been the scene of many historic events, Clemons noted.
In the 1920s Richard Wright, author of "Native Son" and "Black Boy," and Harlem editor of the Daily Worker, wanted to read books that were only available at the Cossitt Library but he "wasn't allowed to enter because of segregation laws," according to a library fact sheet. So Wright "forged a note from his white employer so he could access his desired books."
Clemons paused in a huge room with floor-to-ceiling windows that has been badly damaged by water. "Most people don't even know this exists," she said.
Photo by Emmaline Raines.