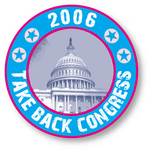 NewsAnalysis
NEW HAVEN, Conn. — Tensions are running high in Connecticut, with all three Republican House seats in hot contention, along with a high-stakes Senate race.
Ned Lamont, who won the Democratic primary race for U.S. Senate, is being challenged by 18-year incumbent Joe Lieberman, who lost the Democratic primary and is now running on the Connecticut for Lieberman line with Republican support.
Post-primary, the media has unabashedly championed Lieberman, with no attempt at giving equal coverage. So when the Connecticut Federation of Black Democratic Clubs (CFBDC) held a press conference to endorse Ned Lamont, it was no surprise that their stated reasons for doing so were largely ignored. Instead, headlines sensationalized a comment, later retracted, questioning Lieberman's claims of participation in the civil rights movement.
Surrounded by present and former elected officials representing decades of leadership and struggle, Henry E. Parker, president of the CFBDC and former Connecticut treasurer, issued an open letter to Lieberman, documenting how his "conduct as a U.S. senator has caused pain and frustration to African Americans grappling with quality of life issues."
Actions cited included Lieberman's critical vote that killed legislation to fully fund Title I education programs; skipping a close vote that would have increased funding for minority health programs; supporting school vouchers, which drain funds from public schools; and undermining affirmative action as "inconsistent with American values."
Instead of asking Lieberman to address these issues, the media launched a shameless attack against Parker for wondering out loud, in view of Lieberman's positions, if he really did go to the South to work for civil rights in the 1960s.
Lamont's campaign quickly acknowledged Lieberman's participation in civil rights activities 40 years ago. But Lieberman's subsequent actions in the Senate have angered many.
In the early years of the Clinton administration, Lieberman acted as a Democratic enabler of the Republican attack on civil rights, just as he has acted as an enabler of the racist, anti-worker policies of the George W. Bush administration and Republican-controlled Congress for the last five years.
It is therefore not surprising that when asked last week by the Hartford Courant if he would prefer a Democratic majority in the House, Lieberman replied, "I haven't thought about that enough to give an answer."
In 1993, as vice chairman of the Democratic Leadership Council, Lieberman joined in criticism of Clinton on the issue of affirmative action. He expressed concerns about the nomination of Lani Guinier to the U.S. Supreme Court, giving credence to a vicious campaign of misinformation and distortion against her support for equal representation for minorities.
Five months after taking office, Clinton withdrew the nomination, the first in a series of retreats and compromises that laid the basis for the Republican takeover of Congress in the 1994 elections.
In contrast, Lieberman has supported controversial appointments of George W. Bush. He was one of only six Democrats approving Alberto Gonzalez as attorney general. Gonzalez had approved the use of torture against "terror" suspects. Lieberman also voted against a filibuster in the case of Samuel Alito, allowing him to be approved for the Supreme Court.
In 1995, as chair of the Democratic Leadership Council, Lieberman called for repeal of Lyndon Johnson's executive order requiring affirmative action goals and timetables. He introduced legislation "to phase out all federal programs that favor minorities in contracting and employment," the Wall Street Journal reported.
Subsequently, under the cover of "ending quotas," legislative, judicial and executive actions have gutted civil rights enforcement.
Lieberman currently represents Connecticut, the richest state in the nation, which also contains four of the country's poorest cities, with majority African American and Latino populations.
In the first of three debates, Republican candidate Alan Schlessinger espoused his party's racist views with an all-out attack on Lamont for welcoming the endorsement of the Revs. Jesse Jackson and Al Sharpton. Schlessinger also poisoned the political atmosphere by attacking any kind of path to legalization or citizenship for immigrants.
These divisive attacks are calculated to undermine support for Lamont. In fact, they serve to underscore the reason that all democratic minded people are called upon to redouble efforts to get out the vote for a progressive voice in the U.S. Senate on Nov. 7.
"Connecticut will only be as great as its cities," said Ned Lamont in accepting the endorsement of the Federation of Black Democratic Clubs. He called for "a fight for affirmative action, for equal education and job opportunities."
Lamont has campaigned tirelessly with the progressive Democratic House candidates in Connecticut toward the goal of defeating the Republican majority who, together with Bush, have deepened racism and hurt all working people in our country.