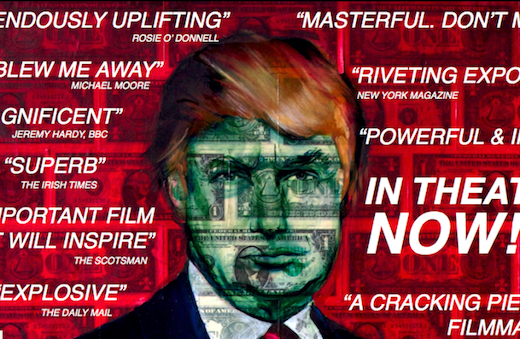 Anthony Baxter's "You've Been Trumped" is a sad tale about how American billionaire Donald Trump used his money and power to destroy a fragile ecological zone on the Scottish coast and make the lives of local residents miserable.
When Trump arrives in Scotland and announces that he wants to convert an ecologically valuable, majestic windswept sand dune into a golf course for rich Americans, he causes an uproar. The area is referred to by scientists as the "Amazon rainforest of Scotland" because of the variety of plant and animal species that it contains.
Trump claims that the golf course project will not damage the dunes and that it has support from environmental groups, a claim refuted by University of Glasgow scientist Dr. Jim Hansom and the local Green Party representative. Trump also falsely argues that the project has local support.
In fact, local residents oppose the golf course and the local legislative council votes against it, but the Scottish government intervenes and overrules those objections. A professor from the London School of Economics refutes Trump's claim that the resort would create 600 local jobs
Adding insult to injury, Trump also speaks out against a proposed offshore wind farm because he "wants to see the ocean" instead of wind towers.
Trump then decides that residents living around the edges of the golf course will have to go because their homes and farms blemish the view. In a clip from his reality show, Trump says, "The houses have to go because l do not like them."
Local residents refuse to sell their properties to Trump, but the Scottish government takes his side again and threatens to buy the properties. At this point, the protest movement organized to save the dunes turns to defend these residents from forced expropriation.
To place pressure on people unwilling to sell, Trump's construction crews sever electrical and water lines and delay making repairs, and bulldozers are used to push dirt walls around the houses, blocking their views.
Police and private security throw up a security cordon around the project while it is under construction, preventing people from filming their activity, and protecting crews who intrude on the property of local residents. In one scene, a police officer, without provocation, throws Baxter against a car, handcuffs him behind his back and puts him in jail for four hours.
"You've been Trumped" very much reminds me of Michael Moore's "Roger and Me." A former BBC radio journalist, Baxter pursues Trump ruthlessly at every press conference and public event, trying to pin him down about the project's social and environmental costs. Trump refused to be interviewed for the documentary.
In the end, the golf course gets built, but local residents are able to save their homes and farms from expropriation.
"You've Been Trumped," a polished piece of work, exposes Trump as a nasty man, driven by self-interest, who will stop at nothing to achieve his goals.
DVD
"You've Been Trumped"
Directed by Anthony Baxter
docuramafilms, 2013, 100 minutes