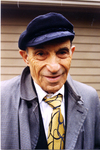 Aaron Mahler, 1918-2006
Aaron Mahler was born into a tumultuous time, at the end of World War I. As if it was ordained, his life was tumultuous as well.
His father left his mother to a household of poverty. His mother was a finisher in the fur industry. She was an ardent union member and walked many a picket line. This exposure helped to form his own political life. He urgently felt the need to defend and struggle with the American working class to improve working conditions. Throughout this period, he clung to the philosophy that led him to become Marxist and a member of the Communist Party USA.
When he worked in the furriers industry he became a member of the Furriers Union. As a taxicab driver later he joined that union. Later he owned his own cab. He worked as a coordinator at Art Craft Strauss. His devotion to labor was evident in his participating on picket lines wherever workers had grievances as well as when unions were actively working toward organizing a shop or industry.
He saw the necessity to support the monitoring of corporate pollution of our environment and controlling gases taking over the air we breathe. He therefore became a life member of the Sierra Club and made frequent donations to it.
The plight of seniors in our country drove him to become a member of senior citizens group which now is the Alliance for Retired Americans. He was a member of Women's International League for Peace and Freedom recognizing the importance of having an organization grounded in making peace and protecting our civil rights. As keeper of the sound system he guaranteed our wonderful speakers at out meetings were heard.
He supported the Spanish Civil War veterans and contributed to the Lincoln Brigade — all to help in the struggle against fascism. During World War II he joined the Merchant Marines engineers as an ensign and bookkeeper.
He was steadfast in his commitment to the labor movement and the CPUSA throughout life. In the Communist Party officially he served in the bookkeeping department in New York as well as in Florida district as financial secretary.
He never compromised his principles, in or out of the Party. He never faltered when there was opposition and attacks against the party and the working class. He always said, "Leaders come and go, but Marxism is forever."
His two girls Judy and Lucy have always been proud of their father. He loved Millie, his wife, to whom he was married for 62 years. Millie, his daughters and sisters and brothers in the party will miss their comrade greatly.
George Shenkar, lifelong activist
George Shenkar, longtime supporter of the People's Weekly World and many other causes, died recently.
Born during the Great Depression, George credited his mother for sparking his interest in Marxism, and for the rest of his life George devoted himself to the cause of social justice. He loved discussing how Marxism advanced various progressive causes but always with a critical eye. Fascinated by ideas and philosophies, George would fearlessly and intelligently discuss them all.
George was a scientific thinker and an inventor, as well as an activist. George was the secretary of the local chapter of the Soviet-American Friendship Society in Detroit, for which he produced the group's newsletter. George knew many languages and translated articles in Polish, Ukrainian and Russian for the Reuther Labor Archives at Wayne State University. He corresponded with relatives in the Ukraine and elsewhere, and many of these letters can be found at the Immigration History Research Center in Minneapolis. He and his wife Stella were regular participants in numerous peace activities. George also liked to take part in a local discussion group on ideological questions.
His friends and colleagues will miss him deeply. George is survived by his wife Stella and children Robert, Kathy and Eric.