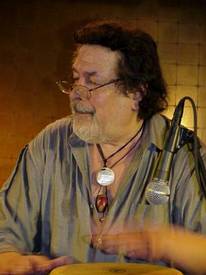 Ray Barretto
Ray Barretto, one of the most influential Latin musicians of all time, died Feb. 17 in New Jersey. He was 76.
Born in New York of Puerto Rican parents, Barretto is best known for his 1960s hit "El Watusi," and was key to introducing the driving salsa beat of the conga drum to jazz music. Stories abound of him playing with Charlie Parker as a guy in his 20s and how he heard Dizzy Gillespie with Chano Pozo doing "Manteca" as a GI in Europe and tore apart a banjo to start beating on the skin. Barretto also played with the late, great Tito Puente.
"Ray was a warrior," said Pete Escovedo. "His mission became to progress the music of Latin jazz. He didn't care what the critics said or what people said about him playing more Latin jazz than salsa. He was a die-hard for Latin jazz."
Barretto was also part of the youth upsurge of the 1960s and '70s and was one of the first "name" musicians to support the Young Lords Party — a left, nationalist Puerto Rican youth group.
"It was a big deal when his great band played a gig at 110th Street at a benefit for us," wrote Pablo Guzman, a New York journalist and a Young Lords founder. "He was the most intellectual cat I knew in the Latin music scene, but truthfully, it was far more than a scene — more like the score to what was exploding and emerging all around us."
"El Watusi" made it to the top 20 of the U.S. pop charts in 1963. Barretto won a Grammy Award in 1989 for his performance of "Ritmo en el Corazon" with Celia Cruz. His 1978 "Ricanstruction" is widely acknowledged as one of the finest salsa albums ever.
Anne Braden
Anti-racist southern activist Anne Braden died at the age of 81 on March 6 in Louisville, Ky., ending nearly 60 years of unyielding action against segregation, racism and white supremacy. Braden catapulted into national headlines in 1954 when she and husband Carl were indicted for sedition for their leadership in desegregating a Louisville suburb. The Bradens bought a house in an all-white neighborhood on behalf of an African American couple, Andrew and Charlotte Wade. Segregationists were outraged and violence against both families soon followed. The house was dynamited in June of 1954. A subsequent grand jury investigation concentrated not on the neighborhood's harassment of the Wades, but on the Bradens' supposed "communist intentions." Carl Braden was convicted, but his conviction was later overturned. He died in 1975.
Branded as "reds" in the Cold War South, the Bradens became fierce civil libertarians and civil rights activists. Anne Braden's "The Wall Between" was published in 1958, becoming one of the few books of its era to probe the psychology of white Southern racism. She met with the Rev. Martin Luther King Jr. in 1957.
As the 1960s dawned, Braden became a mentor and role model to younger southern students who joined the movement — a role she maintained for the rest of her life. She was instrumental in Louisville's Open Housing and school desegregation movements in the late 1960s and '70s. Braden's primary message was the centrality of racism in the U.S. social fabric, constantly stressing that civil rights activism was as much whites' responsibility as it was people of color's.
Gordon Parks
Gordon Parks, who captured the struggles and triumphs of Black America as a photographer for Life magazine, died March 7 in New York. He was 93.
Parks was best known for his gritty photo essays on the grinding effects of poverty in the United States and abroad and on the spirit of the civil rights movement.
A modern-day Renaissance man, Parks was the first Black director in Hollywood, scoring and directing "The Learning Tree," a film based on his 1963 autobiographical novel of the same name, in which the young hero grapples with fear and racism as well as first love and schoolboy triumphs. Parks also directed "Shaft" in 1971, a major hit, which spawned a whole film genre. He published books of poetry and wrote musical compositions including "Martin," a ballet about the Rev. Martin Luther King Jr.
Born Nov. 30, 1912, in Fort Scott, Kan., the youngest of 15 children, Parks went through a series of jobs before his big break at 25, when he bought a used camera in a pawnshop. He used his talent to show the struggles, dignity and achievements of African Americans, as well as the impact of poverty on people here and around the world.
Parks stayed current with young artists. At the age of 85, Parks recreated Art Kane's famous 1958 photograph, "A Great Day in Harlem," which featured 57 legendary jazz artists. In 1998, Parks gathered almost 300 of the most influential rappers to create "A Great Day in Hip-Hop," which was used on the cover of XXL magazine.
"I dream terrible dreams, terribly violent dreams," Parks once said. "The doctors say it's because I suppressed so much anger and hatred from my youth. I bottled it up and used it constructively."