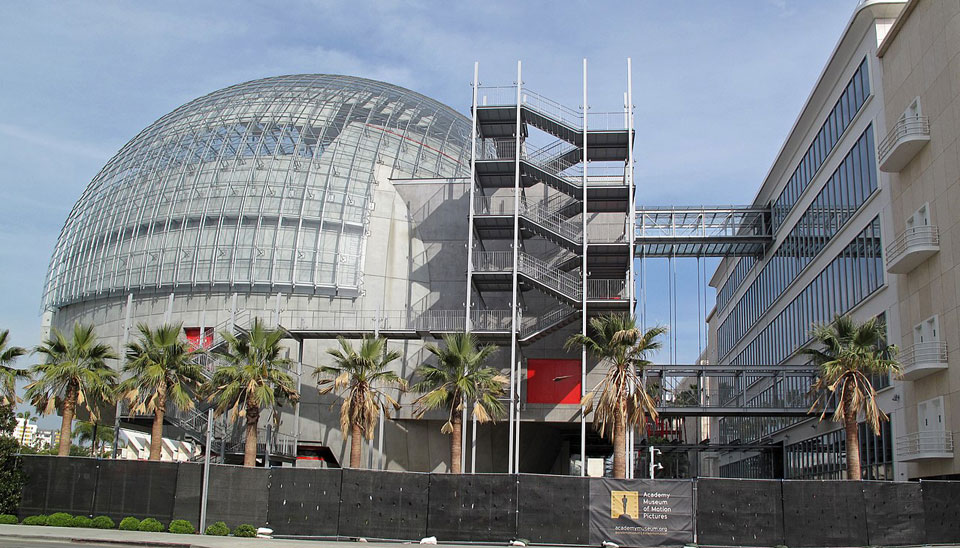 LOS ANGELES — Like Gloria Swanson at the end of 1950's Sunset Boulevard, the Academy Museum of Motion Pictures is finally ready for its close-up. Years in the making, the Academy Museum's world premiere is Sept. 30. According to Bill Kramer, president of the Academy of Motion Picture Arts and Sciences—you know, those fine folks who present the annual Academy Awards—this cinematic sanctuary "is a new home for the art of film in Los Angeles, the world capital of moviemaking."
At the same Sept. 21 press event Kramer addressed, architect Renzo Piano whimsically likened the edifice's futuristic spheric design to "a soap bubble. Don't call it the 'Death Star.' Call it a zeppelin or a spaceship." This 250,000-plus square foot repository of cinema is adjacent to what had been the May Company (now the Saban) Building, famed for its gold-tiled cylindrical section that resembled a lipstick tube, located on the "Miracle Mile" in Mid-City L.A. Inside, visitors can experience movie magic and see some of the screen's most iconic artifacts.
The jaw-dropping displays include the Jaws shark, hanging over an escalator. Citizen Kane's Rosebud sled is enshrined behind glass, as are Dorothy's ruby slippers in a gallery devoted to the beloved 1939 musical The Wizard of Oz. The Backdrop: An Invisible Art exhibition visible on levels 2 and 3 in the Museum's Hurd Gallery features the colossal 34-foot-high painted backdrop of Mt. Rushmore that scenic designers created for the climactic scenes of Alfred Hitchcock's 1959 thriller North by Northwest.
A personal highlight for this film historian is The Path to Cinema, displaying devices, optical toys, and objects from Richard Balzer's collection of cinematic rarities. These were used to project and move images before Thomas Edison, the Lumière Brothers and others invented the motion picture medium per se in the late 19th century. As two-time Oscar winner Tom Hanks noted during his in-person remarks at the Sept. 21 press event, "The old magic lanterns showed the power of a projected image that tells a story in a dark room." Path's loving tribute to the pre-cinematic pioneers includes: wayang kulit (Indonesian shadow puppets), peep shows, zoetropes, and, of course, an assortment of magic lanterns. This extensive exhibit, co-curated by Ana Santiago, showcases the Academy's interest in the sciences—as well as the arts—of motion pictures, which is so essential to the medium's evolution.
Next door on the third level is the kitschy The Oscars Experience, wherein museumgoers can be recorded winning an Academy Award and accepting that eight-pound coveted golden statuette. (See the attached video of the author waving "his" Oscar and mouthing an acceptance speech.)
Naturally, the Academy Museum boasts two screening spaces, the 1,000-seat David Geffen Theater (where the Sept. 21 press conference introduced by Oscar-nominated actress Anna Kendrick was held) and the 288-seat Ted Mann Theater. These reliquaries of reels have ambitious film series lined up, kicking off Sept. 30 with a live orchestra accompanying Judy Garland in a screening of—what else?—The Wizard of Oz. Starting Oct. 3, to honor Halloween, 13 spooky movies that were nominated for or won Oscars will be presented, including 1935's Bride of Frankenstein, Hitchcock's 1960 Psycho, 1973's The Exorcist and 2017's Get Out.
No culture palace is complete without a restaurant and gift shop, and the Academy Museum is no exception. The 10,000-square-foot, two-story Fanny's, which I toured, is a café with an art deco bar and lounge named after the vaudeville legend Fanny Brice, whom Barbra Streisand played in 1968's Funny Girl. In addition to film-related books, the Academy Museum Store (which was not open on the press day) will feature movie-themed merchandise.
On Sept. 25 the Academy hosted a star-studded opening night gala with Lady Gaga, Halle Berry, Warren Beatty, Angela Bassett, Sarah Paulson, Chris Nolan, Nicole Kidman, Issa Rae, Laura Dern, Tessa Thompson, Questlove, Jamie Lee Curtis, Laverne Cox, Jennifer Hudson, etc., to celebrate and fundraise for its new movie museum. At the glitzy gala, Italian actress and Oscar-winner Sophia Loren was presented with the inaugural Visionary Award. The first Vantage Award was bestowed upon Ethiopian director Haile Gerima, for, according to a press release, "his work…help[ing] to contextualize and challenge dominant narratives around cinema."
Guess who's coming to diversity?
A retrospective of Gerima's oeuvre, including his 1993 feature about the trans-Atlantic slave trade, Sankofa, is being mounted at the Geffen Theater. After that screening on Oct. 2, the African filmmaker will participate in a panel discussion moderated by Ava DuVernay, whose own 2014 Civil Rights epic Selma will be shown Oct. 20 at the Geffen as part of the Gerima's Comrades series.
Along with these and other screenings, the Academy Museum also features exhibits tackling the thorny issues of Hollywood's celluloid stereotypes, ethnic misrepresentation, and cultural misappropriation. This seems to be a sincere response to attacks on the Academy in recent years for its alleged "#OscarsSoWhite" exclusionary policies, ranging from who wins (and votes for) the annual Academy Awards, to the industry association's overwhelmingly 60ish-year-old white male membership. So how is the new Academy Museum dealing with diversity and representation?
At the Sept. 21 press event in the Geffen Theater, speakers included Chief Artistic and Programming Officer Jacqueline Stewart, an African-American academic who serves on the Museum's Inclusion Advisory Committee and as a Turner Classic Movies host. Korea's Mie Kyung Lee, Vice-Chair of the Museum's Board of Trustees, gushed that she's "truly proud of the Academy Museum's international view of movies and moviemaking."
The proof, as Brecht noted, is of course in the eating of the pudding. The fact is that amidst the razzle-dazzle of movie magic and Hollywood hoopla, much of the Academy Museum exhibits, displays, film clips, and series projects out from the conventional realm of predominantly white La La Land tropes. The Sidney Poitier Grand Lobby honors the first Black winner of the Best Actor Oscar. Spike Lee and his work are featured in the Director's Inspiration gallery, with objects from the auteur's personal collection and a soundtrack playing the "Wake up!" dialogue from Lee's 1988 School Daze.
Another gallery is dedicated to the silent era's pioneering African-American filmmaker, Oscar Micheaux, and the racist history of minstrelsy is explained. Real Women Have Curves, a 2002 feature about contemporary Hispanics in East L.A., based on Josefina Lopez's play, co-starring Lupe Ontiveros, George Lopez, and America Ferrera, is highlighted (and will be screened Oct. 8 and Nov. 11 at the Ted Mann Theater).
An excerpt from the documentary Reel Injun is shown on a screen inside a display case, spotlighting Hollywood's mistreatment of Natives in Westerns, as well as the emergence of Indigenous cinema, from North American tribes to Australian Aborigines and New Zealand's Maoris. On Nov. 15 Zacharias Kunuk's 2001 Inuit feature The Fast Runner is being shown at the Mann, where the Polynesian-themed Moana is scheduled for Nov. 13 and 27.
Bruce Lee is honored in the Significant Movies and Moviemakers gallery. Most of the fourth floor is devoted to a major exhibition about Japanese animator Hayao Miyazaki, with huge reproductions of his artwork and big screens showing vignettes from his enchanting classics, such as 1997's Princess Mononoke.
Upcoming Museum theatrical screenings include a special 70mm presentation of Malcolm X with Spike Lee and Denzel Washington in attendance; and the film series "Beyond the Icon: Anna May Wong." The 2022 exhibition "Regeneration: Black Cinema 1898-1971" will put African-American filmmakers in the limelight, with Jacqueline Stewart serving on the curatorial advisory committee for this upcoming retrospective.
However, not everybody is completely satisfied that the Academy is embracing inclusion. Janelle Zara, a young Filipina journalist, noted in Artnet that the directors highlighted—Miyazaki, Spike Lee, and Spaniard Pedro Almodóvar—are all male, writing: "the museum has no solo exhibition on a woman director." And I myself wonder how this citadel of cinema will deal with the 75th anniversary of the Hollywood Blacklist in 2022, plus other assorted sordid Tinseltown scandals?
[Editor's note: The Academy Museum's treatment of unions is another huge issue, and a timely one now that IATSE may be on the verge of an industry-wide strike. It's been noted that the mailed invitation to join the museum as a member was printed in a non-union shop.]
Be that as it may, the Motion Picture Academy's latest creation is walking a tightrope, mixing showbiz pizzazz with world cinema and a reflectiveness on the medium's origins and power. The envelope please: I predict that the "Best Movie Museum" Oscar will be awarded to the Academy Museum!
The Academy Museum of Motion Pictures opens Sept. 30 at 6067 Wilshire Boulevard, Los Angeles, CA 90036, For further information see here or call (323) 930-3000.