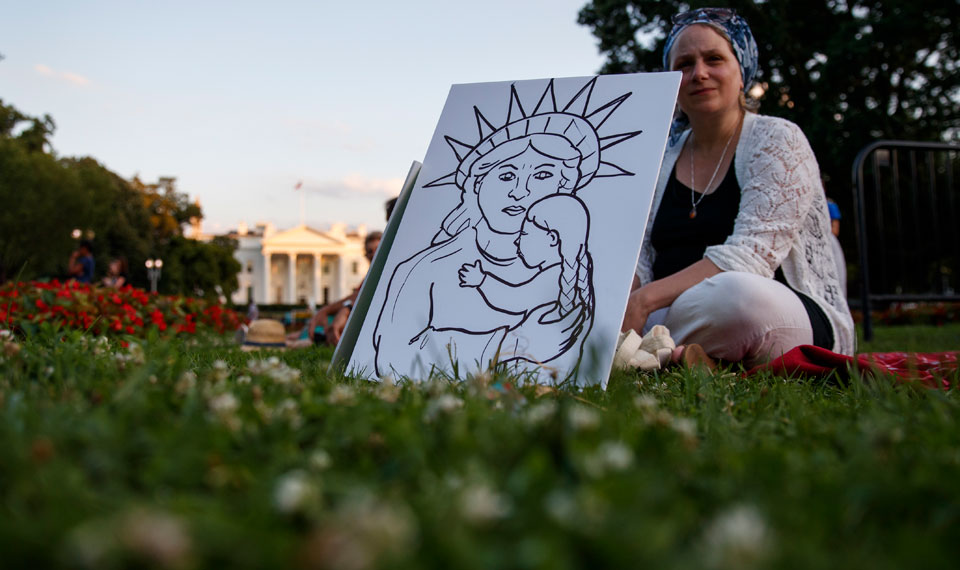 WASHINGTON—From South Carolina to South Africa, at least according to speakers at the mass vigil in D.C., "Lights for Liberty" arose worldwide this weekend against what many protesters termed Donald Trump's "concentration camps" for migrants seeking asylum in the U.S. Vigils and protests occurred in 817 U.S. cities and others around the globe.
Organizers urged participants not just to light candles for the migrants but to shelter them from Trump's trumpeted Immigration and Customs Enforcement (ICE) raids planned for July 13-14, especially in big cities. And they told migrants "don't open the door" to ICE, because agents lack arrest warrants. The American Civil Liberties Union sued Trump and ICE on July 11 to try to stop the raids.
"We must join together to protect" the migrants, Krishanti Vignarajah, who was Michelle Obama's policy director, urged the D.C. crowd. "We must do this because we are Americans."
"Don't just stand there; get involved," one speaker from the pro-migrant group Casa de Maryland added. "This week, my County Executive issued a general order that prevents police cooperation with ICE. But we'll not stop there until that order is a law." A coalition of churches and synagogues nationwide also offered sanctuary to endangered people in the U.S. interior.
Other speakers urged Congress to stop GOP President Trump by yanking future funds for ICE and its raids. One speaker faulted lawmakers for their recent approval of $4.5 billion for supposed humanitarian purposes for the camps, but—thanks to the Senate's ruling Republicans—without conditions. The speaker called the ICE raids terrorism.
Many activists in the U.S. mass marches enlisted in protecting vulnerable people from the weekend's ICE raids and many migrants did not open their doors. The resistance did not deter the Hispanic-hating president. On July 15, he announced asylum seekers who come to the U.S. through a third country would be automatically rejected from entry here.
The practical impact of Trump's announcement is to play to his racist base while trying to shut off migration from the war-torn and violence-torn countries of Central America through the third country in between, Mexico.
Furthering his racist hate, Trump also told the four outspoken first-year female Democratic representatives—Ayanna Presley of Boston, Rashida Tlaib of Detroit, Alexandria Ocasio-Cortez of New York City, and Ilhan Omar of Minneapolis, all women of color—to "go back where they came from." The first three were born in the United States, and the fourth, Omar, is a naturalized U.S. citizen originally from Somalia.  The ruling House Democratic Caucus unanimously exploded in defense of their colleagues, and Speaker Nancy Pelosi said she will schedule a vote condemning Trump's "racist" tweets against the four.
Speakers and sign-holders deliberately used "concentration camps" at the July 12 vigils. It's the original description for Nazi dictator Adolf Hitler's extermination camps for Jews during World War II. There have already been documented preventable deaths of children in Trump's camps, plus the drowning of a father and his 2-year-old daughter trying to cross the Rio Grande River to seek asylum in the U.S. And conditions in the camps, according to speakers, attorneys who managed to interview migrants, lawmakers and others journeying to the U.S.-Mexico border area, also are reminiscent of Hitler's camps.
"Turning away asylum-seekers at the border is cruel, inhumane, and illegal," retorted Credo Action co-director Heidi Hess after Trump's anti-asylum announcement. "This latest, racist stunt by Donald Trump to further close our doors to migrants is proof-positive that he is willing to abuse all powers afforded to the presidency in order to further his bigoted and hateful views."
She demanded House Democrats both stand with immigrant families and "start an impeachment inquiry immediately" against Trump.
The Lights for Liberty referred to the small electronic candles many people raised in parks at the protests, which began at 7 pm local time and continued to and through sunset. Thousands at the D.C. protest filled Lafayette Square, directly across from the White House. People held signs and the electronic candles, denounced the camps, and vowed continued resistance to Trump.
There were only two reported confrontations. Phoenix police arrested 16 people whose peaceful sit-in blocked a downtown street.  There was a fracas in Aurora, Colo., launched by non-members of the Lights for Liberty movement.
Thousands marched through Chicago's Loop, ahead of planned ICE sweeps to round up alleged undocumented people there and in other major cities, including Washington, Baltimore, New York, and Los Angeles. The New York City march drew 7,000 people to Foley Square. The Chicago marches, led by the local branch of Indivisible, carried signs declaring "No kids in cages" and "Abolish ICE." In Philadelphia, a Friday afternoon protest, bolstered by attendees of the Netroots Nation conference, shut down the city center and concluded with a march on the local ICE field office.
Several hundred people held a candlelight vigil in the Chicago suburb of DeKalb, the Daily Chronicle reported, with hundreds more in Arlington Heights. "The threat of raids and images of children in cages has outraged people more than seeing words on a page. It has a visceral effect on people," the Rev. Joe Gastiger of the United Church of Christ told the Chronicle.
"I am an undocumented student, and I have family who are undocumented," added local resident Pablo Valencio.
The Naples (Fla.) Daily News reported three groups—Showing Up for Racial Justice SWFL, Collier for Dreamers, and the Unitarian Universalist Congregation of Greater Naples—sent more than 30 people across the state to a vigil at the Homestead migrant detention center near Miami. And 200 people, organized by Indivisible's Arizona chapter, the state Democratic Party, and their allies, marched to a protest in front of ICE's Yuma Detention Center.
"People across the USA (and world!) peacefully championed human rights and kindness on July 12, 2019," lead Lights for Liberty organizer Adam Rifkin tweeted. "We lit candles, sang, and prayed. We vowed to #EndUSConcentrationCamps. Lights for Liberty began with a moment. Now, @Lights4Liberty is a movement." Organizers later tweeted the massive support left them both "grateful" and "speechless."
"We are going to keep working together until no families are in detention centers," the emcee of the D.C. protest declared.
"Immigrant youth with United We Dream are disgusted at the atrocities in the concentration camps," Herson Quinteros, a UWD organizer, told the D.C. crowd.
"I was detained at (age) nine years old," said Quinteros. "We were put in a cold cell and my cot was only a few feet from the bathroom. A sandwich from a vending machine was lunch. Even after I got DACA, I was still afraid I could be separated at any minute from my family" who had brought him to the U.S. years earlier. "And I am not unique."
"But this community has given me strength. This community has given me support. And this community has given me protection," he added, urging the crowd to continue doing so.
United We Dream represents the "Dreamers," the 800,000 current students, workers, and military enlistees brought to the U.S. as young undocumented children. Democratic President Barack Obama's Deferred Action for Childhood Arrivals (DACA) program brought them out of the shadows and let them live and work openly in the U.S. Besides barring migrants, Trump wants to throw all the Dreamers out of the country. Judges have stopped his evictions, so far.
Ingrid Castillo of Honduras told the D.C. crowd she fled an abusive husband "who stole my two kids." She got them back after calling the police, but the threat remained "so, for them, I decided to walk" to the U.S., where all three could claim asylum and start over, she said in Spanish, translated.
"But ICE detained me, took everything from me and threw it away. I slept with my two kids in a detention center on the floor. And breakfast, at 12, was very, very little food—sometimes chips, sometimes tortillas, and sometimes rice and beans. I felt dirty and asked to take a shower. ICE said, 'You cannot.'"
Machine-made but especially hand-made signs at the protests also blasted the camps, Trump and his backers. "Kids don't belong in jail and neither do their parents," read one. "Hate is not a family value, you f—ing hypocrites," another sign told Trump and the radical right. One D.C sign advocated financial resistance, too: "U.S. taxes pay for ripping children from their mothers. DO NOT PAY!" And one woman's T-shirt read "TRE-45-ON." Trump is the 45th president.
Signs in DeKalb included: "Proud Descendant of Immigrants," "Stop Separating Families" and "Stop U.S. Concentration Camps Now."
The D.C. protest included a huge contingent of Teachers (AFT), led by union President Randi Weingarten, who were in town for a professional conference and marched about a mile and a half downhill from the convention hotel to the park. "Classrooms, not cages," was their frequent chant.
Other unions at the D.C. rally in Lafayette Park included Service Employees Local 32BJ and the Communications Workers.
Religious groups and speakers were also a large contingent, including Unitarians and many members of Jews for Justice. Some of them were older women who held handmade signs that said—in variations—"My relatives died in Nazi concentration camps" on one side, and on the other "Never again."
Weingarten took up that theme, too. "My kippa"—Hebrew for "skullcap" or yarmulke—"means 'Never again means never again.' We must remember history," the New York City history and civics teacher said. "Trump remembers moments of xenophobia and thinks he can repeat them. We remember the Statue of Liberty and think we can repeat that."
"Teachers are defenders of democracy," she added. "We must fight back. This must be a night of renewed protest, resilience, and resistance."
Some prominent Democratic politicians joined the speakers' roster against Trump and his ICE raids.
"It is an important moment for us to come together," 2016 Democratic presidential nominee Hillary Clinton told several hundred people in her current hometown, Chappaqua, N.Y. "It's important to do whatever part we can in trying to stand up for those who are voiceless."
"In California, we don't put babies in prison," Rep. Norma Torres, D-Calif., told the D.C. crowd. She said some ICE officers have stepped forward to protest the agency's roundups and both refused to participate and helped expose camp conditions.
"We need more to do so and we need to give them whistleblower protections," especially since when ICE brass know lawmakers are heading for a camp "they clean it up," Torres said. "Trump is the criminal," she added. Though Torres did not say so, the Nazis would "clean it up" when the Red Cross visited death camps during World War II.
One sign at the D.C. protest added an alternative suggestion, applicable to next year. "Deport the GOP and Trump. Vote them out," it said.