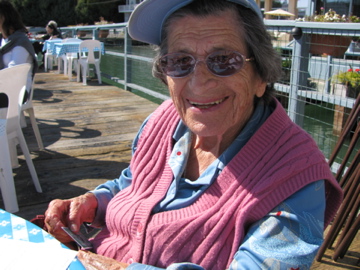 Lilo Heller, a Holocaust survivor, was born in Germany in 1921 and witnessed the rise of Nazism. In 1939, she and her parents escaped the Nazis – by traveling to Holland and then to Jakarta, Indonesia, where she studied to be a nurse before joining the Dutch Army – and her parents by traveling to Quito, Ecuador.
All the other family members in Germany and Holland died in the Nazi death camps.
In 1942 the Japanese invaded Indonesia, and because she was a nurse in the Dutch Army, she was interned in Japanese prison camps for four years. After the Japanese surrendered in 1945, Lilo was caught up in the Indonesian War of Independence. She finally escaped on a boat to the U.S., with the help of the International Red Cross.
Settling in San Francisco, she met and married Harold Heller in 1949, and her twins Michael and Lee were born. The family then moved from San Francisco to Mill Valley, Calif. Lilo and Harold spent 50 years in the restaurant business in San Francisco, Mill Valley and San Rafael.
From the start of their marriage, Lilo championed progressive causes. She was inspired by Dr. W.E.B. DuBois' book about his life and she eventually ran the progressive bookstore in San Francisco.
Lilo was a friend of Harry Bridges and the International Longshore and Warehouse Union, the United Farm Workers, and the Women's International League for Peace and Freedom. In 1984, she was a delegate to an international peace convention in the German Democratic Republic.
She supported the Southern Christian Leadership Conference, the Congress of Racial Equality and the marches of Dr. Martin Luther King, Jr., sending food and clothes to Mississippi and Alabama to support voter registration in the South.
Lilo also collected clothes and food to send to striking miners in Harlan, Ky., and in Idaho and Montana. She participated in peace marches in San Francisco and Berkeley to protest the Vietnam War, even picketing at the Naval Weapons Station in Concord. She traveled to Sacramento and throughout the Bay Area to support the United Farm Workers' boycotts and the march from Delano to Sacramento. Her favorite folk singer was Pete Seeger.
Lilo and Harold Heller will also be remembered for the picnics and events they held at their home for the People's World, which they helped to distribute in the Bay Area.
In her 2011 memoir, Lilo Speaks, written with author Tom Adams, Lilo details the journey of her life and spirit. The book received a Silver Medal for Memoirs from the Independent Book Society in New York. It is featured in the United States Holocaust Museum in Washington, D.C., as well as in Steven Spielberg's Holocaust Memorial Library at the University of Southern California Shoah Foundation. An hour-long video accompanies the book.
In 2012, Lilo was recognized at the California Holocaust Memorial Ceremony in Sacramento.
In her last year, Lilo moved to Walnut Creek, residing in Byron Park, a community for active seniors.
Lilo leaves behind her two children, Michael Heller and Lee Heller, three grandchildren, four great-grandchildren, and three great great-grandchildren.
Photo: This photo of Lilo Heller was taken in 2009 in Mill Valley, Calif. (Teresa Albano/PW)