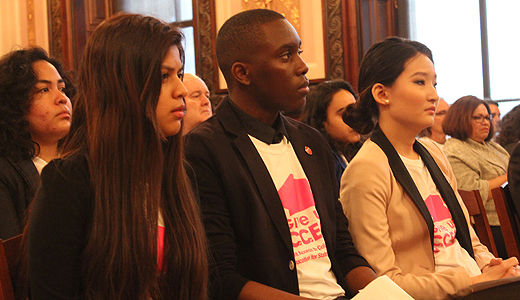 SPRINGFIELD, Ill. — Student organizations from across Illinois gathered April 5 at the state capitol to rally for the ACCESS bill. If it passes the state senate, ACCESS would allow undocumented students to apply for scholarships at four-year public universities in Illinois. According to the bill's supporters, a coalition of student organizations, universities, and nonprofit groups called ACCESS IL, it would cost the state no additional money, but rather would redistribute the existing pot of funds among public institutions. According to ACCESS IL's official website

"The legislation does not have a fiscal impact because it does not require the state to appropriate additional resources for higher education … The bill simply provides 4-year public universities the legal authority to offer financial aid to undocumented students."
The ACCESS Bill, SB 2196, was approved 7-3 on April 5, just passing the mark for the required number of supporting votes it needed in order to go to the full state senate for consideration. Undocumented students and allies cheered as the motion passed, though they remain cautiously optimistic about the results. "I'm excited that politicians are seeing that this is a great investment," said Jaime Nolasco, an undocumented student at the University of Illinois/ Urbana-Champaign. "Today is a pivotal change – this is the just step one but we are on the right track to do this!"
Beyond the possible funds that the ACCESS bill would make available, however, undocumented students have few options when it comes to continuing their quest for higher education. They are not only ineligible to receive federal student aid, but programs such as the Dream Fund-which creates access to financial resources and professional development for the immigrant student leaders-is constrained by limited funding. Meanwhile, MAP Grants, which previously provided money to Illinois residents who attend approved Illinois colleges and demonstrated financial need, have suffered under Gov. Bruce Rauner's budget cuts, making the scramble for private funding that much more intense.
Tanya Cabrera, director of the Illinois Dream Fund, was present at the hearing and spoke to People's World about the need for additional alternatives, "We have to create funding, and the way we do that is through student-driven initiatives." Cabrera has been working with undocumented students since she was a school counselor in 2004. She first began getting involved in the politics of their situation when an undocumented student came to her for guidance and discovered that there were few to no college pathways available. "How does a community thrive if you don't provide access to your populations?"
Currently federal law allows individual state legislatures to offer undocumented students eligibility for state financial aid. Passage of the Student ACCESS bill would allow 4-year public universities to offer financial aid to every student enrolled at their institution on a competitive basis.
There is no doubt that undocumented students have a long battle ahead of them. Cabrera said that the best way to advocate for ACCESS is to educate the public about how everyone benefits when students receive financial aid. "We need to show legislators the numbers of undocumented people in their districts. If that is an entire section of the population that goes uneducated, then that has an effect on the economy."
There are presently an estimated 1500 undocumented students attending public universities in the state of Illinois, and many more that go unaccounted for in private universities. Despite President Obama's enactment by executive order in November 2014 of the Deferred Action for Childhood Arrivals (DACA) program, Immigration and Custom Enforcement (ICE) continues to terrorize undocumented communities and the students living within them. With their livelihoods on the line, and educational opportunities limited by federal policies, states are now the Dreamers' best hope. Organizers continue their push for legislative reform, while undocumented students everywhere await their opportunity to step out of the shadows.
Video by Earchiel Johnson and Michelle Zacarias | PW
Photo: Michelle Zacarias | PW