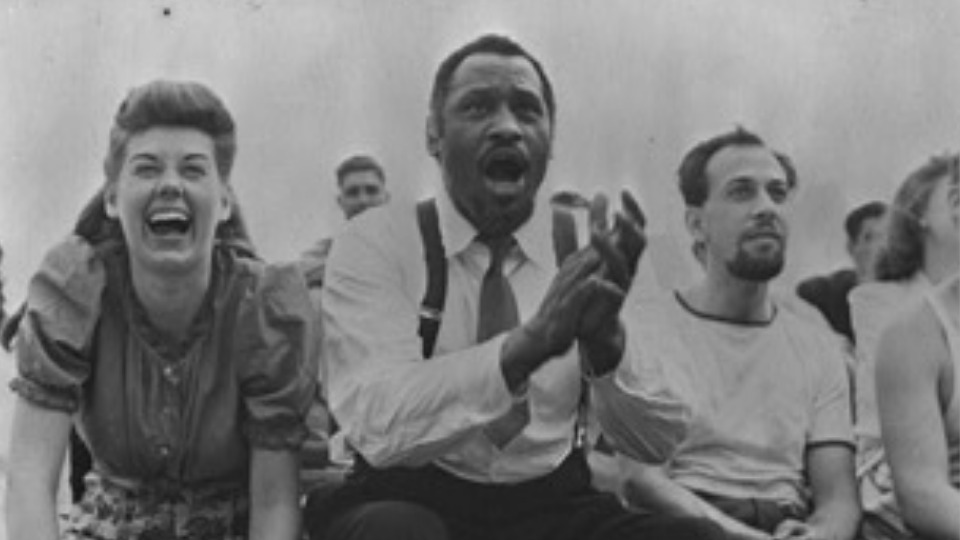 PHILADELPHIA—April 9th is always a special day at 4951 Walnut Street in Philly. It's the date of Paul Robeson's birthday, an occasion for remembrance and joy. It's a time when people come together at the Paul Robeson House & Museum to celebrate the legacy of the multi-hyphenate renaissance man and global humanitarian.
In 2021, the commitments and contributions of Robeson could not be more relevant as we navigate a disproportionately-felt global COVID pandemic and organize against the ongoing legacies of racial and economic injustice. In these times, the model of Robeson reminds us that we must continue to stand in our principles, be bold in our visions, find resolve in studying histories of resistance, and cultivate radical solidarities in order to meet the responsibility of the moment.
Just as Paul was known to do throughout his life, we will be taking advantage of the technologies of our day to gather us all in new ways toward the same duty of incubating movements of peace, freedom, and justice. The West Philadelphia Cultural Alliance, the 501(c)3 which operates the Paul Robeson House & Museum, has partnered with the Claudia Jones School for Political Education to host an evening of celebration for Paul Robeson to take place as a publicly available virtual livestream.
The event is scheduled to take place LIVE on Friday, April 9, from 7 to 9PM Eastern, streamed by way of our YouTube channel. 
All are invited to participate in this special celebration, which can happen in a variety of ways, with options for appearing LIVE or submitting a PRE-RECORDED video to be screened during the event. While the livestream will be limited to a 2-hour run-of-show, extended and/or additional contributions may be archived on YouTube for viewing at any time.
Would you be interested in speaking? We are seeking to include limited opportunities for scholars, activists, entertainers, and others to contribute comments on how the model and legacy of Paul Robeson has (re)shaped the world and/or influenced them personally. Rather than simply remain historical, we want to invite commentary that is able to link the commitments and contributions of Robeson to present-day struggles to achieve the substantive goals that animated Paul, and we should add for posterity, Eslanda "Essie" Robeson, too.
Would you like to perform? Throughout the evening, we want to partner the stories and commentary with a batch of selected performances. This could be performing an excerpt from what Paul Robeson once said (We've been known to put on a great HUAC re-enactment!) and/or performing a selection from the canon of Paul Robeson (an amazing Hindustani activist translation of "Ol' Man River" once was performed in the parlor.). These could also be original works where Paul Robeson has an outsized influence. Do remember that this will be live-streamed and consider whether pre-recording vs. performing live will be the best venue to present your contribution. We may also want to avoid anything that might get flagged for copyright during the livestream as well.
How will it work? Responding to this submission form is the beginning to this process. The Paul Robeson House & Museum will be monitoring the submissions to pull together a diverse showcase of contributions, attending to individual and collective contributions that we believe can expand the reach and call of the event in integrity with contributions that we imagine can provide the critical context necessary for living and extending Robeson's sociopolitical legacy today.
We ask all contributors to respectfully understand that the Paul Robeson House & Museum will make the final decision on the acts to be included within the livestream and/or archived on its channel. We will certainly communicate with you our plan, and either way, highly encourage you to share your tributes to Paul with the world through other platforms and share back with us!
Who has responded so far? We recognize that sometimes it pays to see who "all might be there." Among pledged contributors: Abdur-Rahim Muhammad, Shana Redmond, Jordan T. Camp, Christina Heatherton, Anthony Monteiro, DC Labor Chorus, Charisse Burden-Stelly, Gerald Horne, filmmaker Charles Burnett, Jaimee Swift of Black Women Radicals, students of Philadelphia's Paul Robeson High School.
Traditionally, Paul Robeson's annual birthday celebration has served as the occasion for the Paul Robeson House & Museum's biggest fundraising event of the year, a Jazz Brunch and Community Awards Ceremony. This year, due to necessary health and safety measures, we plan to do things differently while still fielding a call for resources to sustain the momentum of the Museum.
We had a breakthrough 2020 that set new benchmarks for our organization, including hiring the first-ever paid Executive Director in our close to 40-year history as a West Philadelphia Cultural Alliance site. Yet, the House, a National Historic Landmark, is approaching 110 years young. With programming revenues severely limited due to COVID, we must continually invest in ways to maintain the aging infrastructure and maximize the potential of our mission. To discuss ways you can help, contact us at wphlca@gmail.com.