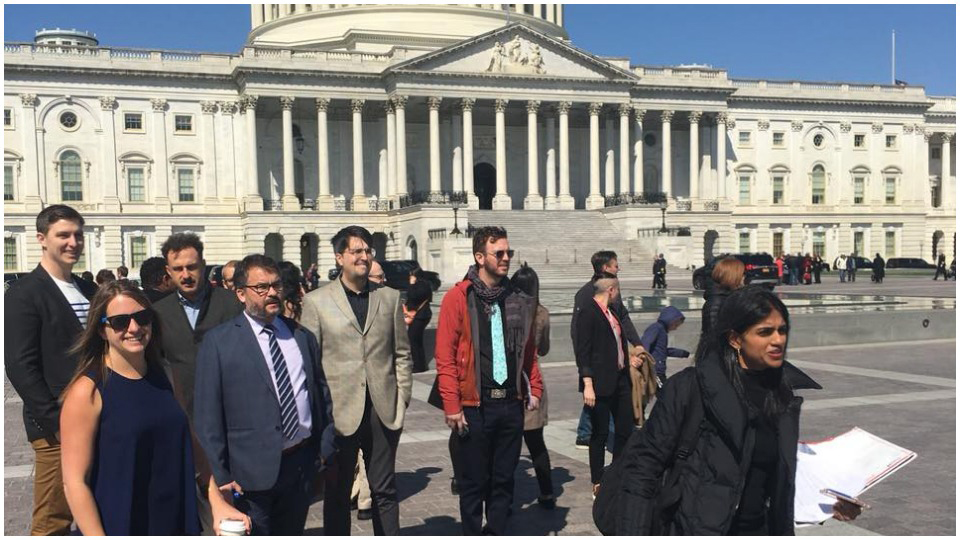 WASHINGTON—Never let it be said that Rep. Gwen Moore, the Milwaukee Democrat, doesn't stick up for workers—even to the extent of throwing reps from their right-wing bosses out the door.
That's what Ryan Clancy, owner of a small restaurant, Bounce, in the city's Bayview neighborhood, witnessed when he arrived at Moore's D.C. office on April 17.
Clancy was part of a Restaurant Opportunities Center-assembled delegation of 70 restaurant owners, representing eateries from Austin to Milwaukee to Minneapolis to Brooklyn. They came to D.C. to lobby for pro-restaurant worker legislation, including raising all restaurant workers to the regular federal minimum wage of $7.25 hourly.
They also talked up ROC's One Fair Wage campaign, which lobbies restaurants, individually or on the local level, to raise their wages for current tipped workers to $15 hourly, plus tips if customers want to leave them. ROC and its allies told lawmakers the One Fair Wage is good not just for the workers, but for businesses, too.
Right now, those "tipped workers"—servers, front-house personnel, bus persons, dishwashers, cooks—get a federal minimum wage of $2.13 hourly. Their bosses are supposed to make up the difference between that and tips, but often don't. That wage theft costs the lowest-paid workers tens of millions of dollars yearly.
That hurts 14 million workers, ROC co-founder and Executive Director Saru Jayaraman points out. Federal figures show restaurant workers are the lowest-paid big occupational group in the U.S., and work the fewest hours, to boot.
The right-wing National Restaurant Association—ROC nicknames it "the other NRA"—flew in its members to keep that low-paid status quo. Earlier this year, it convinced the Trump administration Labor Department to let bosses keep part of the workers' tips—rather than make up the difference—but ROC lobbying got lawmakers to reverse that scheme.
All that set the stage for when Clancy walked into Moore's office early. He was part of the ROC-assembled "Raise" coalition of restaurant owners. In an interview afterwards, Clancy described what happened. There were two NRA lobbyists there, trying to talk with Moore. She was having none of it—and the conversation was audible.
"She was laying into them. She didn't buy what they were selling," he said. "They were clearly anti-worker" and were trying to tell the Milwaukeean why the tipped wage should be good enough for servers, bus people, cooks, and dishwashers—and why restaurants shouldn't have to obey the Americans With Disabilities Act, either.
"She said they were essentially responsible for keeping wages down—and then she kicked them out into the hall with a staffer and let me in."
Like his colleagues who visited other lawmakers, and who met with Rep. Keith Ellison, DFL-Minn., of the Congressional Progressive Caucus in the afternoon, Clancy described the One Fair Wage campaign. He told Moore of local initiatives to give restaurant workers decent wages, including at his own eatery, where the wage is the living wage of $15 hourly.
It's benefited his 24 workers, Clancy said in the interview. And his restaurant will open a 5,000-square-foot addition this fall, so paying living wages—contrary to the NRA's gospel, Jayaraman said—helps, not hurts.
That was also the message the other restaurateurs, marshalled and aided by ROC, took to other lawmakers, all to counter the NRA's low-wage anti-worker drive. ROC represents 30,000 restaurant workers nationwide.
"If everybody had a no-tip, no-subminimum wage model, everybody would get $15 an hour," Daniel Swenson-Klatt, owner of the Butter Bakery Café in Minneapolis, said in an interview. "We don't even have a subminimum wage in Minnesota. Complaining about paying wages that are livable is not something we're comfortable with."
Swenson-Klatt compared the NRA's "scare tactics" about paying workers the real minimum wage to similar screams from the local industry when the Twin Cities banned smoking inside restaurants several years ago. Nothing happened. "Our wage averages $14.80 and our goal is to get to $15 by the end of the year" for his 20 workers, Swenson-Klatt said.
The pro-worker restauranteurs drew praise from Ellison, speaking for the Progressive Caucus, which he used to co-chair.
"You don't draw the line between those who serve the food and those who direct the place," Ellison told the group. "One Fair Wage is a balance. It's an issue of middle class prosperity. It's an issue of fighting for fair housing and it's an issue of the right to organize" into unions. Unions strongly support ROC, which is now an AFL-CIO member.
And with a grin, Ellison added: "You're subverting the core value system of the NRA. They're saying the only way you can make it is to squash down the workers. You're saying, 'No way.'"
"And even when we [customers] tip, we know now who the tips are going to," Swenson-Klatt replied. "What Trump was trying to do was to deceive the customers" and let bosses keep the servers' tips, Ellison added.