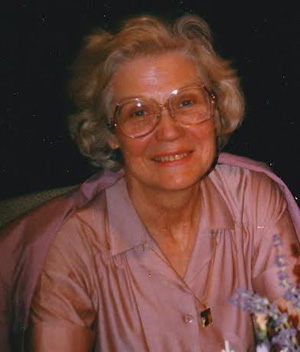 SEATTLE – Elizabeth Yates who helped unionize her fellow Seattle school teachers and remained a lifelong progressive activist after she retired died Oct. 22 after a long illness. She was 90 years old.
Until hospitalized this fall, Liz Yates' home had served as the meeting place of the Seattle Communist Party club. She was the chairperson of the club, urging members to attend club meetings and bring friends. Several non-party members came and some joined the party.
They were drawn by the lively discussions of class struggles in Seattle including the campaign to end police racist violence, the successful drive to raise the minimum wage to $15 an hour, the struggle for rent control, the fight to prevent the energy monopolies' plans to turn the states into a giant export terminal for coal, oil and natural gas, and the current election campaign.
At the most recent meeting—at another party members' home—the club heard an update on Liz' decline. They voted unanimously to continue the work of the club she has led with such determination.
Yates grew up in Portland, Oregon, enrolling in Franklin High School and winning an academic scholarship to the University of Oregon in 1943. World War II was raging and she worked summers as a Rosie the Riveter "burner's helper" building Liberty Ships for the U.S. Merchant Marine.
She transferred to the University of Wisconsin where she earned her Bachelor's degree. She then enrolled at the University or Arkansas where she earned her Master's. Her thesis consisted of an autobiography and analyses of her own poetry. She studied Spanish at the University of Puerto Rico, then spent three years as a typist-secretary in New York City before returning to the Pacific Northwest.
She taught English and established and led the journalism program at Rainier Beach High School until 1964 when she transferred to Garfield High School located in what was then Seattle's predominantly African American Central Area. She was there during the years of racial upheaval and advised the student newspaper staff as they wrote their political stories and treatises for the paper. (The area has been ruthlessly gentrified with housing so expensive African American workers have been forced out leaving the Central Area mostly white). As a teacher Elizabeth was highly esteemed by students and colleagues alike.
Yates worked closely with Ted Astley in organizing the Seattle Teachers' Association, initiating STA's Human Relations Committee. Astley, who passed away in 1994, had been fired by the University of Washington when he refused to testify before the Washington State Legislature's witchhunt Canwell Committee. Astley earned his teaching certificate and became a Seattle school teacher in 1962. He found in Liz Yates, an able and determined co-worker in organizing the teachers.
She also collected signatures on petitions demanding freedom for Angela Davis and an end to the FBI drive to destroy the Black Panther Party.
About this time, Yates adopted two children from the Yakama Tribe, adding the joys and tribulations of motherhood to her already busy schedule.
She was a staunch advocate of world peace. Yates recalled a year she spent as a teacher at the Annie Wright Seminary in Tacoma in 1952. The Korean War was raging and she became active in circulating a petition, the Stockholm Peace Appeal. The climate of Cold War intimidation was so intense, that petition circulators were sometimes physically attacked. She told the interviewer that a source of inspiration was Alice Franklin Bryant of Seattle. Bryant's fearless calls for peaceful coexistence buoyed the campaign in Washington State where many thousands of signatures were gathered.
When she retired, Yates was active in many progressive causes including Seattle Mothers for Police Accountability which mobilized against police violence, Puget Sound Advocates for Retiree Action (PSARA), and the Southeast Seattle Senior Center.
She served as a correspondent of the People's Weekly World. She and Will Parry co-reported on the Boeing strike of October 1995. She wrote another a few days later headlined, "With Motor Bikes, Rallies, and Banners, Workers Drum Up Support," her story about 300 Boeing strikers riding their motorcycles in a demonstration of strike solidarity
A strong advocate of equality for Native American Indians and a foe of racism, she reported on the Washington State Legislature passing a resolution apologizing for the frameup and execution of Nisqually Chief, Leschi in 1858, retribution for his leadership in fighting the theft of tribal lands they had inhabited for thousands of years. The headline on that article was "Chief Exonerated 150 Years Too Late."
She was born Mary Elizabeth Haugen in Portland, Oregon, May 13, 1925, daughter of Ruth Caroline (Chamberlain) Haugen and Oscar Sigfried Haugen. She married Norris Yates in 1945. The marriage ended in divorce. Yates younger brother, Dwight Haugen, and daughter, Kimberly, pre-deceased her. Yates is survived by a son, Zane of Yakima, granddaughters, Mallorie Yates-George, Tanisha and Crystal Barquet and grandson, Marcus Goodman-Katz, and four great grandchildren.
Liz Yates wrote her own epitaph. "I want it to be known that it was my membership in the Communist Party and association with the courageous members of this Party that taught me to value life so much that I would sacrifice for it," she wrote. That membership, she added, "enabled me to endure and to keep working and fighting for a better world." A memorial is planned sometime in January.