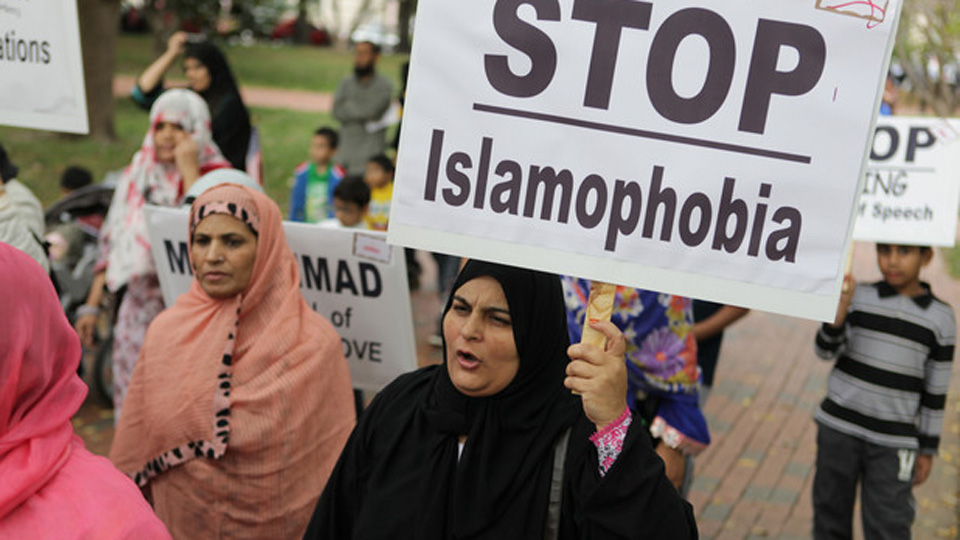 WASHINGTON – Some 530 elected officials from across the country yesterday released an open letter condemning the rising scourge of attacks on immigrants and Muslims. In the coming weeks they will introduce and pass resolutions in their respective legislative bodies pledging to stand against hate in their communities. They also aim to lay the groundwork for strong legislation in 2017 to address xenophobia and bigotry.
The campaign is being coordinated by Local Progress, a network of progressive elected officials and by the Young Elected Officials Network Action, a program of People for the American Way.
The AFL-CIO played a key role in bringing the elected officials together.
At the press conference here announcing the campaign yesterday, Ady Barkan, co-director of Local Progress, said that "the leadership of the AFL-CIO was decisive" in bringing progressive elected officials and advocates for justice together."
Tefere Gebre, executive vice president of the AFL-CIO and a board member of Local Progress, said "This campaign is personal to me. The America I was drawn to as a refugee from Ethiopia was a place that saw me as me – not as an outsider, not as an immigrant, not as a threat. We need to protect that America and the inspiration it gives to millions around the world. All of us have a claim to this country and nobody is more American than anybody else. We need to stand up, stand together, and stand for the values that have always made this country strong."
He concluded by saying, "I want to assure you that the AFL-CIO stands 100 percent behind this project and will work to make sure there is a record turnout in the coming election" to defeat hate-mongering candidates.
The local officials' campaign comes at a time when attacks against immigrants and Muslims have reached record levels.
According to the New York Times, hate crimes against American Muslims were up 78 percent over the course of 2015. Attacks on those perceived as Arab rose even more sharply.
For example, last year three Muslim students were murdered in Chapel Hill, North Carolina. Last November, a former Marine fired a high powered rifle into a mosque in Connecticut. In February, a man in St. Louis pointed a gun at a Muslim family and told them they "all should die." In Minneapolis this past June, a man shouting obscenities about Islam shot two Muslim men in traditional religious garb. Last month, an imam in Queens and his assistant were shot and killed execution-style on the sidewalk. This month in Brooklyn two women out walking their children in strollers were attacked by a woman who screamed anti-Muslim obscenities and tried to rip off their traditional veils.
And on September 15, an arsonist on a motorcycle started a fire that engulfed the Islamic Center of Fort Pierce, Florida.
There is no doubt that attacks such as these are spurred on by the vitriol spewed by candidates like Donald Trump.
Brian Levin, the director of California State University's Center for the Study of Hate and Extremism, told the New York Times that the frequency of anti-Muslim violence appears to increase immediately after some of Mr. Trump's most incendiary comments.
"We're seeing these stereotypes and derogatory statements become part of the political discourse," Levin said.
The local and state politicians who launched the campaign yesterday are trying to change that.
In their open letter, they say "We vow never to use fear as a political tactic and never to succumb to fear as political pressure."
The letter continues "We vow to use our positions as elected leaders to stand up against anti-Muslim bigotry, against xenophobia, against hatred, and against oppression. We vow to promote local laws and policies that advance equity and value diversity."
At the press conference, Andrew Gillum, mayor of Tallahassee, Florida, said "The rising tide of bigotry and Islamophobia aimed at our neighbors and community members has been painful to watch. I'm so proud to join with these elected officials as we take a stand for one of our nation's most fundamental principles: that all people, regardless of race or religion, are equally welcome in our civic life."
Barkan of Local Progress said "After months of blistering attacks on immigrants, Muslims, people of color, and any other group that can be used as a scapegoat, local leaders are finally saying enough.
"[With their open letter] legislators from every corner of the country are declaring their intent to turn the tide and to renew their commitment to the inclusion and diversity that make this country so unique and so strong."