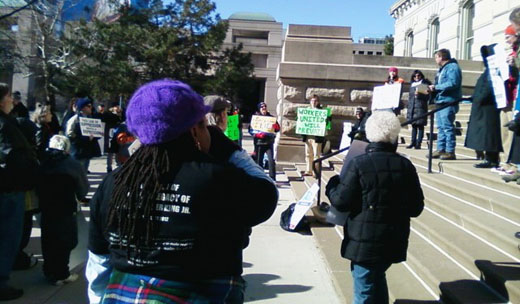 INDIANAPOLIS – About 200 people including union members from the International Union of Painters and Allied Trades (IUPAT), the American Federation of Government Employees (AFGE), the American Federation of State, County, and Municipal Employees (AFSCME), the National Association of Letter Carriers (NALC), members of Indianapolis Jobs with Justice, the National Association for the Advancement of Colored People (NAACP), Tthe Indianapolis Teachers Association, Occupy Purdue, Occupy Anderson, and Occupy Indianapolis gathered on the South steps of the Indiana State House recently to voice their outrage over the American Legislative Exchange Council-backed "Right to Work" bill that will face a final vote in the Indiana Senate as soon as Wednesday.
Co-organizer Bill Mullen, professor at Purdue University, said "We want to make it impossible for the Republicans of the state to pass this bill without knowing that there's going to be dire consequences."
Those consequences were evident as the vibrant crowd of young and old, black Latino, and white marched through the throngs of Super Bowl Village attendees shouting, "What's disgusting? Union busting!" and "Hey hey, ho ho, right to work's got to go!"
Local news outlets were forced to turn their cameras on the march and acknowledge that despite the pretty picture painted by the downtown festivities, working people in Indiana are under harsh attacks by the wealthy one percent.
As the city geared up for the Super Bowl, the Indiana House passed the bill with a final vote of 54-44 last Wednesday. Five Republicans and all the Democrats voted against it. The bill now has to go back to the Senate where only four votes are needed to kill it. Democratic State Senator Jean D. Breaux attended the rally and reminded everyone to "reward our allies and punish our enemies."
Jim Ogden, a union electrician from Local 668 in Lafayette, pointed out the consequences for Republicans who support right to work. "At this point, I think we're looking at this as a kickoff for the elections come November and trying to do whatever we can to get the Republicans that had voted for this, out office."
Photo: Jason Jones