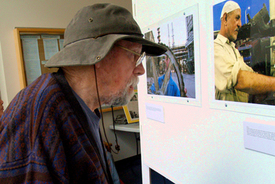 "You know longies here in L.A. or over there in Iraq are just working stiffs trying to do right by their families," said Joe Kordich, retired longshore worker with Local 13 of the International Longshore Warehouse Union. "You can see it here in these pictures. They remind me of some of the guys I worked with."
Joe was visiting a photo exhibit this past March titled "Iraqi Workers Organize — Iraq's Oil and Port Workers and Their Union" displayed at the ILWU clerks' Local 63 hiring hall in San Pedro, Calif. The photos, some of which appeared previously in The Dispatcher newspaper, were taken during visits to Iraq by David Bacon, who is a labor writer-photographer and depicts Iraqis working on the docks and in the oil fields of Basra, Iraq.
The photos show workers unloading ships, rigging oil wells, attending union meetings as well as leading their regular family lives.
One photo shows working families living next to a military dump containing radiation-contaminated scrap metal.
"These are hard living conditions, but these workers look tough, and that woman," Kordich said, pointing to a photo of an Iraqi union leader, "looks like she could hold her own at any longshore meeting."
Joe smiled as he left the exhibit, pointing his thumb back over his shoulder at the photos saying, "You know, with their strength combined with ours, we could kick ass."
Local 63 held its opening after its membership meeting March 1 and kept it up for a month. People from all over the area came to see it.
Since the exhibit included images of oil workers as well as longshore workers, it was shown at the Steelworkers PACE Local 8-675 in Los Angeles in February. There the hat was passed and money was raised. The exhibit is now at the L.A. Labor Center.
The photo exhibit is funded by the Diane Middleton Foundation of San Pedro and is co-sponsored by the Steelworkers PACE Local 8-675, the Los Angeles County Federation of Labor, ILWU Local 63 and the United Teachers of Los Angeles.
This article was reprinted from the International Longshore and Warehouse Union's newspaper The Dispatcher, with permission from the author.