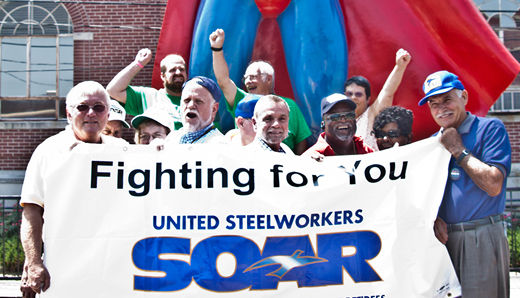 METROPOLIS – Over 2500 steelworkers and supporters converged on Metropolis Illinois for a mass rally and march against Honeywell this past Saturday. (video below) Metropolis calls itself the home of Superman.
The Metropolis Honeywell nuclear conversion plant starts the process of making nuclear fuel and uses some of the most dangerous chemicals on earth. The plant employs about 220 union workers. Some 42 have died of cancer and another 27 are struggling with the disease. Honeywell wants to cut health care and pensions for these United Steelworkers Local 7-669 (USW) members.
The locked out workers had offered to work without a contract while continuing negotiations. But Honeywell refused. The company locked them out and brought in scabs instead.
The workers enjoy the support of the community in this working-class town of 6500 in southern Illinois near the Kentucky border. Union members and supporters came on buses from around Illinois and West Virginia to march in solidarity. Contingents included United Steelworkers, United Mineworkers, United Auto workers, International Association of Machinists, International Brotherhood of Electrical Workers, Operating Engineers, Communication Workers of America, Plumbers and Pipefitters, and several other unions in a spirited display of union solidarity.
Darrell Lillie, the steelworkers local union president, told the cheering crowd, "with your support we will stay out one day longer than Honeywell, until we get justice for our members." Jim Robinson, USW District 7 Director told the rally that Honeywell, like many giant multinational corporations, is trying to use the economic crisis to bust unions and drive down hard won union wages and benefits.
But as one striker told me, "we won't process that kryptonite."
Photo: Scott Marshall