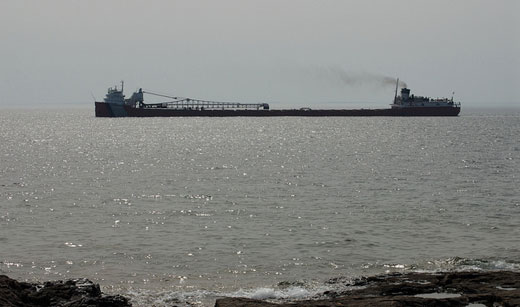 The epidemic of corporate greed sweeping our nation is alive and well on the Great Lakes. GATX, owners of American Steamship Co., has locked out the workers, members of the United Steelworkers union, who operate its ore boats on the Lakes. The lockout is now going into its second year. GATX normally runs six ore boats on the Great Lakes, running all the way from Buffalo to Duluth, with ports in Cleveland, Detroit and Lorain.
"Every other ore carrier on the Great Lakes settled, with fair agreements for all," according to USW representative Tim Buxton. "We have a pattern that everyone bargained on, that is everyone except GATX. All these guys have done is surface bargain, demanding cuts that affect our people's safety and trying to take away medical care."
So the major issues in this fight are twofold. GATX is demanding big cuts in the number of workers manning the boats, far below what every other ore carrier has on the Lakes. And GATX is trying to force the workers to pay for their medical coverage, which had been covered by the pattern agreement up until now.
"These manning cuts demanded by GATX would put our members in grave danger, and GATX knows it," said USW Local 5000 President Dan Sager. "It's all about corporate greed," he said. "Every other Great Lakes carrier settled on health care and manning issues and they are making decent profits. GATX would be also if they would settle with us instead of trying to put greed above workers' safety!"
The hazards of working on the Great Lakes ships drew worldwide attention in 1975 when a taconite ore boat, the SS Edmund Fitzgerald, sank with its entire crew in a Lake Superior storm. The tragedy was immortalized by Canadian folksinger Gordon Lightfoot in his hit song, "The Wreck of the Edmund Fitzgerald." See video below.
GATX is now trying to run its ore boats with scabs instead of the unionized crews who know how to operate the boats. But they've only been able to run two of six ore boats on the Lakes this year.
"The solidarity of our members, of the whole labor movement on the Lakes has just been fantastic," Sager said. "In all this time, not one union member has crossed our picket line, not one member has failed at any time to stand picket duty, and we can't picket until a GATX boats docks at one of the ports. Our folks, families, have supported our fight 100%. We'll be here one day longer than this greedy company!"
Sager went on to talk about the "tremendous solidarity" of all the unions on the Lakes. He spoke of the USW strike fund, which has helped many of the locked out steelworkers save their homes and trucks during this long struggle. The USW is also working with the Department of Labor to try to force an end to the lockout. While he wouldn't speak of any one union or union member, "because everyone has stuck together 100 percent, all the unions are helping us, and I don't want to center anyone out and leave out another," Sager did want to speak of the exceptional role played by the USW Women of Steel.
"They brought toys for kids at Christmas. They've walked our lines. They've done gate collections and are there every time we need help. Women of Steel are what solidarity is all about," Sager said.
We can all help the locked out Great Lakes steelworkers. Donations, collections and solidarity resolutions are encouraged and can be sent to:
USW, Local 5000 Strike & Defense Fund
17535 Rosbough Dr., St. 101
Middleburg Hts., Ohio 44130
As well, folks can call or send letters to GATX, urging them to stop running scabs, using talks to create unsafe conditions & trying to bust the union and to settle with the USW. GATX can be contacted at:
American Steamship Co.
Center Point Corporate Park
Williamsville, NYk 14221
716-635-0222
"This fight is a USW priority," said USW District Director Dave McCall. "If they can hurt one of us, all of us are next. United we stand and united we will win!"
"The Wreck of the Edmund Fitzgerald"
Photo: (CC BY-SA 2.0)