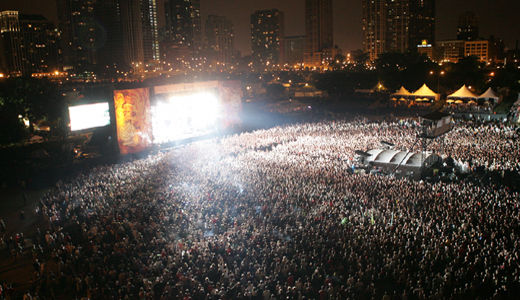 CHICAGO – Some here call it the Wal-Mart of music festivals. Others term it Monopolooza. In any case the three-day music fest, officially known as Lollapalooza, is expected to rock the city Aug. 6-8 in Grant Park and it doesn't come without controversy.
Jim DeRogatis, a cultural critic here, recently wrote on his Vocalo.org blog that promoters behind the mega-event – C3 Presents and their partners – are under investigation by Illinois Attorney General Lisa Madigan over anti-trust allegations.
According to DeRogatis, local bars, clubs and other concert venues have complained about restrictive clauses that C3 includes in artist contracts for Lolla's more than 120 acts.
Most festivals share similar rules, but critics say Lolla tops them all – its contracts say bands can't play six months before and three after this event within a radius as big as 300 miles outside Chicago.
DeRogatis writes, "Many local Chicago club owners and independent concert promoters have said that these radius clauses are decimating the local music community and significantly hurting their business for much of the year, and that they constitute unfair, anti-competitive practices."
Lolla promoters have said they will be lenient in the enforcement of the clause and could waive it altogether.
Meanwhile sources say subpoenas have been issued.
However DeRogatis says ties between Lolla's promoters and its attorney Mark Vaneko, a nephew of Mayor Richard M. Daley, run deep and also raise controversy. (Daley by the way is a staunch supporter of bringing Wal-Mart into the city, which is opposed by labor leaders and lawmakers due to its low wages and anti-union policies.)
Lolla's liquor license is issued in the name of Parkways Foundation, the non-profit arm of the Chicago Park District. Beer and hard liquor are sold to as many as 95,000 attendees daily by Lollapalooza Festival Services, a company co-owned by Kevin Killerman. Killerman is a bar owner in Chicago's Wrigleyville neighborhood with dozens of complaints for underage drinking on his record, and happens to be a friend and legal client of Vaneko, reports DeRogatis.
Vaneko is the attorney and lobbyist who helped negotiate a new 10-year contract that is expected to venue Lolla in Grant Park through 2018. He also represents developers, including a company that bought and sold land near the mayor's proposed site for a temporary Olympic stadium.
"Twenty-one years into the second Daley administration, many Chicagoans have come to believe that any major undertaking in this city has to have been blessed by one of the most powerful mayors in U.S. history, and it probably has some business connection to his cronies," writes DeRogatis. "But even given this cynical acceptance of the way things work in the City That Works, Lollapalooza stands out."
For Marguerite Horberg, executive director of Porto Luz cultural venue and founder of the Hot House, it's precisely smaller independent and community-based arts groups that suffer from big money events like Lolla that soak up all the city's financial resources.
"In a climate that is already economically stressed the city becomes an entity seeking money and little dollars are left for other organizations trying to come up," she said.
Advocating for radical arts programs and non-commercial town hall style meetings on the issue become stifled, said Horberg.
"There just isn't any democracy or transparency when it comes to the city budget," she said. "You're either friends with the powers that be or you're left alone with little support and hardly enough space to carve out."
Unless you have a lot of money, or investors and lawyers on your side, it becomes hard to envision democracy in this, noted Horberg. It's not right that the city becomes the dominant player when it comes to promoting the arts, she said.
"What about smaller emerging arts collectives?" she asked. "It just becomes harder and harder to start up."
David Lozano is the founder of Jammin For Justice, which he says is a socially conscious entertainment production group that supports local artists at concerts and venues citywide on a monthly basis.
Lollapalooza, he says, is fading these days. Although it continues to sell out shows, the talent at Lolla has declined, he says. "Their opening acts are becoming their headliners."
Lozano says he misses the days when Lolla had big shows like Rage Against the Machine, Manu Chao, Radio Head, Lupe Fiasco, Kanye West and the Red Hot Chili Peppers.
"These were unique and exciting groups," he said.
Lozano said he appreciates getting introduced to new and up-and-coming bands at Lolla, but overall they're just not the same anymore. He thinks maybe it has to do with the economy.
Either way he says, "The shows are just not affordable for everyday people throughout Chicago's diverse communities to take advantage of."
Photo: lollapalooza.com