It's no secret that fighting fire is a dangerous job. Against the flames, firefighters have their equipment to protect them. But the International Association of Fire Fighters (IAFF) union has increasingly been sounding the alarm about the danger that continues after the fire is out: During the "overhaul" phase of fighting a fire — when fire fighters are opening walls, ceilings, voids, and partitions to make sure fire hasn't spread to unseen areas — they are still being exposed to a potpourri of carcinogenic chemicals and gases. Adhering to their gear and on their skin, those toxins can go back with them to the fire station and even living quarters.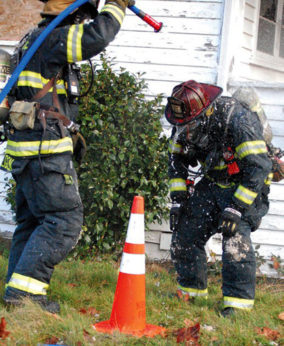 That's why firefighters are now being diagnosed with certain kinds of cancers at 20 or 30 times the rate of the general population. Among IAFF members, death by cancer has come to be considered death in the line of duty.
To confront the danger, IAFF has been trying to educate members and promote best practices to reduce exposure. Last June, thanks to a $100,000 grant from the Washington Department of Labor and Industries, a group of IAFF members from around the state of Washington released a remarkable video and guidebook: "Healthy In, Healthy Out."
It starts with how firefighters' protective gear — known as "turnouts" — are handled, says Vancouver, Wash., IAFF Local 452 member Bob Carroll, a  captain and paramedic who worked on Healthy In, Healthy Out.
"These are not just dirty work clothes," Carroll says. "This is a contaminated, almost hazardous, material. You need to treat it as such, contain the contaminant, and take a shower as quickly as possible."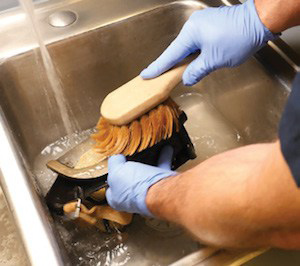 After Carroll approached management at the Vancouver Fire Department, they agreed to implement a set of best practices to protect fire fighters from carcinogens:
The department issued extra hoods and a second set of turnout clothes that fire fighters can wear while their contaminated ones are being professionally cleaned.
Fire fighters now wait one hour before beginning overhaul, allowing most toxic gases to evaporate.
Once overhaul is complete, fire fighters hose off, brush off, pull off and place their turnouts in a heavy-duty plastic bag.
Dirty turnouts are banned from entering the fire station.
Back at the station, the first thing they do is scrub equipment clean.
MORE:  Watch the Healthy In, Healthy Out video here. And view and download the printed guide at the Washington State Council of Fire Fighters site.