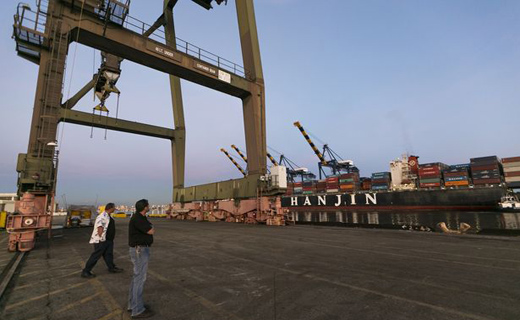 OAKLAND, Calif. – For the second time in less than a week, employers are halting the loading and unloading of ships at West Coast ports, the union representing some 20,000 longshore workers at 29 West Coast ports said Feb. 11.
The move came amid contract negotiations that have gone on since mid-May. The previous six-year contract expired July 1. A federal mediator has been involved in the talks since early January .
"Today, the Pacific Maritime Association (PMA), a consortium of international corporations, informed the International Longshore and Warehouse Union (ILWU) that ships will not be worked at West Coast Ports four of the next five days," the ILWU said in a press release. "This action marks the second time in less than a week that employers have idled vessels."
ILWU President Robert McEllrath called the action an effort by employers to put economic pressure on workers and gain leverage in the negotiations. He said the shutdown is "bad for the industry and the U.S. economy."
The union has repeatedly emphasized it is committed to reaching a new agreement as quickly as possible, and says only a few issues remain to be negotiated.
The PMA, which represents over 70 multinational carriers and maritime companies, said the vessel operations would be suspended on Feb. 12 and Feb. 14-16, days they say longshore workers would receive premium holiday pay.
Operations had earlier been suspended over the weekend of Feb. 7 and 8.
For months, the PMA has blamed port congestion, which has greatly slowed loading and unloading of vessels during heavy holiday shipping periods, on an alleged slowdown by longshore workers.
The union says the congestion is caused by employer actions including changes in the way truck chassis are delivered, as well as a shortage of truck drivers to move goods in and out of ports and a shortage of rail cars to move containers from ports to distant locations.
The union has also challenged some PMA claims about levels of congestion.
When the employers' group said it would shut down loading and unloading ships over last weekend, ostensibly to clear congestion, the union posted aerial photos on its web site showing plenty of open space available for containers at the Ports of Los Angeles and Long Beach.
In fact, the Journal of Commerce and other business-oriented publications have repeatedly pointed out employer-related factors contributing to congestion.
In a Nov. 4 commentary, Journal of Commerce Senior Editor Bill Mongelluzzo cited changes in the maritime industry including use of larger and larger container ships and increasing cargo volumes, and misallocations of truck chassis among port terminals that make it hard for truckers to supply the right size chassis. He also noted labor-related issues such as a union-initiated step-up in safety checks, and federal restrictions on hours truck drivers are allowed to work.
On Nov. 14, Mongelluzzo reported on research by Digital Geographic Research Corp. that found slowing in truck turnaround times at Los Angeles-Long Beach "was due primarily to near-record container volumes at the ports and a dislocation of chassis," while "labor slowdowns" were among other factors that "were simply irritants that made the problem worse."
Similar conclusions were reflected in turn-of-the-year articles in Forbes.com, the British publication Lloyd's List and other business-oriented publications.
The union said PMA officials acknowledged in negotiations Jan. 12 that union workers were not the primary causes of the congestion crisis.
The union has pledged to keep the ports open and cargo flowing, in spite of the vast, employer-caused congestion crisis that affected shipping for most of last year.
Photo: In this Wednesday, Jan. 14, 2015 photo, International Longshore and Warehouse Union, ILWU officials visit an empty dock at the Port of Los Angeles. | Damian Dovarganes/AP