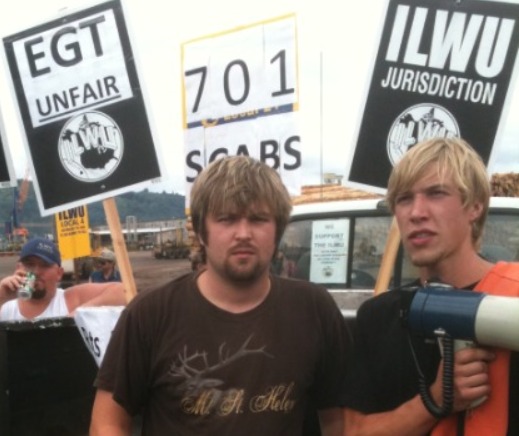 LONGVIEW, Wash. – Longshore workers, members of Local 21 of the International Longshore and Warehouse Union (ILWU), stood on their picket lines outside EGT's new grain terminal at the Port of Longview here July 25 in a prolonged battle against the grain giant's drive to bust the ILWU.
It was a day marked by the arrest of seven of the workers on bogus "trespassing" charges.
"The police ran over the foot of one of our pickets and then arrested us," said one of the workers detained and then released on $50 bail. Like all the ILWU members we spoke to on the picket line, he declined to give his name because he is not an authorized union spokesperson.
"I was one of the 700 who sat down on the railroad tracks July 14 blocking delivery of a trainload of grain," he said. "We never saw the train. They stopped it back at the switching yard because there were so many of us standing and sitting on the tracks."
Burlington Northern Santa Fe Railroad has suspended grain deliveries to the huge facility for the duration of the labor dispute.
There was a militant, fighting spirit among the workers, many of them young men and women wearing camouflage T-shirts that brought back memories of the 1989 Pittston Coal strike when the striking United Mine Workers wore camouflage shirts with the slogan, "Overcome Evil With Good" and "In God We Trust." These young dockworkers stenciled on the back of their T-shirts "Stop the War on Workers" and "No Wisconsin Here" referring to the union-busting drive by Wisconsin's Republican Governor, Scott Walker.
An older dockworker said EGT is an international consortium that includes Bunge North America, a St, Louis-based grain corporation that reported $2.5 billion in profits last year.
"This billionaire corporation thought we were just a little, isolated union local and they could come in here and just crush us," he said. "I believe they bit off more than they can chew." (Story continues after video.)
The ILWU, he explained, was in talks with EGT for more than a year as the towering grain elevators and conveyers of the terminal were constructed on land EGT leased from the Port of Longview. But EGT filed a lawsuit against the Port of Longview demanding that the court nullify a clause in the lease requiring the company to hire Local 21 members. The lawsuit could take years to be litigated.
A young worker pointed out that the Port of Longview has had a longstanding agreement that only Local 21 workers will be employed at the port. Every other enterprise, including a nearby yard filled with thousands of logs piled forty feet high awaiting export uses ILWU labor, he said. "EGT is in effect privatizing a public dock, owned by the Port of Longview, and bringing in scab labor to bust our union" he said.
EGT has contracted with Operating Engineers Local 701 based in Oregon whose officials have brazenly said they have no compunctions about stealing the jobs of workers in a fraternal local. Local 21 members are so angry at this treachery they also hold signs that proclaim, "701 Scabs."
One day, Local 21 pickets used a pickup truck to break through EGT's chain link fence and occupy the EGT terminal to keep the scabs from working. About 100 Local 21 workers were arrested.
Unions throughout the Pacific Northwest have converged on Longview to march on Local 21 picket lines, to attend rallies, and also held a July 24 barbeque at Local 21's hiring hall.
Marc Hinton, a member of Plumbers and Pipefitters Local 26 in Longview was standing on the picket line holding a sign that read, "An Injury to One is an Injury to All." He noted, "We're here to support the ILWU all the way. This is an issue of a company trying to take away good, union jobs. If they succeed, we could be next."
The 200-member Local 21 could gain 50 jobs if they prevail in this battle. Longview and its twin city, Kelso, have been hammered by plant shutdowns. Kaiser Aluminum and Crown Zellerbach, a paper company, closed mills here years ago destroying more than a thousand jobs. The local economy never fully recovered.
Nearly 200 businesses in Longview and Kelso have placed signs in their windows proclaiming, "We Support the ILWU."
Tony White, owner of Wood's Logging Supply, said he had no hesitation about displaying the sign. "The guys have been buying their supplies from us for thirty years. It makes me feel good to support the ILWU."
A steady stream of Local 21 members, active and retired, arrived at the union's hiring hall decorated with a portrait of ILWU founder Harry Bridges. Distributed to the workers was "Voice of the ILWU" a one-page newsletter with a message from Local 21 President Dan Coffman, telling them "how proud I am of the membership and the pensioners during our time of crisis. The showing of solidarity is something to behold. We need to be patient and prepare for the long haul in this battle with EGT. We need to stay strong and stay together and we will prevail."
Photo: Longshore workers and supporters protest scab workers at the Port of Longview. (Terrie Albano/PW)