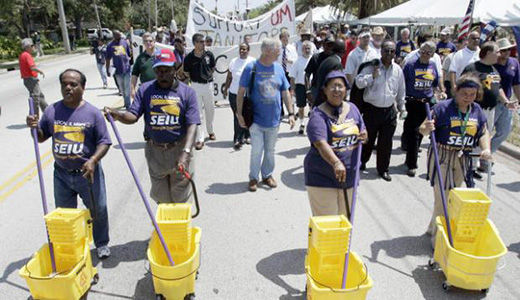 LOS ANGELES – Matthew, a sanitation worker, arrives at his yard at 4:30 in the morning. He has some coffee, jumps into his truck and drives off the yard to begin his route.
Matthew is just one of 10,000 Los Angeles city workers including clerical, traffic officers and others, represented by the Service Employee International Union (SEIU), Local 721 who have, over the past nine months, been working without a contract.
Local 721 has been asking the city to make good-faith proposals for a new contract. The union wants to protect pensions, keep healthcare costs for workers down, and improve wages and working conditions.
The city has thus far refused to negotiate seriously so SEIU is planning other actions by workers in the days to come.
Last week city workers held a major really in front of Los Angeles City Hall demanding that the city bargain in good faith with the union. The union and the city have been in piece-meal contract negotiations for months with the city offering limited concrete proposals. The city workers declared that they won't back down when it comes to negotiating a fair and decent contract.
The City of Los Angeles has been placed on notice that a possible strike may be necessary in the near future if negotiations continued to be stalled. Pressure has been placed on the city when the union's bargaining team recommended a "yes" vote on strike authorization. The workers authorized a strike with an 86 percent "yes" vote.
In recent days sanitation workers expressed their frustration with the slow pace of negotiations by participating in various actions with other city workers. Matthew who has worked 15 years with the city of Los Angeles, took the day off to participate. He said that he would strike if necessary.
The director of the Los Angeles City Bureau of Sanitation has said he will hire contractors as replacement workers if there is strike. Los Angeles city officials have complained that some actions by the city workers are disrupting city services.
City workers have made it known that they will not accept the city hiring replacement workers or 'scabs' as they are called. The union position is that workers should not be blamed for inaction by the city. The solution, according to the union, is for the city to come to the bargaining table with realistic and common-sense proposals.
Photo: City janitors demonstrate for good wages and working conditons. | Alan Diaz/AP