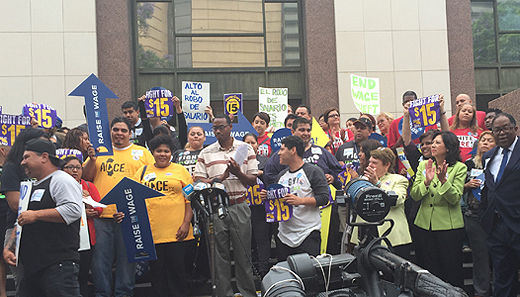 LOS ANGELES – The Los Angeles County Board of Supervisors, the nation's largest local government, voted to raise the minimum wage for 100,000 county employees to $15 an hour over the next few years. Included also are workers employed in the unincorporated areas of Los Angeles, bringing the total receiving higher wages to between 1.2 and 1.6 million.
Unincorporated areas are those communities outside the jurisdictional boundaries of incorporated cities. This means that government serves as the "city" for these areas by providing basic municipal services such as law enforcement, zoning, building permits, libraries, parks, recreational programs, street maintenance, and traffic signals and stop signs.
Hundreds gathered at the Los Angeles County Board meeting with many addressing the Board with their concerns. Newly-elected Los Angeles City Councilman for the 8th District, Marqueece Harris-Dawson, gave special mention to African-American women, noting that they make 64 cents on the dollar earned by the workforce in general. Raising the wage, the council member noted, brings their pay up to par with other workers.
A few members of the small business community stated that raising the minimum wage actually generates more customers who can afford what they sell. Other owners threatened to close or lay off workers.
Yanin Senachai of Asian Americans Advancing Justice, addressed the board saying, "Asians have always been part of the low wage workforce. An increase means not having to chose between eating and buying medicines."
Robert Balanzar, a fast food worker and student, said, "It's difficult to live in Los Angeles earning the minimum wage. Let's show the country that Los Angeles is a poverty-wage-free zone."
With tears in his eyes, Juan asked the board to include his city in this effort and called for a stop to wage theft. "My wife does not work and I bring all that is needed to the home and I would be grateful if you can help us out."
Choosing business over people, Supervisors Michael D. Antonovich and Don Knabe voted "no" on the measure to include workers in unincorporated areas. They argued that a higher wage would put too much pressure on businesses struggling to come back from the recession.
A second vote was taken with regard to county workers where Knabe joined Supervisors Sheila Kuehl, Mark Ridley-Thomas and Hilda Solis in voting in favor of increasing the wage for county government workers.
A small business initiative to help small businesses transition into the new wage hike was part of the package. The board voted to create a group that could, for example, waive permit fees, streamline licensing procedures, and revise bidding procedures for county contracts.
The board also voted to direct county staff to gather more information about the county's legal authority to patrol wage theft, which typically occurs when employers pay their workers less than the legally required minimum wage or for the full hours worked. The UCLA Labor Center conducted a national study on wage theft, and called Los Angeles the "wage theft capital of the country."
Photo: Rossana Cambron/PW