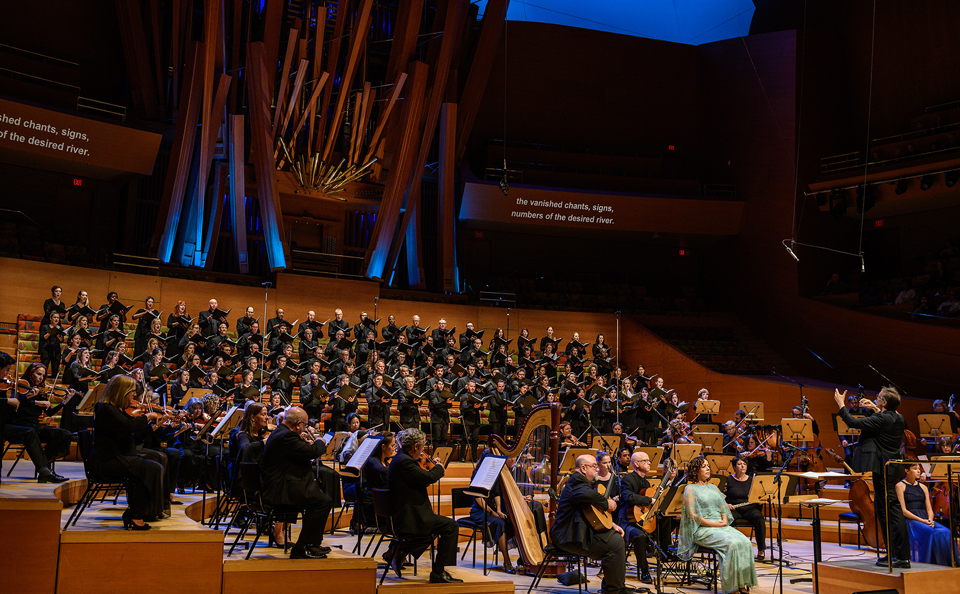 LOS ANGELES—Two monuments of choral composition comprised the opening weekend of concerts in the Los Angeles Master Chorale's 2019-20 season. I attended the first of two performances, on Saturday, October 19.
The two works were the Anton Bruckner Mass No. 3 in F minor, whose composition dates from 1867-68, an hour-long interpretation of the Roman Catholic mass; and Oceana, about a half-hour long, composed in 1996 by the Argentine Jewish composer Osvaldo Golijov, based on texts by Chilean poet Pablo Neruda. LAMC Artistic Director Grant Gershon conducted, with a full orchestra accompanying his 100 voices and soloists, including famous Brazilian singer Luciana Souza as guest soloist in Oceana.
Over the course of its 55-year history, LAMC has never before performed either of these two works.
If the Bruckner Mass is overtly a religious work, Oceana is no less spiritual in its own way. In Thomas May's comprehensive program notes for the concert, Gershon is quoted as saying, "For all their uniqueness, they each combine moments that are very intimate and personal with global statements and an epic quality."
Bruckner's Mass, written in a sumptuous, well-padded 19th-century exalted Romantic style, became one of the composer's most popular works not only during his lifetime but even today. In a pre-concert talk, Gershon observed that European choruses have sung this work many times, programming it every few years. Perhaps because of its massive size and requirements, it is less often done in the United States. It demands a full orchestra, mixed chorus and four soloists. It compares in proportion to the great masses by Haydn, Mozart, Beethoven and Schubert.
The six standard sections include the Kyrie, Gloria, Credo, Sanctus, Benedictus, and Agnus Dei, ranging from personal humility for human frailty and sin to forceful, brassy hosannas to the glory of God. Bruckner captures a broad spectrum of emotion that he must have felt personally as a devout Catholic. One can only imagine a work like this performing small miracles, as it was no doubt meant to do, making believers out of reprobates upon hearing it. In fact, the work comes directly out of a time in the composer's life when, in his mid-forties, he had been confined to an Austrian mental sanitarium for overwork and depression. Composing the Mass was part of his own rehabilitation.
Bruckner's composition of this Mass in the 1860s comes at a time of widespread religious crisis. The radical science of Darwin and Marx were in the air, starting to break down the orthodoxy of faith with the apostasy of freethinkers. In that sense, the Mass is not only a personal statement but a profoundly conservative political one as well.
On one point I might contest LAMC's choice in the Credo (which means "I believe" as it recounts the catechism of the church) to translate the word as "We believe," converting the statement from a personal oath to a collective declaration on the part of the chorus. (The Mass is in Latin; I am referring to the projected translations that the audience could follow.) On a certain level it's understandable that it might have seemed a little absurd to have 100 voices all intoning "I believe," but turning it into a cultish group confession on the part of the whole ensemble didn't seem right either.
In one other part I felt the projected translation did not do its job correctly. What we refer to today as "liberation theology" does not derive exclusively from 1960s struggles around the meaning of the Church in Latin America. It goes back to critical thinking about Biblical text which began in the Enlightenment, and of course farther back to the teachings of Jesus himself—and still farther back to the radical social critique of prophets such as Amos and Isaiah. Many post-feudal theologians prefer to read the Latin text "Liberame" as "Deliver me" or "Free me"—thus, literally "liberation" theology. But the projected read more submissively, "Have mercy on us."
That kind of self-abasement was most likely what Bruckner meant (and probably what gave him so many psychological problems), but texts are subject to interpretation, after all. I prefer freedom to mercy.
Minor points, I know. It was a majestic, awe-inducing performance whatever one's system of belief may be.
Neruda's ocean goddess
Osvaldo Golijov is among the leading composers in today's musical world. An Argentine born to Russian and Romanian Jewish parents in 1960, he took in not only the sonic environment of Yiddish and Hebrew prayer and music, but the sounds of tango and conservatory music, both classical and modern. After settling in the United States in his mid-twenties, his first major composition was the 1994   Dreams and Prayers of Isaac the Blind, a fusion of klezmer and string quartet.
Two years later came Oceana, loosely based on Pablo Neruda's poems in his 1961 book Cantos ceremoniales (Ceremonial Songs). This composition was a commission by the J. S. Bach specialist and conductor Helmuth Rilling, who programmed it at the Oregon Bach Festival in June 1996 in a group of Cantatas of the Americas.
Impressed by Golijov's talent, Rilling then commissioned him to write what has become the composer's signature 2000 work, La Pasión según San Marcos (The Passion According to St. Mark), which immersed the Jewish composer in Christian scripture as a modern response to Bach's deeply affecting Passions.
Golijov's 2003 opera Ainadamar (Fountain of Tears), in Spanish to a text by Chinese-American playwright David Henry Hwang, explores the career and legacy of the Spanish gay poet and playwright Federico García Lorca, killed by the fascists as soon as the civil war broke out in 1936.
As it happens, Pablo Neruda (1904–1973) knew Lorca, whose influence on the Chilean is easily be seen in his adoption of striking, lyrical, ecstatic use of metaphor. Neruda's poetry has been set by numerous composers, but he is profoundly significant to Grant Gershon, who conducted the Mexican composer Daniel Catán's opera Il Postino, based on Pablo and Matilda Neruda's exile from Chile in the 1950s, which Los Angeles Opera produced in 2010. On one trip to Chile, Gershon visited Neruda's home at Isla Negra to hear the incessant pounding of the sea on the "rocky, rugged, undeveloped" shore (Gershon's recollection) just as Neruda apostrophized in his poetry.
"Neruda, who was awarded the Nobel Prize in Literature in 1971, was a member of the Communist Party of his native Chile and an outspoken atheist," writes Thomas May, "yet his odes to nature exude such fervent passion that they might at the same time be compared to a pantheistic outlook."
Oceana is the sea goddess in Neruda's conceit, drawing not only on classical Greek and Roman mythology and religion, but also on African tradition that has so strongly influenced syncretistic Latin American belief systems, especially in regions such as the Caribbean and Brazil where Africans were imported as slaves. If Neruda can be compared to Homer, he also invokes the spirit of Yemanjá.
Golijov created a choral piece in seven movements that blend almost imperceptibly together. "Neruda's voice is a chorus," he says, "too powerful for a single voice to handle." Much of what the chorus sings are not words as such but syllables and percussive effects, mirroring the exuberant orchestra of guitars, strings, harp, flutes and a battery of percussion instruments including an eight-foot-long rainstick.
There's "a jazzy, natural flow to it," Gershon said pre-concert. "Enjoy the groove." Another guest on the pre-concert portion of the afternoon was Dr. Ariel Quintana, a musicologist who wrote his dissertation at USC about Oceana. "I suggest you make your own movie as you listen to the piece."
"Crashing waves have disappeared," the poet writes, "seas that passed away with chant and travelers." How does one write a poem, how does one write a piece of music that creates a monument to this kind of evanescence that is at the same time permanent?
The soloist in this performance, dressed in a lovely sea-green gown, was Brazilian jazz and pop singer Luciana Souza, for whom the work was originally written. She can be heard in one aria from Oceana here. Again, much of what she chants is not words so much, but evocations, snippets of lyrics, a rhythmically complex underwater soundscape of nature, humanity and gods based on Neruda's summoning that encompasses a Latin jazz scat singing à la Ella Fitzgerald, though not improvised. It doesn't take anything away from the composition to state that this work cannot be considered a literal or definitive setting of Neruda's poems. Another composer would come up with something entirely different, as indeed composers of Catholic Masses produce vastly different works.
Oceana ends most untraditionally with a "Chorale of the Reef." The chorus launches into an extended a cappella passage with surprising vocal effects calling forth the mysteries of the ocean and "the splendor of the murex on the rocks." One expects the orchestra to return, but it doesn't. The quiet, disappearing voice has the last word.
Golijov describes his work as "water and longing, light and hope, the immensity of South America's nature and pain," using his gifts as a composer to transpose it all "into pure musical symbols, which nevertheless should be more liquid than the sea and deeper than the yearning that they represent."
A quarter of a century ago there were surely voices crying out against the despoliation of our waters, but few were listening. Now, with human desecration of the Earth so rampant, and so few governments sincerely committed to repair and recovery, a work like Oceana takes on a higher spiritual purpose with the passage of time. Being more of a nature boy myself, I think I was brought to a higher realm by Golijov than by Bruckner.
Luciana Souza has also recorded a 2004 album called Neruda, focusing on lyrics by the Chilean master.